"Financing Our Film Was SO EASY"
Said No Filmmaker Ever!
But, as you already know, thousands of filmmakers HAVE successfully funded and made their films!
What are their secrets? What if you could follow the guide and lessons put together by those filmmakers?
Filmmaking is hard enough. Why start the funding cycle from zero when you can jumpstart it by learning from others' successes?
What if you could start with a toolkit that already has feedback from over 500 Film Investors baked right in?
The EXACT toolkit James used...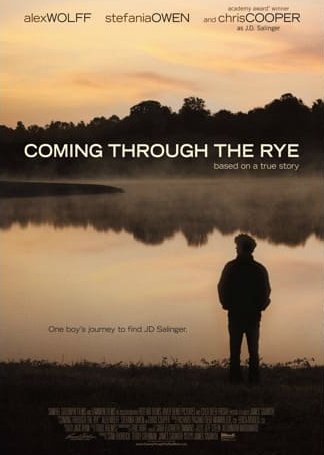 Just want to thank you for your materials and help over the past year. I could not have raised the $1.5 million or made this film without the materials you provided. The bargain of my career!
- James Sadwith, Producer, Writer, Director, "Coming Through the Rye
Proven Success Since 2002
Our filmmakers have used our toolkit with hundreds of investors around the globe. Our documents have been in the "room where it happens" with our successful filmmakers hundreds of times. The Movie Financing Toolkit has been used to raise funding from $50K to over $10M. Most importantly, we know every question, comment or hesitation film investors have when reading the presentations our filmmakers put together and we integrate them right back into our Financing Packages.
Up To Date
After EVERY meeting or contact, we modify our toolkit. We add the chart, answer the question, make something more clear… we do whatever it takes to integrate their feedback to help our filmmakers make the next pitch even better. We refine our templates every single time a film investor says something we think will improve the toolkit. We also constantly monitor the market and add new trends, data, statistics or anything else that will help you put YOUR film in the best position for funding.
Download ALL that experience with a few clicks and start your film financing in FIVE minutes!

100% Money Back Guarantee


All FilmProposals products come with a 60-day full money back guarantee! If you are not 100% completely satisfied with your purchase, just email us your original Paypal receipt email and we will refund your purchase via Paypal within 5 business days (usually sooner). All we ask is for honest feedback as to why the products did not meet your expectations.
Secure Checkout

Pay directly with a credit card or use your PayPal Account. PayPal uses the latest in data encryption and anti-fraud technology to keep your information secure, reducing the risk of online fraud. Every day, 169 million people use PayPal in 190 countries and with 21 different currencies.
PayPal Verified Since 2002

A PayPal Verified seller has provided additional evidence of their identity to PayPal by passing key security checks and completing the PayPal Verification process. When you make a purchase through FilmProposals, your personal information, including credit card number is encrypted, using the same protocols used by sites like Amazon.com and EBay.
Testimonials
Let our Filmmakers Tell You What They Think
Just want to thank you for your materials and help over the past year. I could not have raised the $1.5 million or made this film without the materials you provided -- and for $99? The bargain of my career!

This is perfect! I have potential investors but I had no idea how to prepare a professional investment package to present to them. (I'm an artiste', not a business person. :) ) The information is clear and easy to understand, and Melissa is very prompt in answering emails.

Hi Melissa! I purchased Package #3 a couple of days ago, and I feel like I'm taking a crash course in film financing. So far, what I've read and learned has been invaluable. Thank you!
Movie Investor Presentation Toolkit: (maybe use Short Overview here
Bronze Package
1, 2,3
Silver Package includes Full Bronze Package PLUS:
4,5,6,7,8
Gold Package includes Full Silver Package PLUS:
PPM
Centered Icons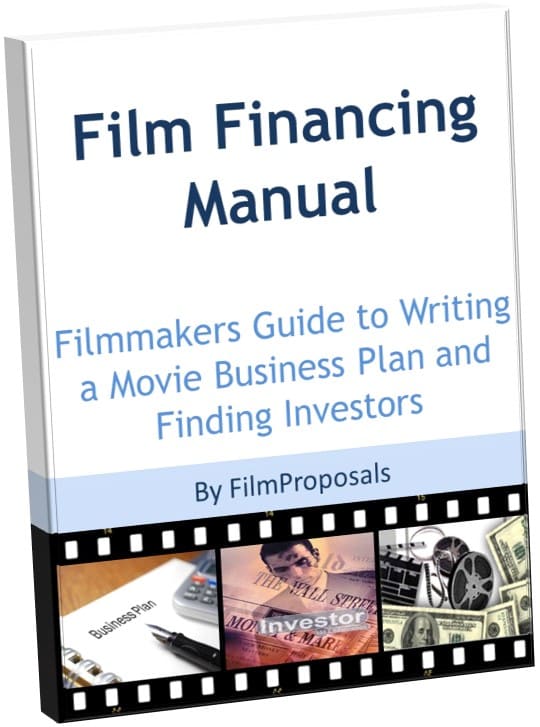 Financing and Investor Manual
Powerful Layout with Responsive functionality that can be adapted to any screen size. Resize browser to view.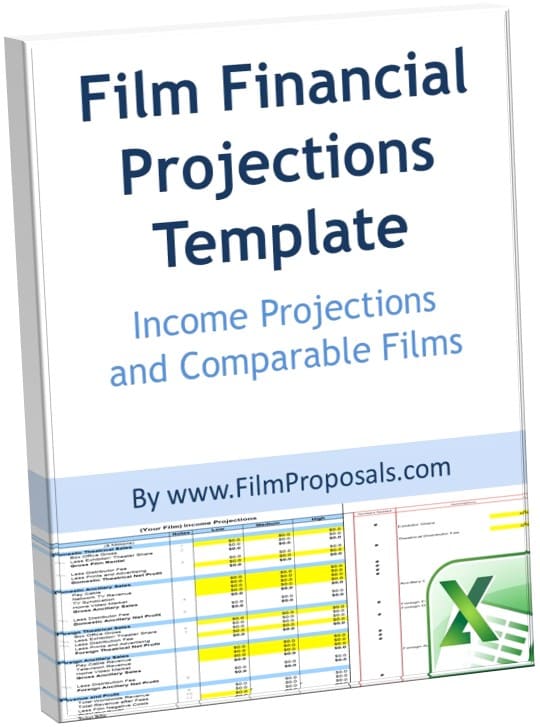 Financial Projections Template
Looks beautiful & ultra-sharp on Retina Screen Displays. Retina Icons, Fonts & all others graphics are optimized.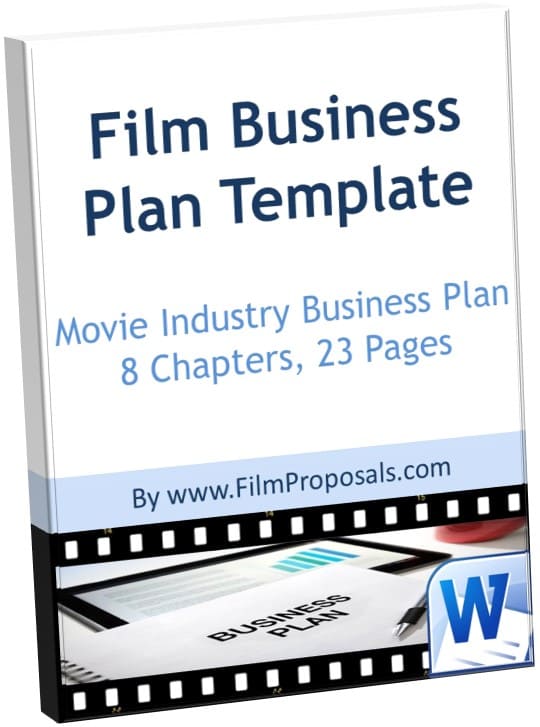 Business Plan Template
Canvas includes tons of optimized code that are completely customizable and deliver unmatched fast performance.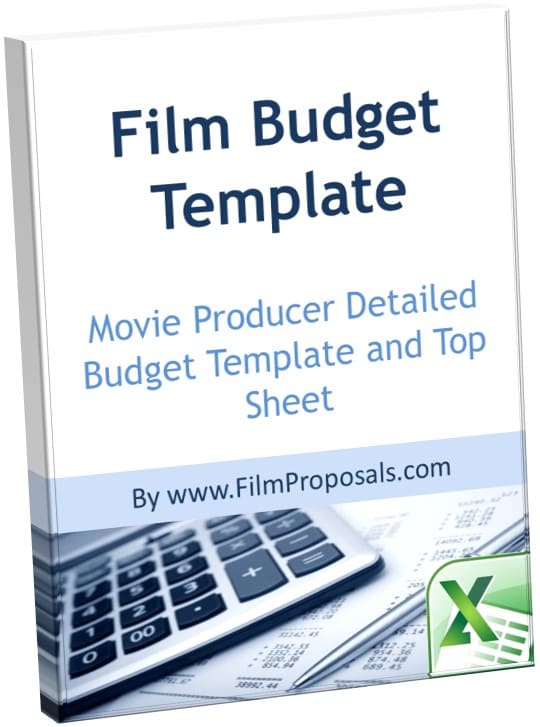 Film Budget Template
Get ready to make your presence felt socially with some awesome included social features.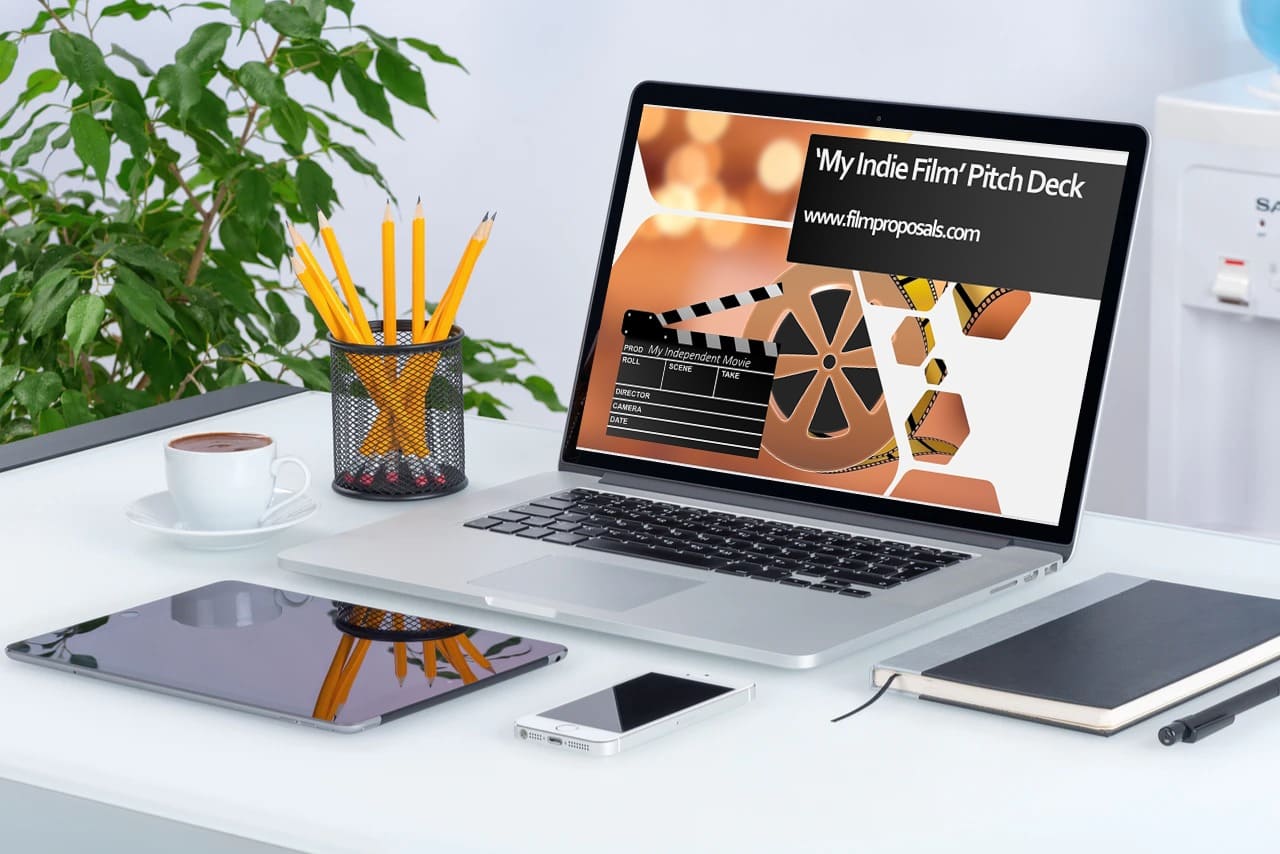 Film Pitch Deck
Canvas uses the best SEO optimization practises to give your website a Good Rank in Search Engines.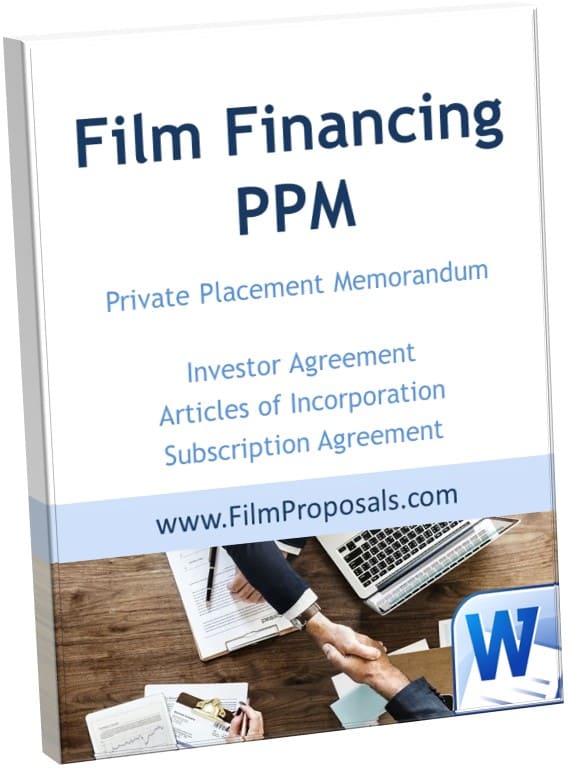 Film PPM
All the Sliders & Carousels are touch enabled to allow uniform experience across all major devices.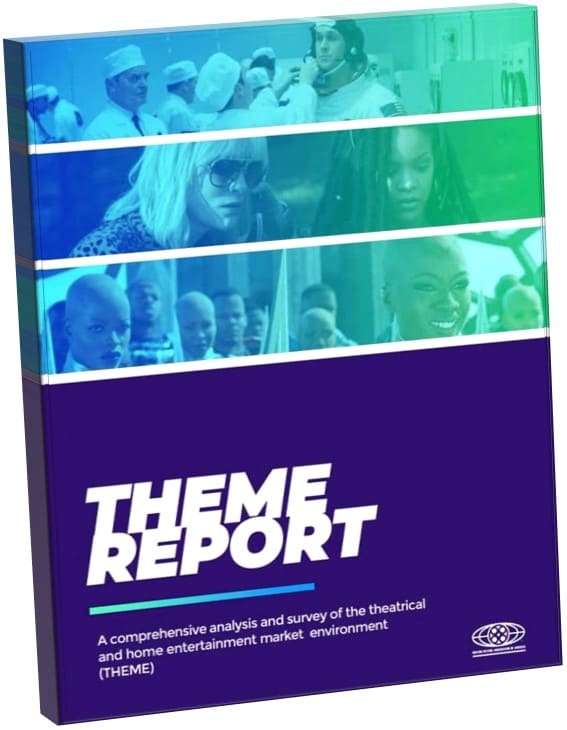 MPAA THEME Report
All the Sliders & Carousels are touch enabled to allow uniform experience across all major devices.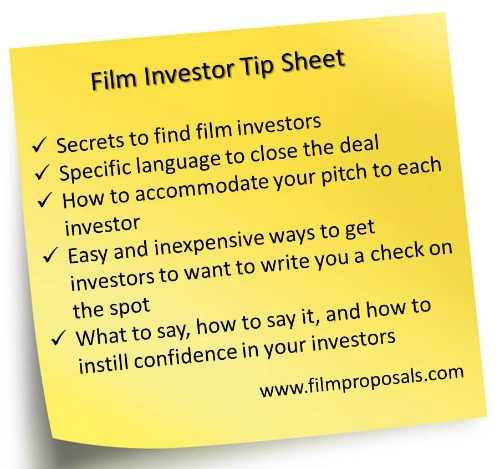 Film Investor Tip Sheet
All the Sliders & Carousels are touch enabled to allow uniform experience across all major devices.
CUSTOMIZABLE FONTS
All the Sliders & Carousels are touch enabled to allow uniform experience across all major devices.
12+ Header Designs
We have included 12+ Header + Menu Designs for your convenience so that you can match your style.
Awesome Mega menu
Completely Customizable 2 Columns, 3 Columns, 4 Columns & 5 Columns Mega Menus are available.
Attractive Sticky Menu
Smooth & Stylish Sticky Menu is what will make your Website differentiate with others.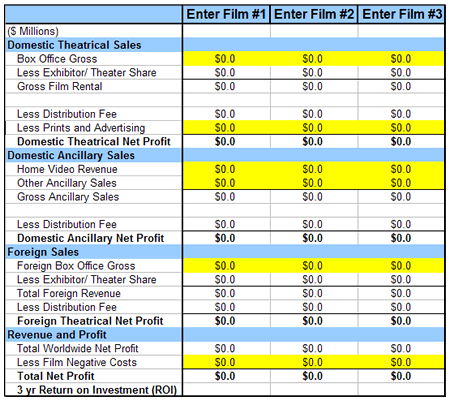 The resultant projections are what I needed, and the early feedback from the "suits" in this project is that I've presented a clear yet compact overview of the prospects. They were surprised it could be presented so concisely and without a complex MBA-style model. By the way, in my projections not all the outcomes are golden, and that adds to my respect for the templates.
- TV Producer, now Consultant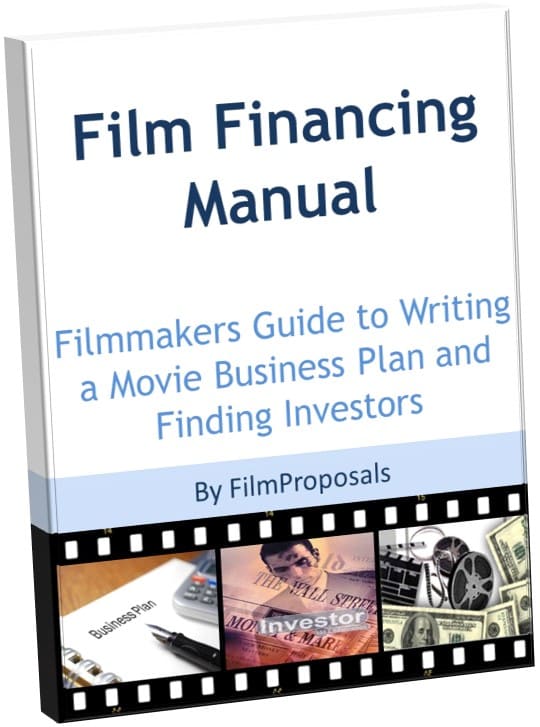 When I came across the Business Plan Tools and Finance Guide, I felt like I could stop searching for the pot of gold ... I'd found it. In one place, with clear, easy to follow materials and spreadsheets, my questions were answered. It still depends on me and what I do, but the blueprint is all there. Thanks.
- Barry Pierce, Producer, River Dreaming Entertainment
Film Financing is a Skill You Will Use for Your ENTIRE Career
Here is what some famous filmmakers have to say about financing their films. These stories demonstrate how important financing will ALWAYS be as part of your filmmaking career and that even the pros take film financing very seriously.
"Nobody would give us the money" - It took Martin Scorcese over 10 years to get financing for The Irishman
...that was with him, Pacino and De Niro attached, and before the CGI.
"I fully expected halfway through to be abandoned and have to seek other financing. I never had to, though. It's a minor miracle."
Richard Linklater, on Boyhood
"Two weeks before shooting we had to basically find our financing all over again...I think I aged about five years on that day"
Charlize Theron on Bombshell
"It was very, very hard to get financing for Precious. All the studios said no. They didn't want to make a film about a 350-pound black girl who is abused. Everybody kept saying no. My whole life was no. It was just a bunch of nos."
Lee Daniels
How to Fund a Film
There is no one way to finance a film. There is not even one financing process. Ask any 100 filmmakers how they got financing, and each will tell you a different story. The one thing they all have in common is they worked hard and pursued multiple financing resources. They used some combination of:
tax credits
pre sales
distribution deals
profit participation
product placement
soft and hard money
film grants
private film investors
studio financing
location incentives
debt financing
gap financing
bridge loans
donations
crowdfunding
slate financing
deferred payment
cross-promotion
and much more
Our toolkit helps you bring all this together and shows you how much of your funding you can raise before you ever need an investor, if you need them at all!
Film Financing is not going to be easy! But Filmproposals Move Investor Presentation Packets will put you leaps and bounds ahead of your competition and make you look like the professional filmmaker you are!
Best money I ever spent! I'm now sending out my completed business plan/film proposal document to potential investors and the one comment I'm getting back almost immediately is that it's so well laid out and professional. Believe me, first impressions really do count. When someone sees that you take your business seriously, they're much more likely to take you and your projects seriously.
- Kathleen
Movie Investor Toolkit Designed for the Modern Filmmaker
Start Your Financing in Five Minutes - 2020 is YOUR Year!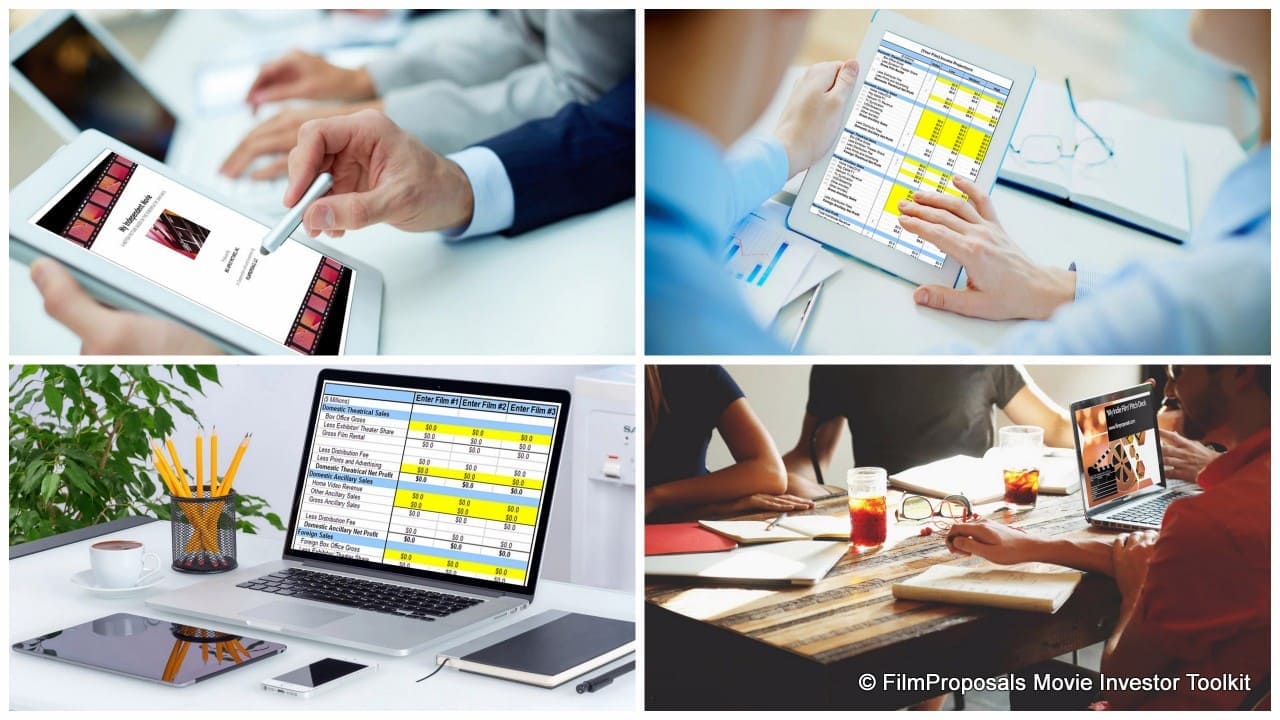 Film Financing Bonuses - Available with Select Package Purchases
MPAA Theatrical Market Statistics - BONUS #1
This 30 page report provides the latest global box office and movie attendance trends. Not only are these great statistics for your business plans and to discuss with film investors, but they will help you target your audience and distribution plan.
Of course, the key MPAA statistics are already integrated into the Independent Film Business Plan Template.
The MPAA Theatrical Market Statistics Report is a FREE GIFT with Purchase of Film Financing Packages Silver & Gold.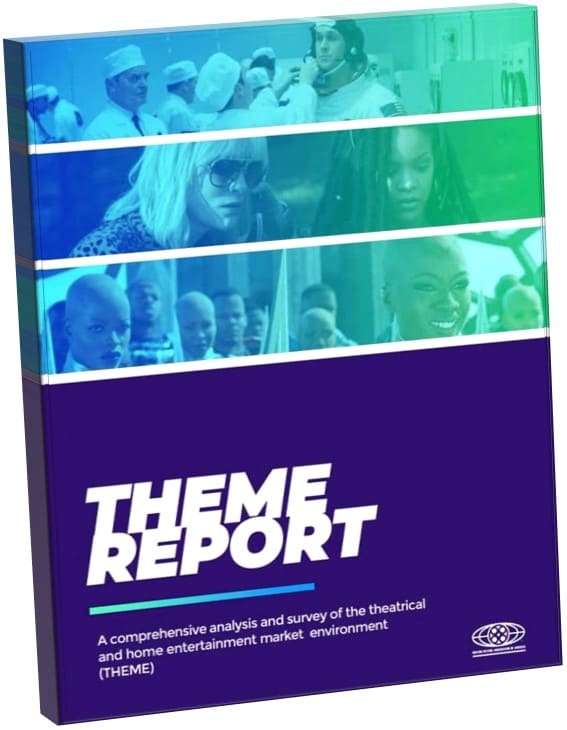 Film Investor Tip Sheet - BONUS #2
Our film investor tip sheet is filled with top tips from successful producers, industry experts and film financiers.
The Film Investor Tip Sheet includes practical and easy implementable advice, all designed to get investors to WANT to write you a check on the spot.
The Film Investor Tip Sheet is provided AFTER the purchase of any of our Film Financing Packages and AFTER you leave us feedback.
How to get your Film Investor Tip Sheet
Purchase a Film Proposals Film Financing Package
Take 2 minutes to leave us feedback - the good, the bad and especially, the ugly. We want to know EVERYTHING you think. Details on exactly how to provide us feedback will be in your purchase confirmation email.
That's it! If you provide us feedback within one month of purchase, we will email you the Film Investor Tip Sheet within one week.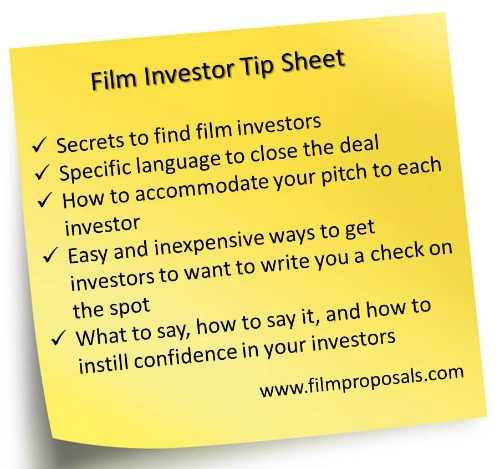 Location Letter Example Template - BONUS #3
Pitching a location letter to Film Investors can easily impress them when presenting your film proposal. A strong location can not only add great production value to your film but also become a key selling point when correctly used in your pitch to film investors.
Our Location Letter Example Template is a FREE GIFT with Purchase of Film Financing Packages Silver & Gold.
More info: Pitching a Location to Film Investors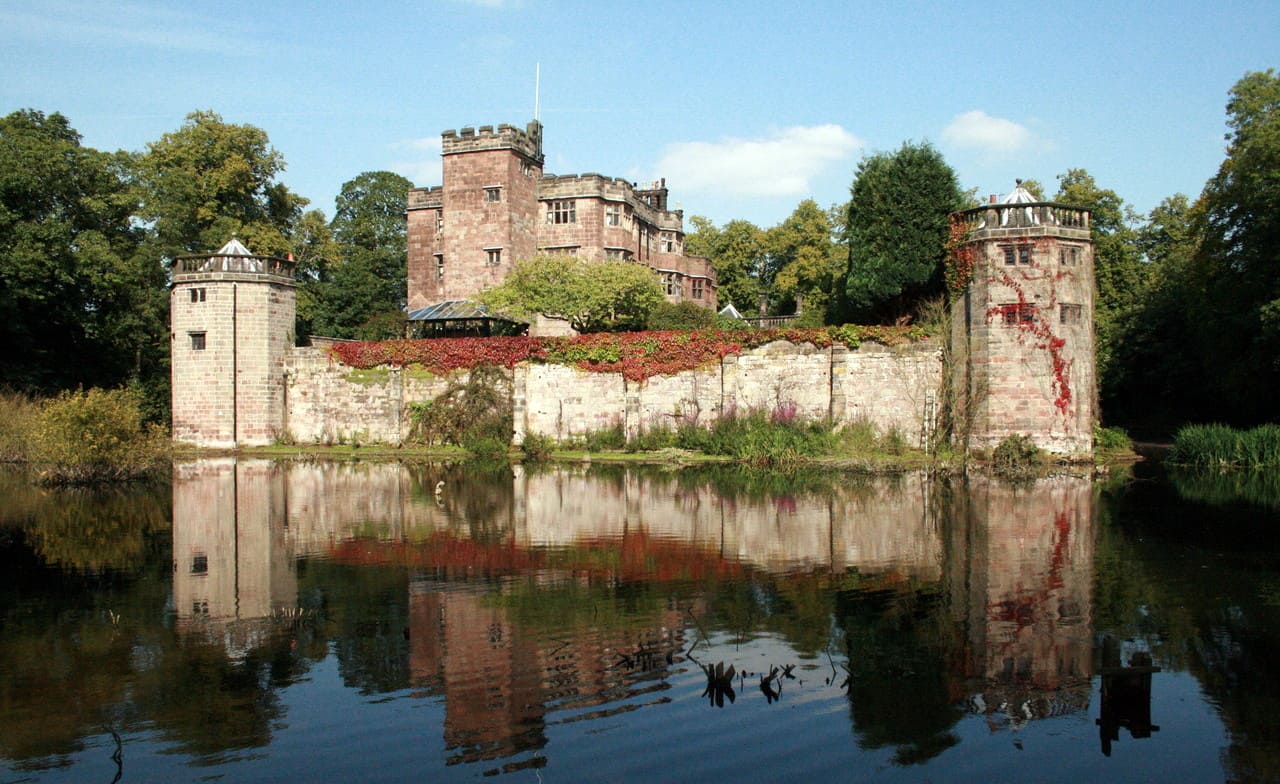 How to Make, Market and Sell Your Movie Now - BONUS #4
This fantastic toolkit, by Jason Brubaker, founder of www.filmmakingstuff.com, provides an overview of the modern filmmaking process, from script to screen.
The Modern MovieMaker Toolkit covers screenwriting, story development, break down, scheduling, budgeting, fundraising, shooting, production, casting, post production, marketing, distribution and so much more!
The ways in which independent movies are made, seen and sold is rapidly changing and this toolkit helps you navigate filmmaking in this modern environment.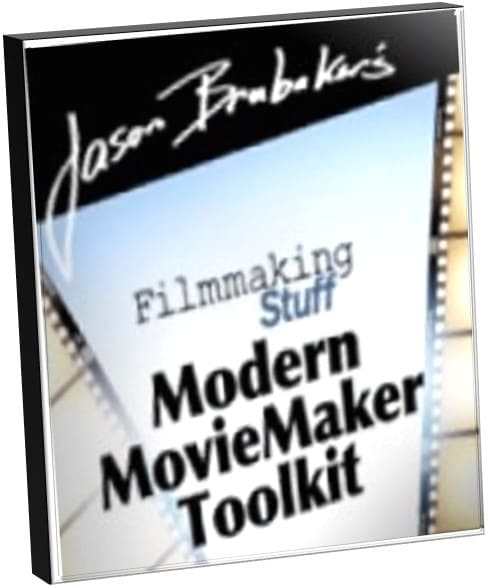 Ten Prominent FilmMakers' BEST Advice - BONUS #5
Modern MovieMaker Movement Action Guide - This 100 page Action Guide was authored by ten of the most prominent filmmaker thought leaders in the world, including Jon Reiss of the famed book Think Outside The Box Office.
Only valuable, no-fluff modern filmmaking information, as well as advice to help you navigate a filmmaking world defined by HDSLR technology and non-discriminatory distribution. Topics include: film finance, crowdfunding, production, film festival promotion, marketing and distribution.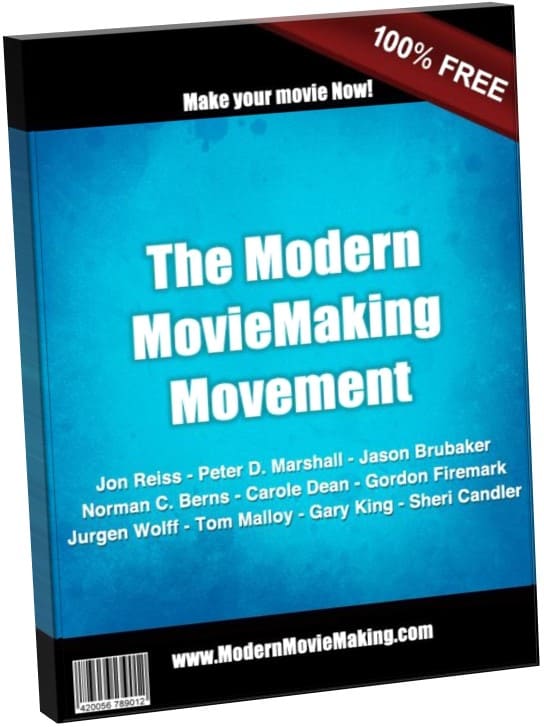 Included In This Filmmaking Action Guide:
Bankroll Your Movie with Tom Malloy
Make the Most of Movie Money with Norman C. Berns
Six Ways to Finance Your Feature Film with Gordon Firemark
The Inside Scoop On Crowdfunding with Carole Dean
Plan Your Production For Maximum Success, Peter D. Marshall
Modern Guerrilla Filmmaking with Gary King
Navigate Film Festivals and Do Them Right with Sheri Candler
Sell Your Movie Without the Middle-Man with Jason Brubaker
The MovieMaker Toolkit and Modern MovieMaker Movement Action Guide are FREE GIFTS with Purchase of Film Financing Packages Silver & Gold. They are graciously provided by Jason Brubaker of FilmMaking Stuff.
Film Financing Silver & Gold Packages

Frequently Asked Questions
Are the Film Business Plan Tools downloadable or hard copy?
All of our products are downloadable immediately after purchase. Nothing is delivered hard copy.


What is the file format of the Film Business Plan Tools?
The files are all Word, PDF and Excel. The Business Plan Template is in Word (so you can edit it), The Finance Manual in PDF (to read) and the Financial Template is in Excel. The Indie Film Pitch Deck is fully editable in Powerpoint.


Are Comparable Movie Statistics included in the Business Plan Template?
Yes, we include the most recent stats for a variety of movies that cover the general film industry. However, you will definitely have to research more specific titles to your budget and genre. We do about 2/3 of the work for you, but the rest is up to you.


How Often is the Business Plan Template Updated?
We perform many small updates throughout the year. If we come across some new information or statistics, a new industry trend or new charts and graphs we think will benefit your business plan, we add them immediately. A massive overhaul is done every April/May after awards and festival seasons are complete and the newest industry information has been analyzed.


If I purchase and download now, will I have access to future updates? 
Yes, we offer free updates within two years of purchase. After two years, we are happy to offer you a discount from the current price and all details are in your confirmation of sale email.


Are the Film Financial Projections All Formulas?
There are many formulas in the Financial Template and there are also many fields where you will have to manually enter your own numbers. For specifics, please see the Film Finance Projections Template screenshots. Per the instructions, the yellow cells must be manually entered with specific numbers, and we teach you where to find this information in our Film Financing and Investor Manual.