A film business plan provides a detailed guide on how to structure and analyze your film as a business, as well as project how much your film will cost to develop. Film investors want to see how you are going to spend your film's funds and what their return on investment will be. One way to start writing your Film Business Plan is to use a pre-made Film Business Plan Template that will save you hours of time and research, cull through the latest market and industry trends and statistics and position you in the best light to film investors.
There are many sections to a film business plan, some of which include an Executive Summary, Company, Market, Industry, Finance and more. Many people also add their film budgets, financial projections, comparable films, distribution plan, top sheet, logline, return on investment, theatrical release projections, attached talent contracts and scripts. A film business plan does not have to be a difficult project if you follow the sage advice of those who have already successfully raised their film financing and there are so many people from which to learn. You can take a FREE Film Business Plan course that will walk you step-by-step through the process.
To raise money for your film, it also beneficial to look at Film Festivals, which often award prizes, film grants, film financing companies, soft financing, hard financing, tax incentives, location incentives, product placement and a lot of other financing opportunities that will contribute to your film budget.
FilmProposals wishes you the BEST of luck in funding your independent film and we can't wait to see you on the big screen!
https://filmproposals.blogspot.com/
All New 2021 Financing Packages (Bundles & Toolkits)
Film Financing Bundles - All the Templates + Professional Services & Legal Options for the Serious Filmmaker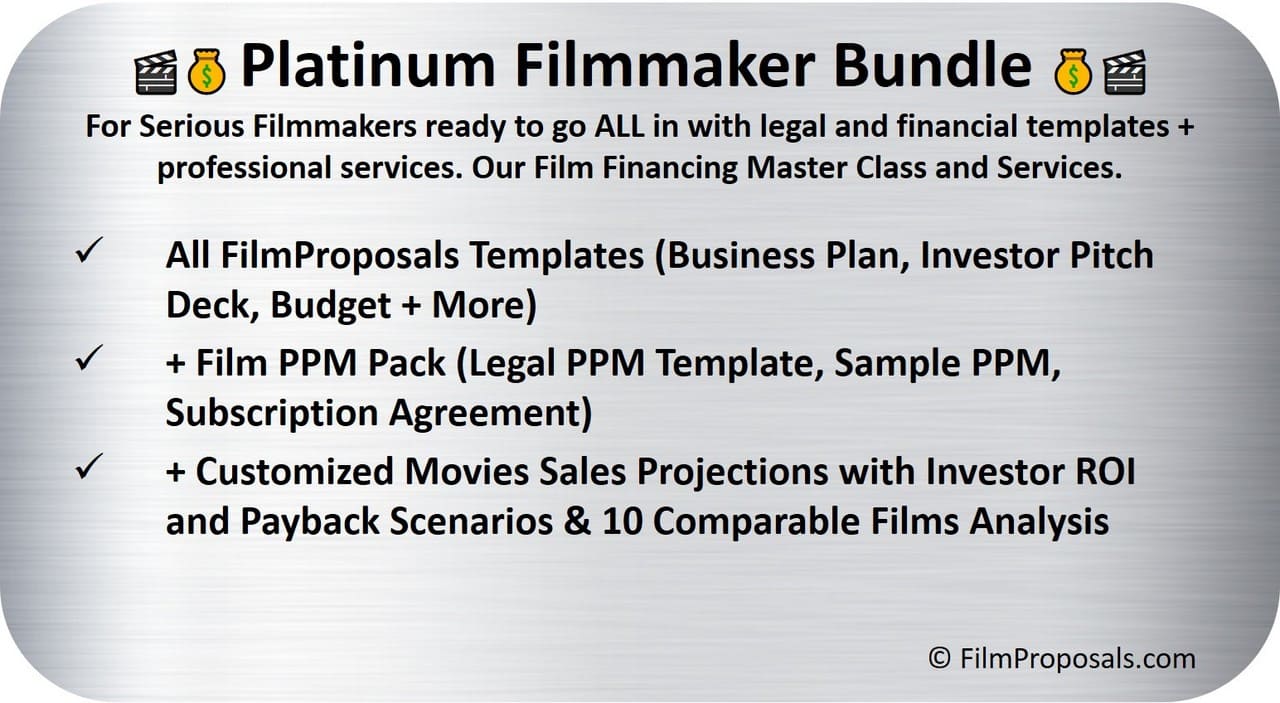 Full Gold Toolkit
+ Professional Sales Projections & Investor ROI
+ PPM (Private Placement Memorandum)
Regular Price $1301, Save $302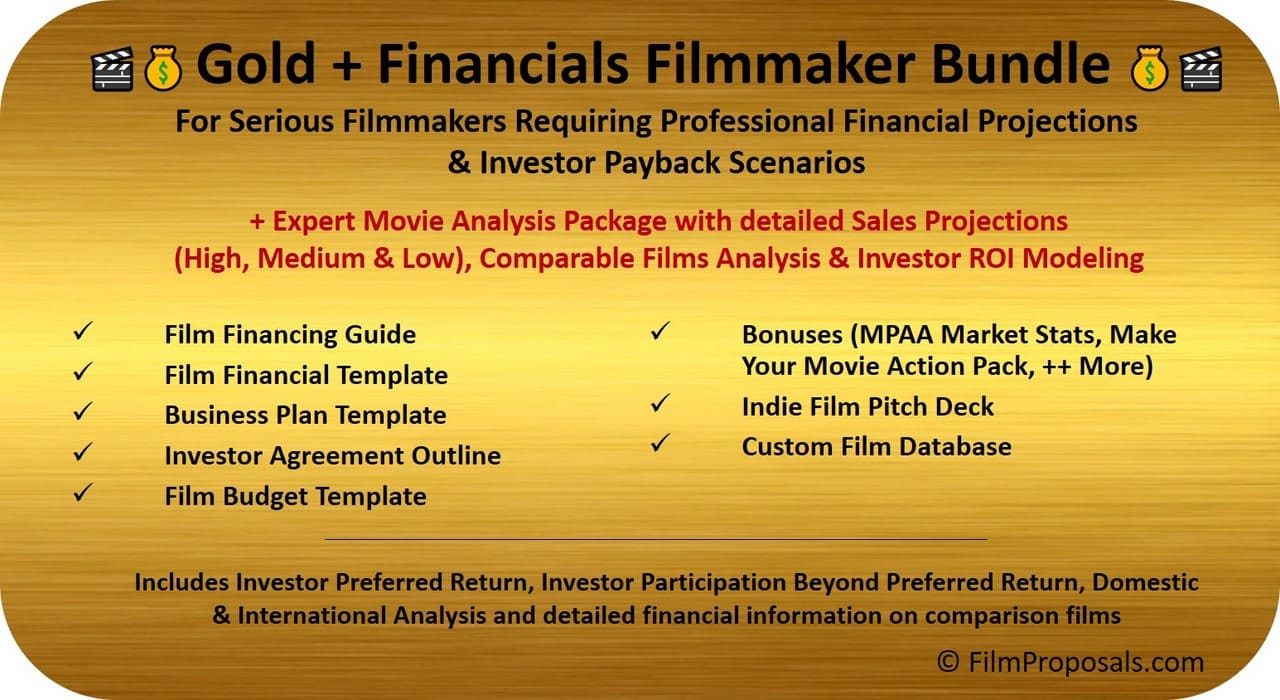 Full Gold Toolkit
+ Professional Sales Projections & Investor ROI
Regular Price $802, Save $203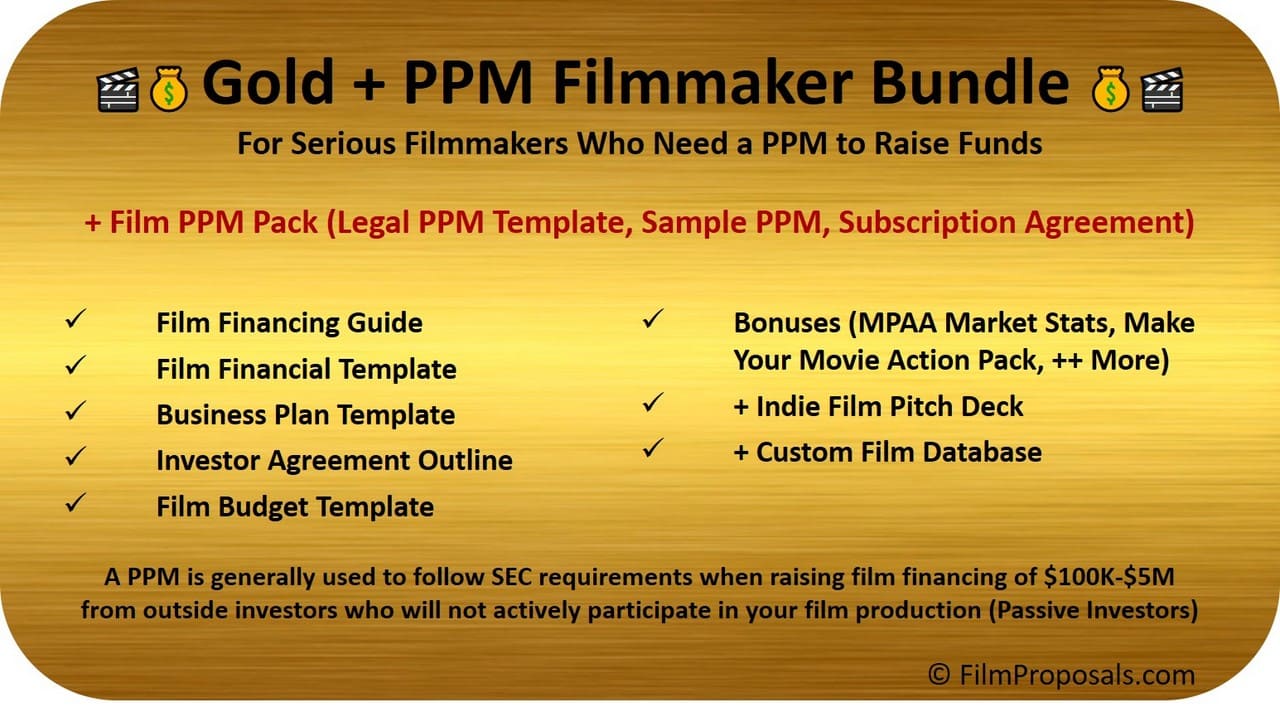 Full Gold Toolkit
+ PPM (Private Placement Memorandum)
Regular Price $802, Save $203
Film Financing Toolkits - Templates & Tools for the DIY Filmmaker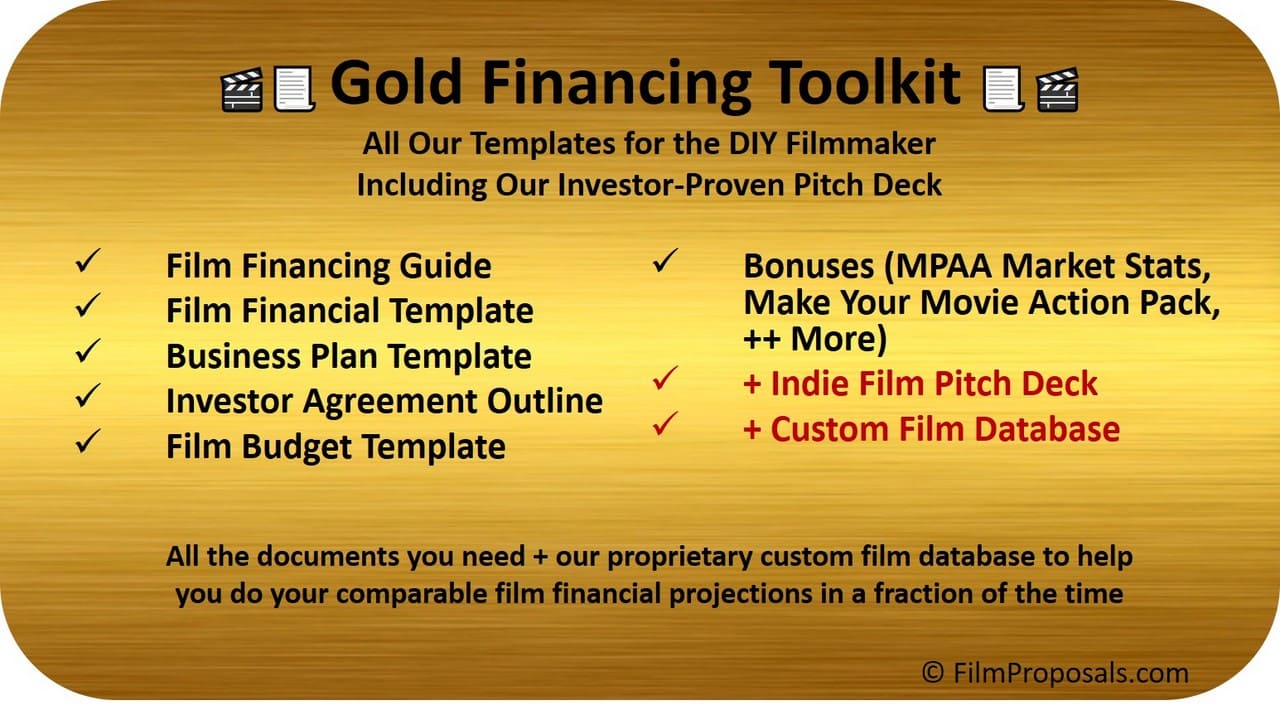 Full Silver Toolkit
+ Indie Film Pitch Deck Template
+ Custom Indie Film Database
Regular Price $303, Save $124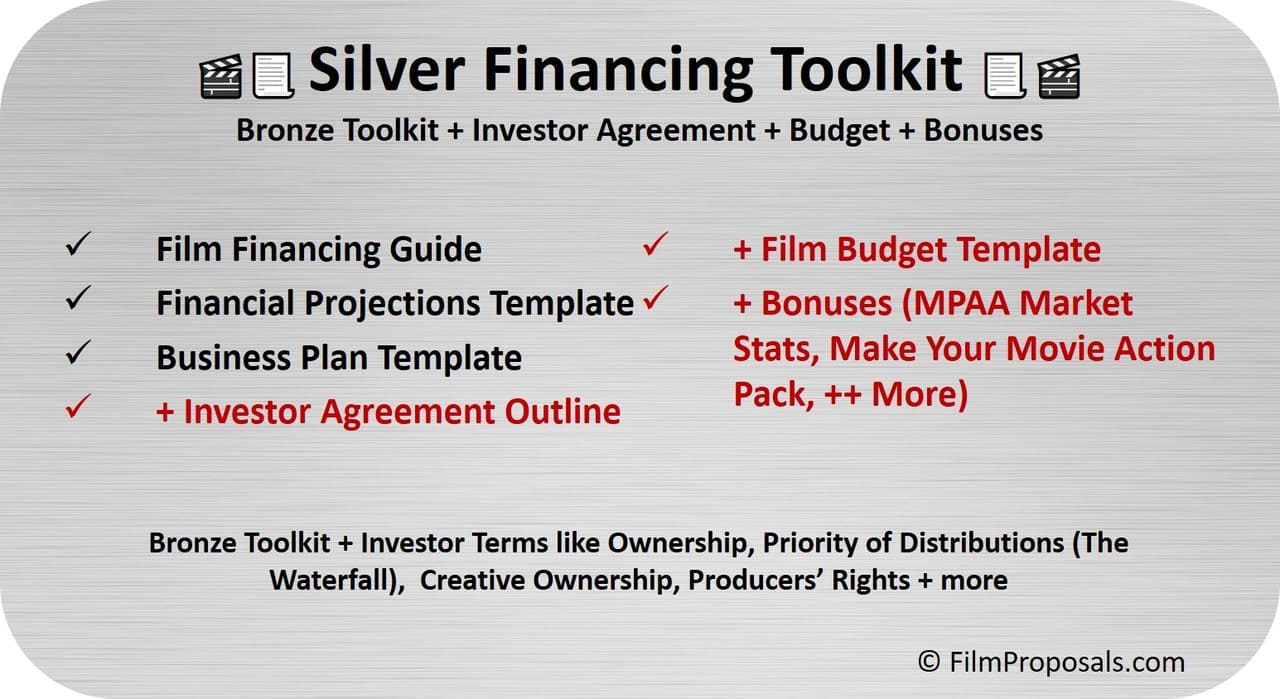 Full Bronze Toolkit
+ Investor Agreement Outline
+ Film Budget Template
+ Bonuses (MPAA Market Stats, Make Your Movie Action Pack, ++ More)
Regular Price $205, Save $76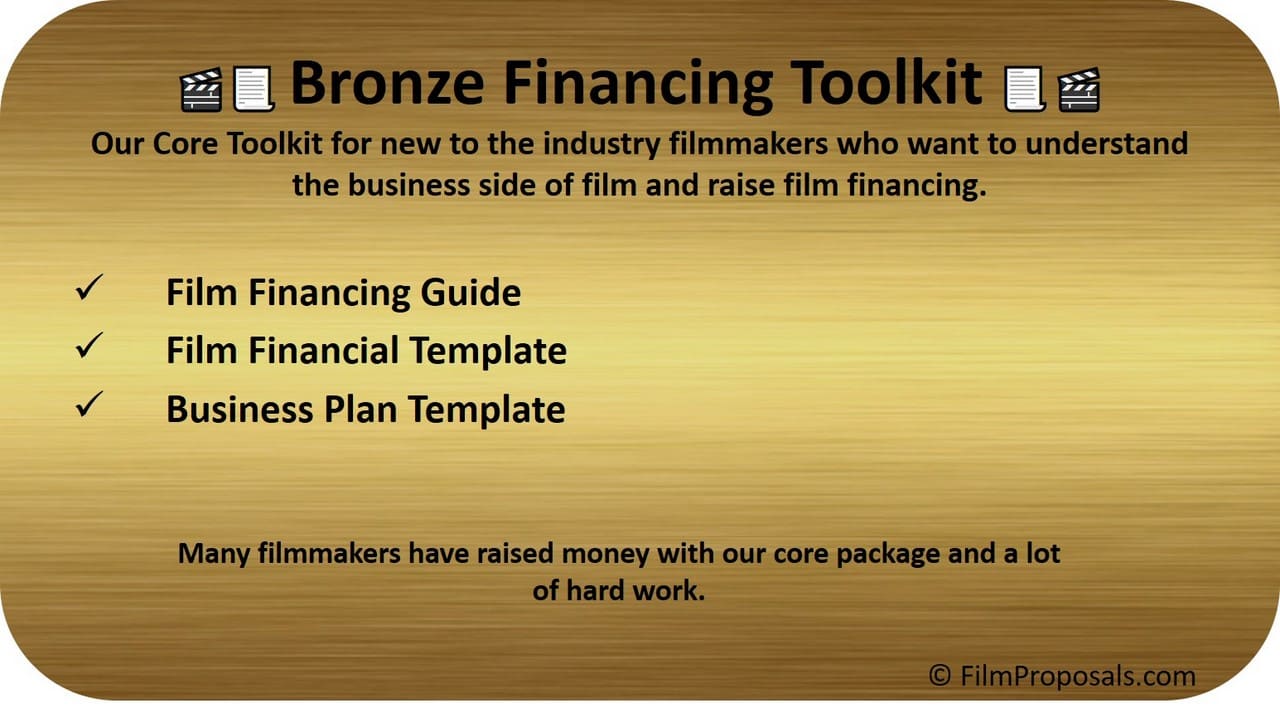 Film Financing Guide
Film Financial Projections Template
Business Plan Template
Regular Price $137, Save $38
Testimonials
Check out some of our Filmmaker Reviews
Just want to thank you for your materials and help over the past year. I could not have raised the $1.5 million or made this film without the materials you provided -- and for $99? The bargain of my career!

This is perfect! I have potential investors but I had no idea how to prepare a professional investment package to present to them. (I'm an artiste', not a business person. :) ) The information is clear and easy to understand, and Melissa is very prompt in answering emails.

Hi Melissa! I purchased Package #3 a couple of days ago, and I feel like I'm taking a crash course in film financing. So far, what I've read and learned has been invaluable. Thank you!
FilmProposals Tools and Templates