American Film Market
by American Film Market
(Santa Monica, CA)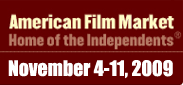 American Film Market 2009
November 4 - 11, 2009 Santa Monica, California
The American Film Market is produced by the Independent Film & Television Alliance.

The AFM transforms Santa Monica. The Loews Santa Monica Beach Hotel and the Le Merigot Beach Hotel are converted into a busy marketplace. All 23 screens on the Santa Monica Promenade and the surrounding community become AFM screening rooms for the entire eight-day event and eight digital and video screening rooms are added just for the AFM. Participants may view more than 900 screenings of approximately 500 films - 31 new films every two hours - the majority of them world or U.S. premieres. Titles range from big budget blockbusters that will be released by the major studios in the U.S., to lower budget art and genre films recognized at international film festivals, all destined for theaters and television around the world.

With 8,000 attendees, 900 screenings, and seminars programmed by leading industry organizations, the American Film Market continues to be the pivotal destination for independent filmmakers and business people from all over the world.

http://www.ifta-online.org/afm/about.asp

FAVORITE FILM PITCH

People's Choice Awards & American Film Market
Present the Contest for Favorite Film Pitch

The People's Choice Awards (PCA) and American Film Market (AFM) have teamed to create an unprecedented Favorite Film Pitch contest. The Favorite Film Pitch Contest is an opportunity for writers and filmmakers to get their pitches in front of producers, distributors and, in a unique twist, the voting public.

Pitches will be recorded live November 7-10 on a mini-set at the American Film Market. Each pitch will be limited to two-and-a-half minutes.

Afterward, the AFM will assemble a group of industry leaders to select five finalists. Their pitches will be posted on www.PeoplesChoice.com ? the official PCA Website ? following CBS' broadcast of THE 2010 PEOPLE'S CHOICE AWARDS in early January, allowing fans to choose the ultimate winner: the film they would most like to see get made.

In addition to receiving the Favorite Film Pitch award, the winner will also receive an AFM 2010 package that includes full access for two to the AFM, including seminars and conferences; airfare for two to Los Angeles; hotel for five nights in Santa Monica; and scheduled meetings with producers and distributors.

Join in and write your own page! It's easy to do. How? Simply click here to return to Film Festivals.
Promote YOUR Story, Business, Film on FilmProposals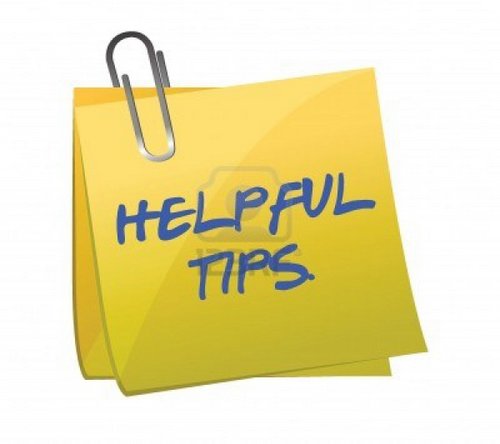 Do you have some great indie filmmaker tips to share with other aspiring or current filmmakers? Do you want to promote your latest film or service to a huge global network of filmmakers, producers, directors, potential investors and distributors? Here is a great opportunity to first, pay it forward, and then promote your projects, products and services.
More Info: Filmmaker Tips - Write for FilmProposals
All New 2021 Financing Packages (Bundles & Toolkits)
Film Financing Bundles - All the Templates + Professional Services & Legal Options for the Serious Filmmaker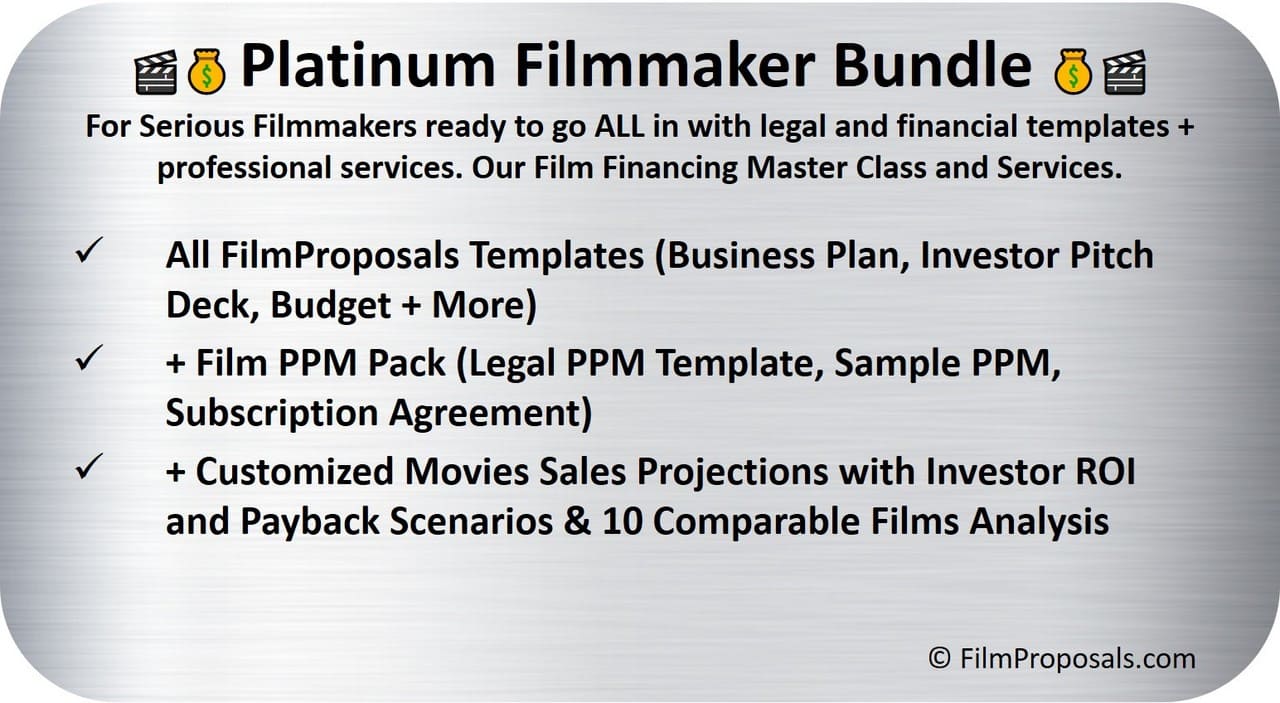 Full Gold Toolkit
+ Professional Sales Projections & Investor ROI
+ PPM (Private Placement Memorandum)
Regular Price $1301, Save $302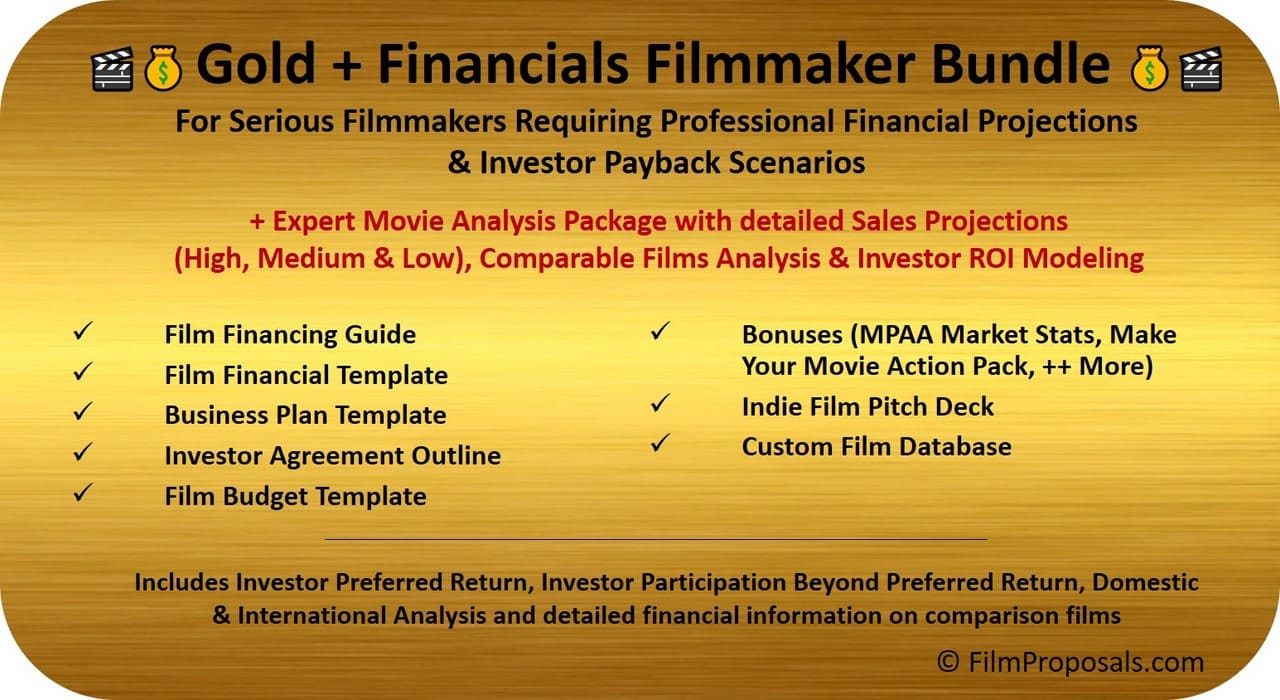 Full Gold Toolkit
+ Professional Sales Projections & Investor ROI
Regular Price $802, Save $203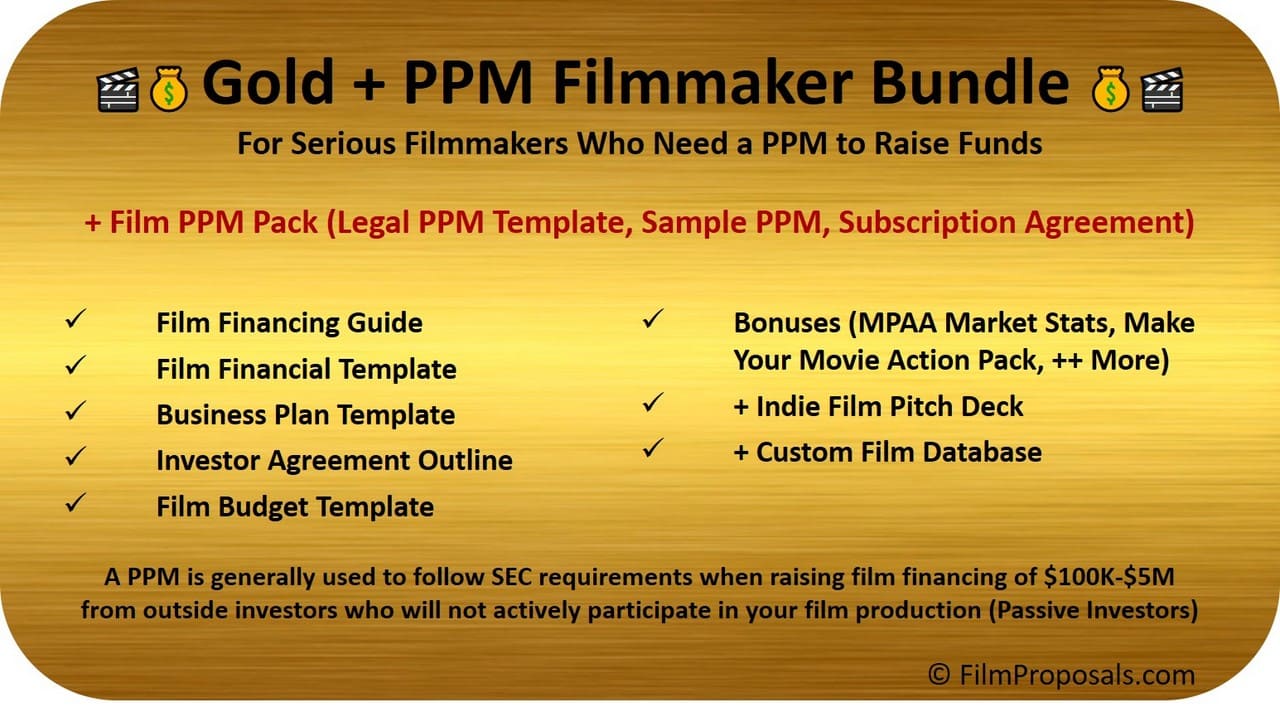 Full Gold Toolkit
+ PPM (Private Placement Memorandum)
Regular Price $802, Save $203
Film Financing Toolkits - Templates & Tools for the DIY Filmmaker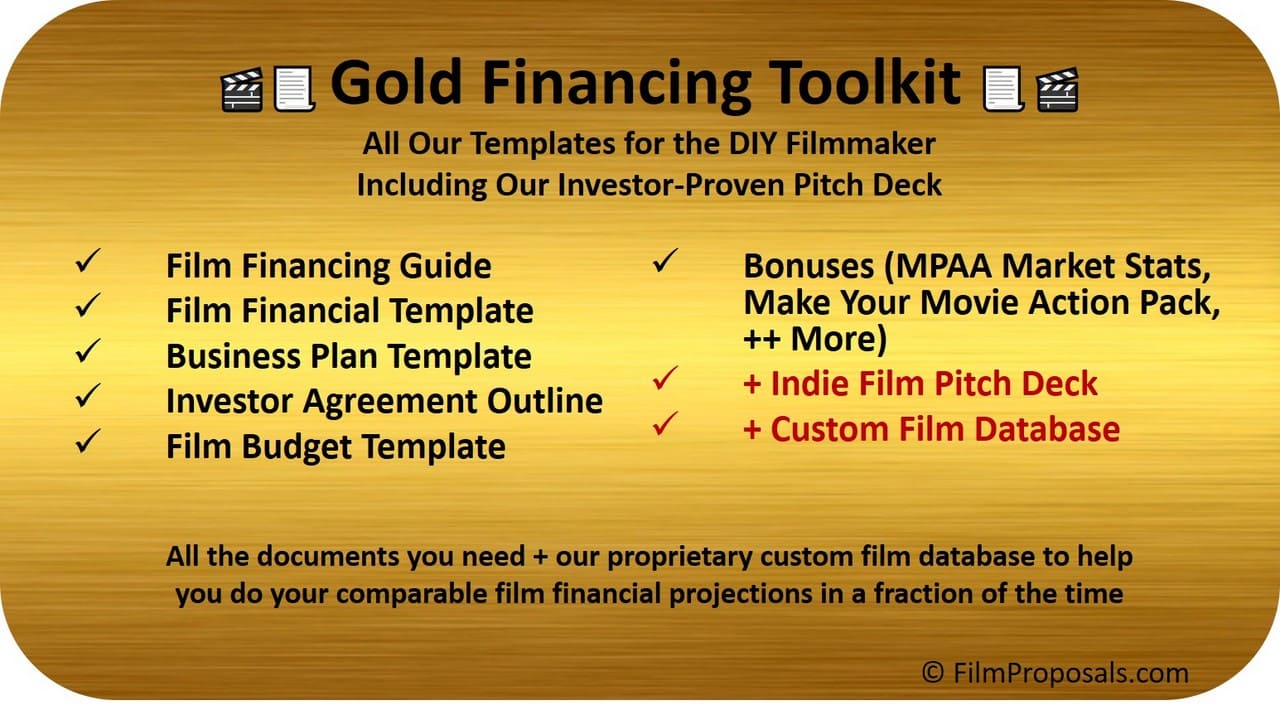 Full Silver Toolkit
+ Indie Film Pitch Deck Template
+ Custom Indie Film Database
Regular Price $303, Save $124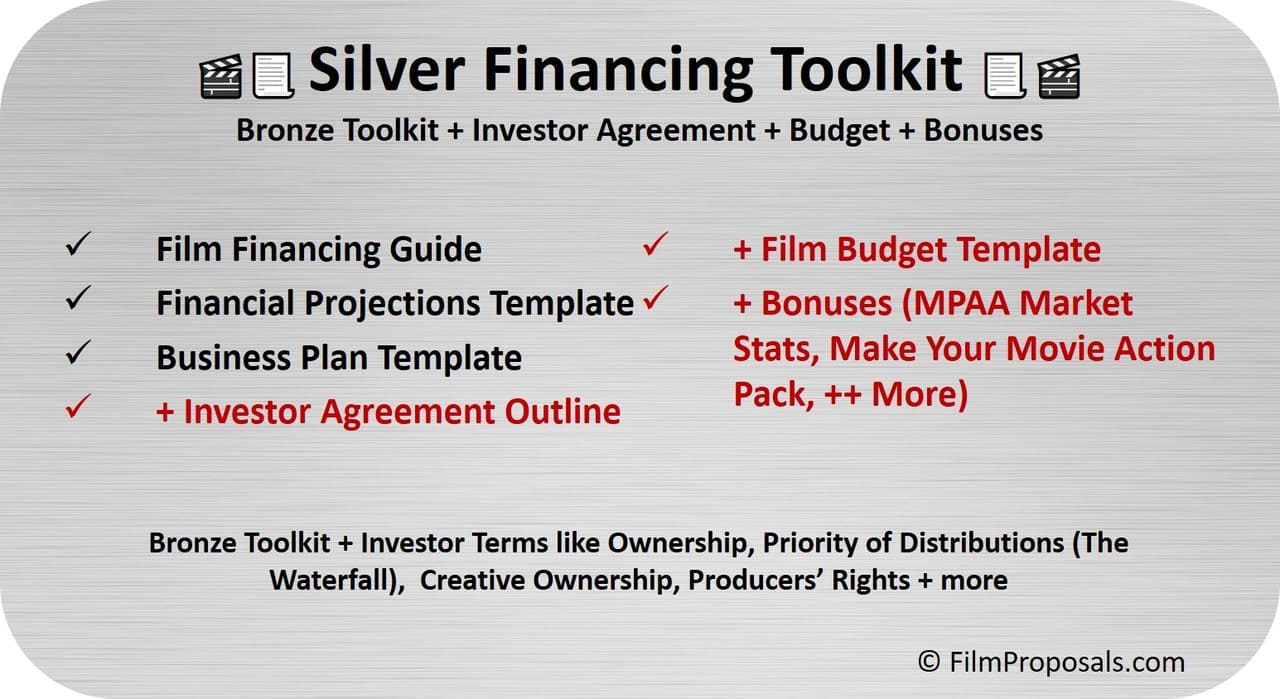 Full Bronze Toolkit
+ Investor Agreement Outline
+ Film Budget Template
+ Bonuses (MPAA Market Stats, Make Your Movie Action Pack, ++ More)
Regular Price $205, Save $76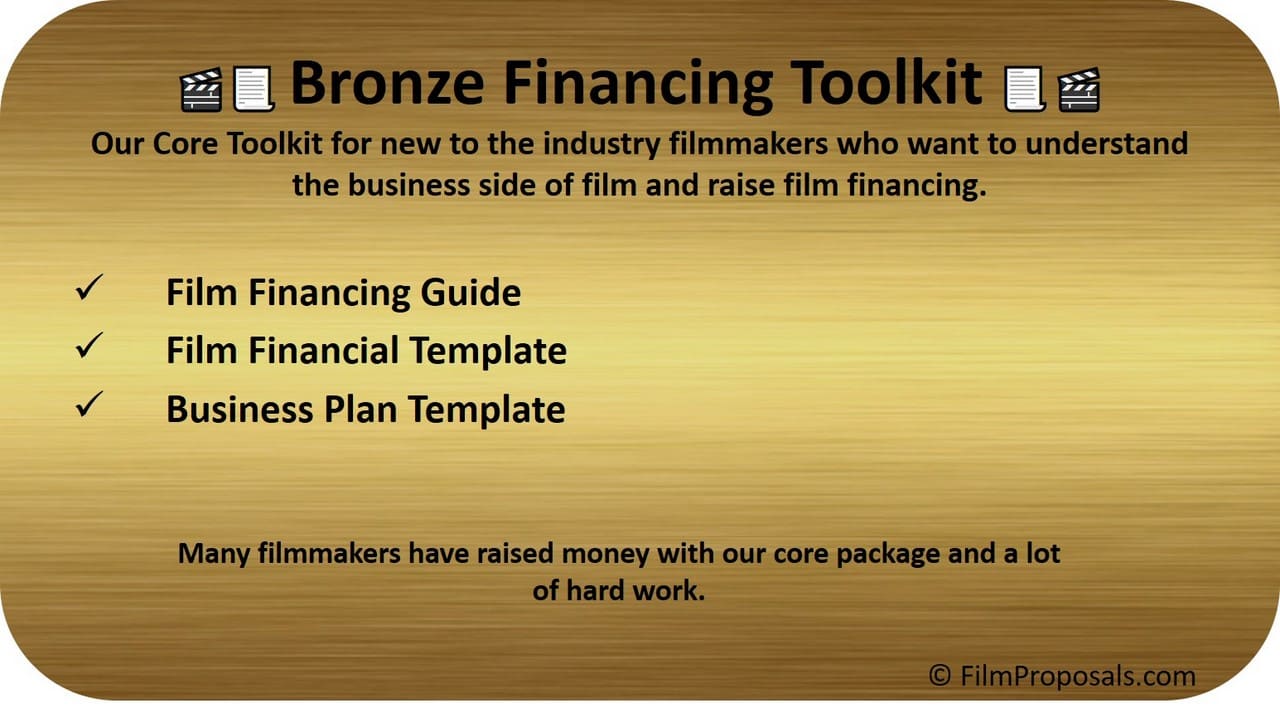 Film Financing Guide
Film Financial Projections Template
Business Plan Template
Regular Price $137, Save $38
Testimonials
Check out some of our Filmmaker Reviews
Just want to thank you for your materials and help over the past year. I could not have raised the $1.5 million or made this film without the materials you provided -- and for $99? The bargain of my career!

This is perfect! I have potential investors but I had no idea how to prepare a professional investment package to present to them. (I'm an artiste', not a business person. :) ) The information is clear and easy to understand, and Melissa is very prompt in answering emails.

Hi Melissa! I purchased Package #3 a couple of days ago, and I feel like I'm taking a crash course in film financing. So far, what I've read and learned has been invaluable. Thank you!
FilmProposals Tools and Templates