Austin Film Festival
by Hatley Moore
(Austin, TX)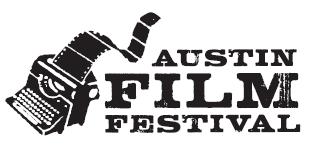 Austin Film Festival
Austin Film Festival; October 13 - 20, 2016. Known as "The Writer's Festival" since its inception, the Austin Film Festival celebrates films built on strong storytelling. AFF recognizes the importance of the creator at the core of filmmaking and screens the highest caliber narrative, documentary, and animated films — all of which demonstrate the power of a well-told story.
Austin Film Festival - October 13 - 20, 2016


Early Bird Deadline: March 30


Regular Deadline: May 20


Late Deadline: July 6


Submit your documentary to Austin Film Festival!
Austin Film Festival is now in full swing and we want to see your documentary feature or short. We're looking for docs that inhabit a solid narrative structure and relay a fully-formed and impactful story.
We're excited to announce our Documentary Short winner will be eligible for an Academy Award. In addition, we will have industry A-listers serve on our Documentary feature jury, such as P.O.V. and Oscilloscope Laboratories' representatives.

The prize will be $2500 for the Documentary Feature and $1000 for the Documentary Short, in addition to reimbursement of one round-trip airfare and stay in Austin, Texas during the festival. That's not to mention the attention and press you'll get for screening your film at AFF. Each year multiple documentaries go on to find distribution.



If you submit online through our website (not Withoutabox) you will receive $5 off: www.austinfilmfestival.com
Austin Film Festival furthers the art and craft of filmmaking by inspiring and championing the work of screenwriters, filmmakers, and all artists who use the language of film and television to tell a story. In addition to an 8 day film festival and 4 day Conference, we offer Year Round Events, a Young Filmmakers Program, a TV show, Radio show, Podcast and more!
AFF provides filmmakers an invaluable platform among industry professionals and film-lovers. Offering A-list jurors, amazing venues, and an opportunity to network and learn, Austin Film Festival is the place to be this October. All of AFF's juried categories—Narrative Features, Documentary Features, Narrative Shorts, Student Shorts, Animated Shorts, Dark Matters, Documentary Shorts, and our brand new category, Comedy Vanguard—have cash awards. In addition to the competitions, all submissions will be eligible to screen out-of-competition in special sections such as the Texas Independents Series. On top of all that, the winning films in the Narrative Short, Documentary Short, and Animated Short categories are Academy Award®-eligible!
Join in and write your own page! It's easy to do. How? Simply click here to return to Film Festivals.
Promote YOUR Story, Business, Film on FilmProposals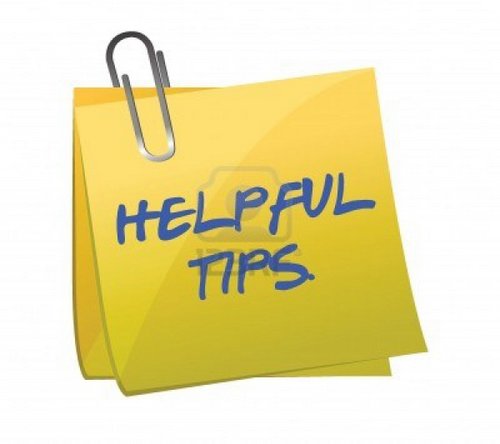 Do you have some great indie filmmaker tips to share with other aspiring or current filmmakers? Do you want to promote your latest film or service to a huge global network of filmmakers, producers, directors, potential investors and distributors? Here is a great opportunity to first, pay it forward, and then promote your projects, products and services.
More Info: Filmmaker Tips - Write for FilmProposals
All New 2021 Financing Packages (Bundles & Toolkits)
Film Financing Bundles - All the Templates + Professional Services & Legal Options for the Serious Filmmaker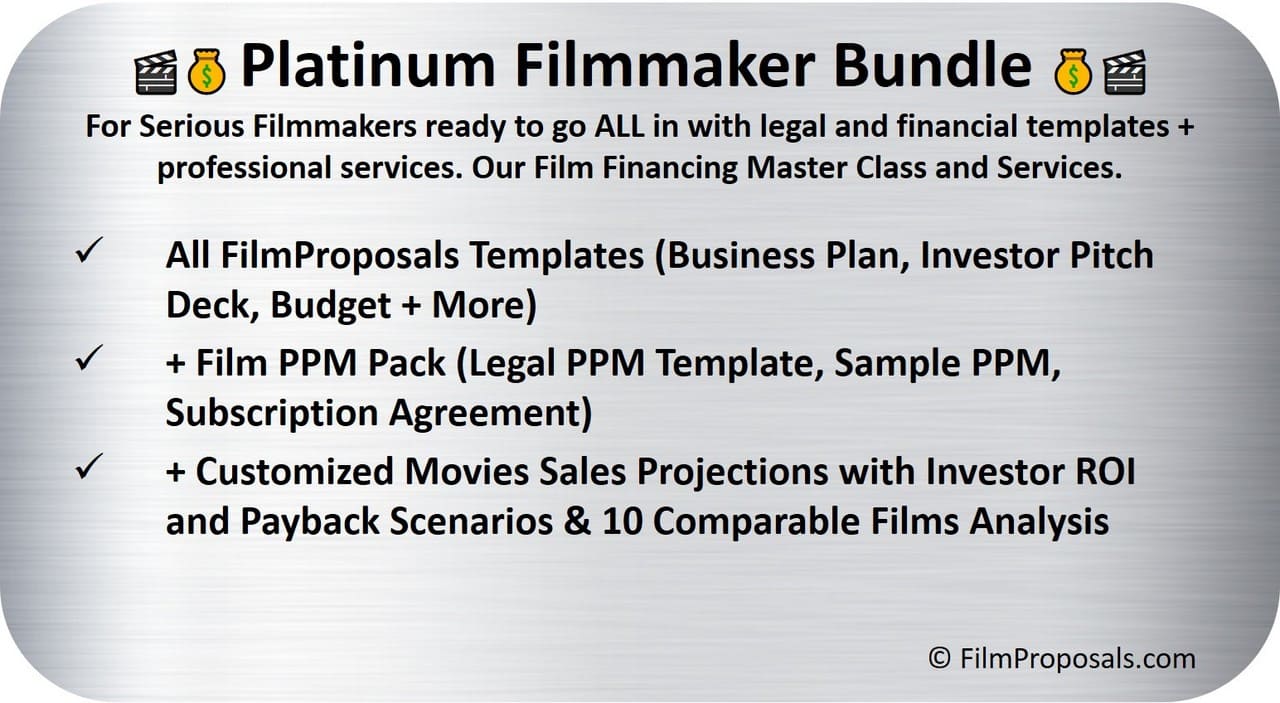 Full Gold Toolkit
+ Professional Sales Projections & Investor ROI
+ PPM (Private Placement Memorandum)
Regular Price $1301, Save $302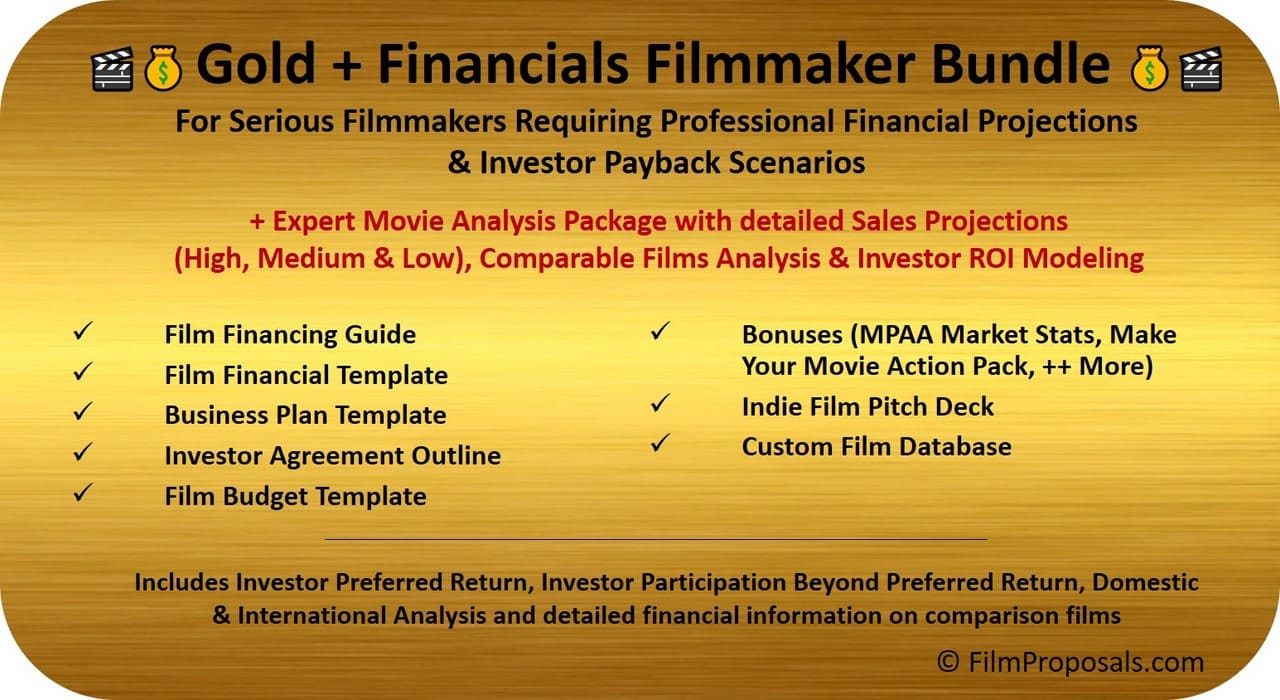 Full Gold Toolkit
+ Professional Sales Projections & Investor ROI
Regular Price $802, Save $203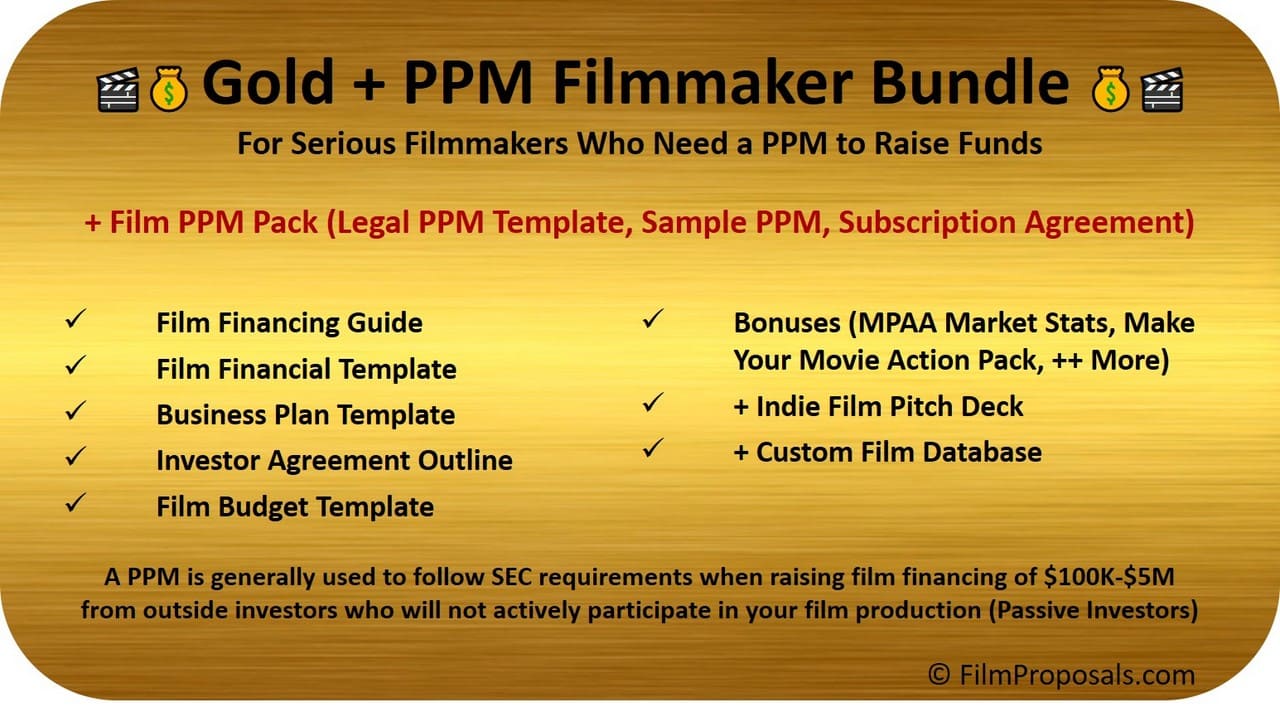 Full Gold Toolkit
+ PPM (Private Placement Memorandum)
Regular Price $802, Save $203
Film Financing Toolkits - Templates & Tools for the DIY Filmmaker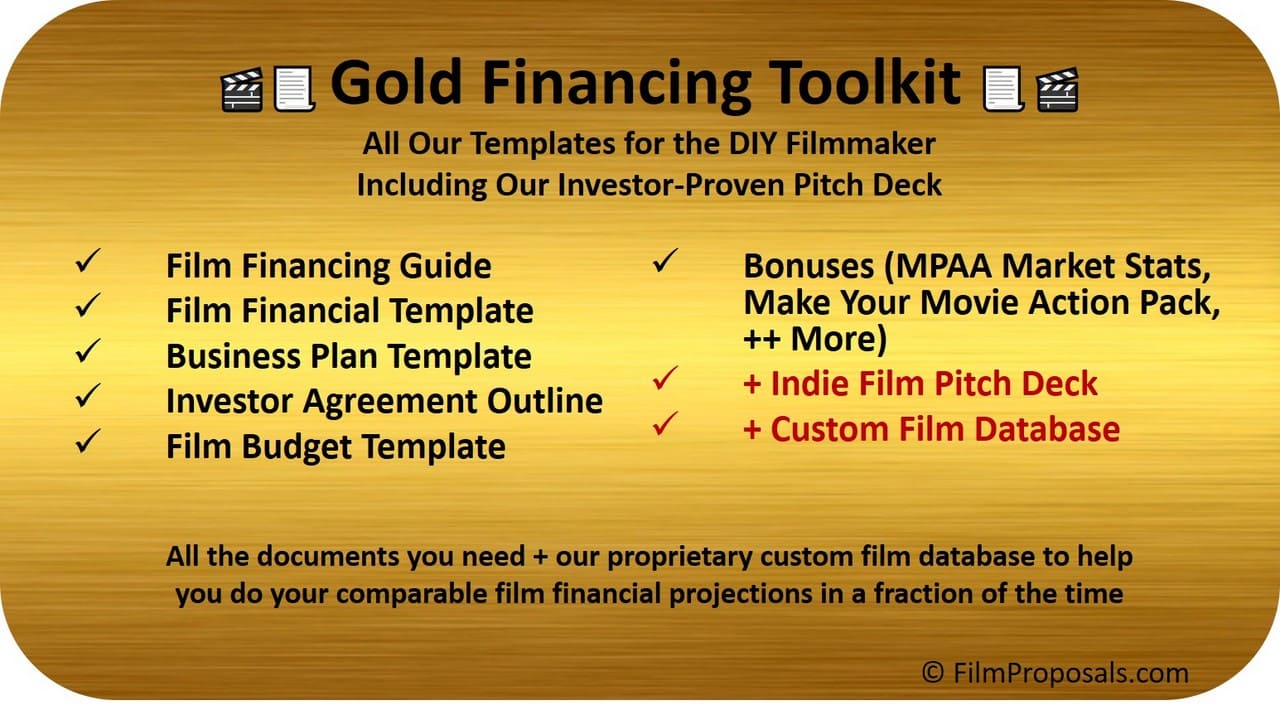 Full Silver Toolkit
+ Indie Film Pitch Deck Template
+ Custom Indie Film Database
Regular Price $303, Save $124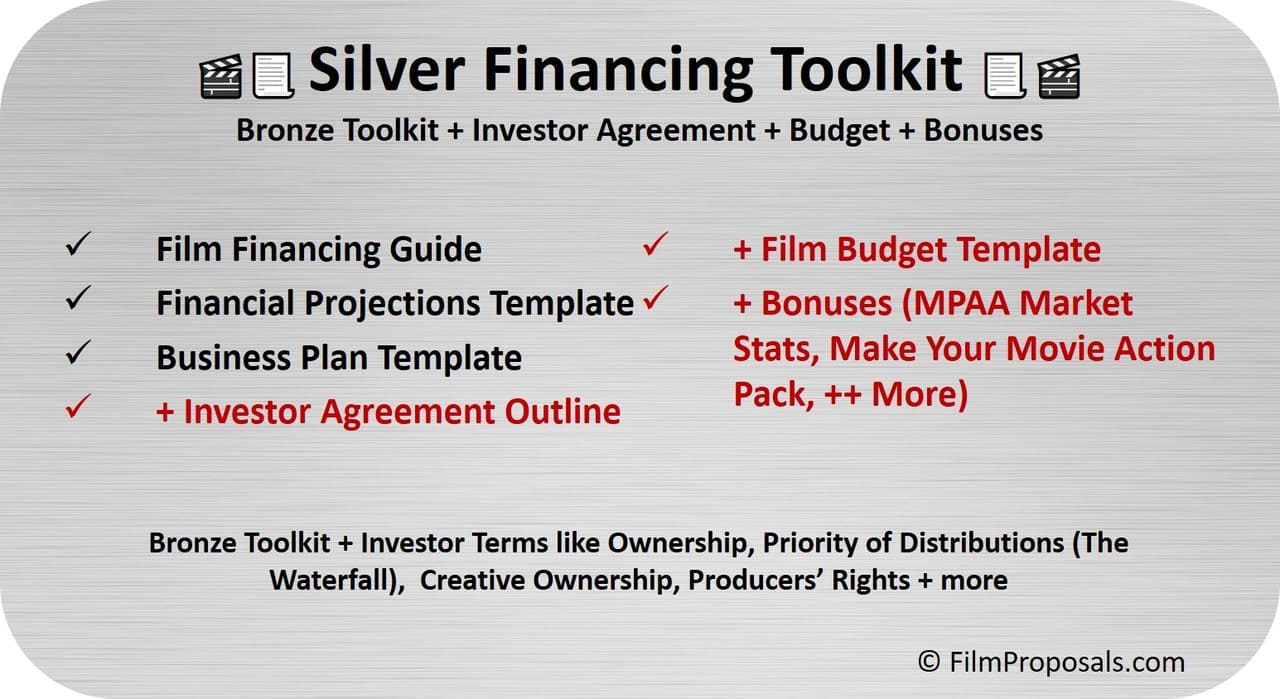 Full Bronze Toolkit
+ Investor Agreement Outline
+ Film Budget Template
+ Bonuses (MPAA Market Stats, Make Your Movie Action Pack, ++ More)
Regular Price $205, Save $76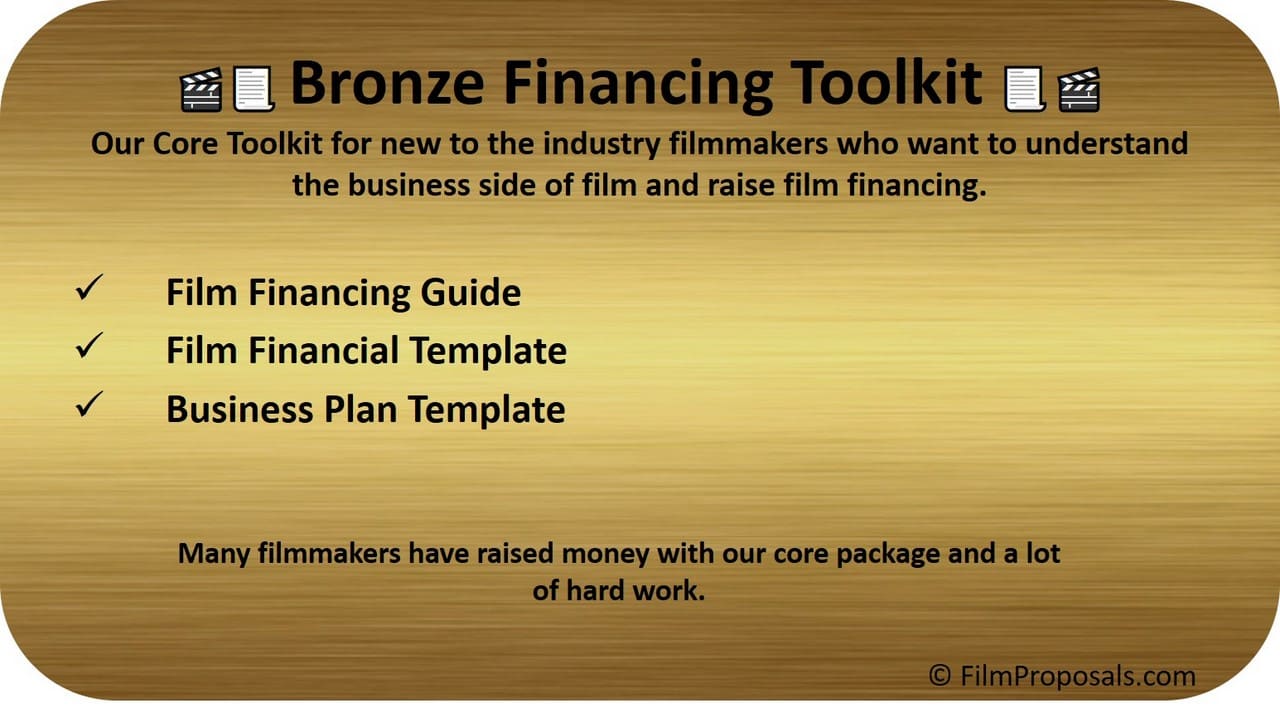 Film Financing Guide
Film Financial Projections Template
Business Plan Template
Regular Price $137, Save $38
Testimonials
Check out some of our Filmmaker Reviews
Just want to thank you for your materials and help over the past year. I could not have raised the $1.5 million or made this film without the materials you provided -- and for $99? The bargain of my career!

This is perfect! I have potential investors but I had no idea how to prepare a professional investment package to present to them. (I'm an artiste', not a business person. :) ) The information is clear and easy to understand, and Melissa is very prompt in answering emails.

Hi Melissa! I purchased Package #3 a couple of days ago, and I feel like I'm taking a crash course in film financing. So far, what I've read and learned has been invaluable. Thank you!
FilmProposals Tools and Templates