International Film Festival of Kerala
by Sajal
(calicut kerala india)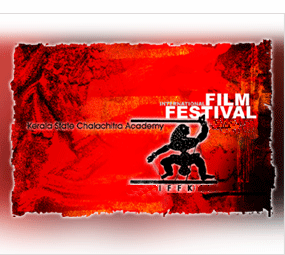 International Film Festival of Kerala
Kerala, a tropical paradise, is recommended by the National Geographic Magazine as one of the 50 'must-see' destinations of the world. Marketed as God's own country Kerala (kera+layam) which literally translates as abode of the coconuts and as legend goes it is the land that was reclaimed from the Sea.

From mountains to the sea, from rock to sand, lush greens to bright reds, spicy curries to sweet payasams, calm rural spaces to bustly urban centres kerala has as much variety in colour, texture and experiences, that takes more than lifetime to live and absorb completely.
Kerala boasts of one of the most cine-literate and discerning audiences in the world. Cinema and politics are two abiding passions of the people of Kerala. Bizarre experiments in the medium, with few takers elsewhere, find vociferous votaries here.

The International Film Festival of Kerala is a yearly event organised by the Kerala State Chalachitra Academy on behalf of the Department of Cultural Affairs, Government of Kerala. The festival is recognized by the FIAPF thus making it part of a prestigious circle of specialized festivals. The 15th edition of IFFK will be held at Thiruvananthapuram (formerly known as Trivandrum), the capital city of Kerala in the South of India from 10th - 17th December 2010.

IFFK boast's of an exclusive and extremely popular Competition section restricted to films produced or co produced in ASIA, AFRICA & LATIN AMERICA within the last year of the festival cycle. The usual sections include world cinema, documentaries (in film formats), short fiction (in film formats), retrospectives, homage's and tributes.

Over the years, the festival has attracted an ever increasing number of entries and our distinguished juries have a tough choice in deciding on the prizes and there is the prospect of winning attractive cash awards.
Join in and write your own page! It's easy to do. How? Simply click here to return to Film Festivals.
Promote YOUR Story, Business, Film on FilmProposals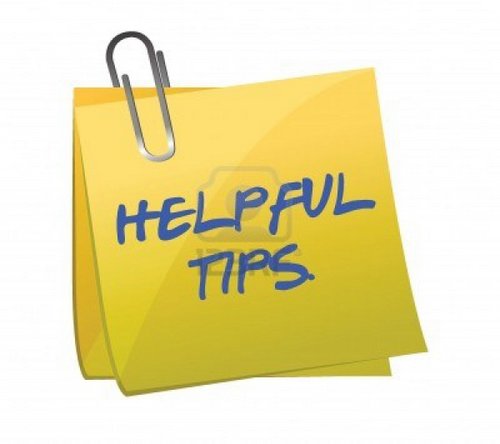 Do you have some great indie filmmaker tips to share with other aspiring or current filmmakers? Do you want to promote your latest film or service to a huge global network of filmmakers, producers, directors, potential investors and distributors? Here is a great opportunity to first, pay it forward, and then promote your projects, products and services.
More Info: Filmmaker Tips - Write for FilmProposals
All New 2021 Financing Packages (Bundles & Toolkits)
Film Financing Bundles - All the Templates + Professional Services & Legal Options for the Serious Filmmaker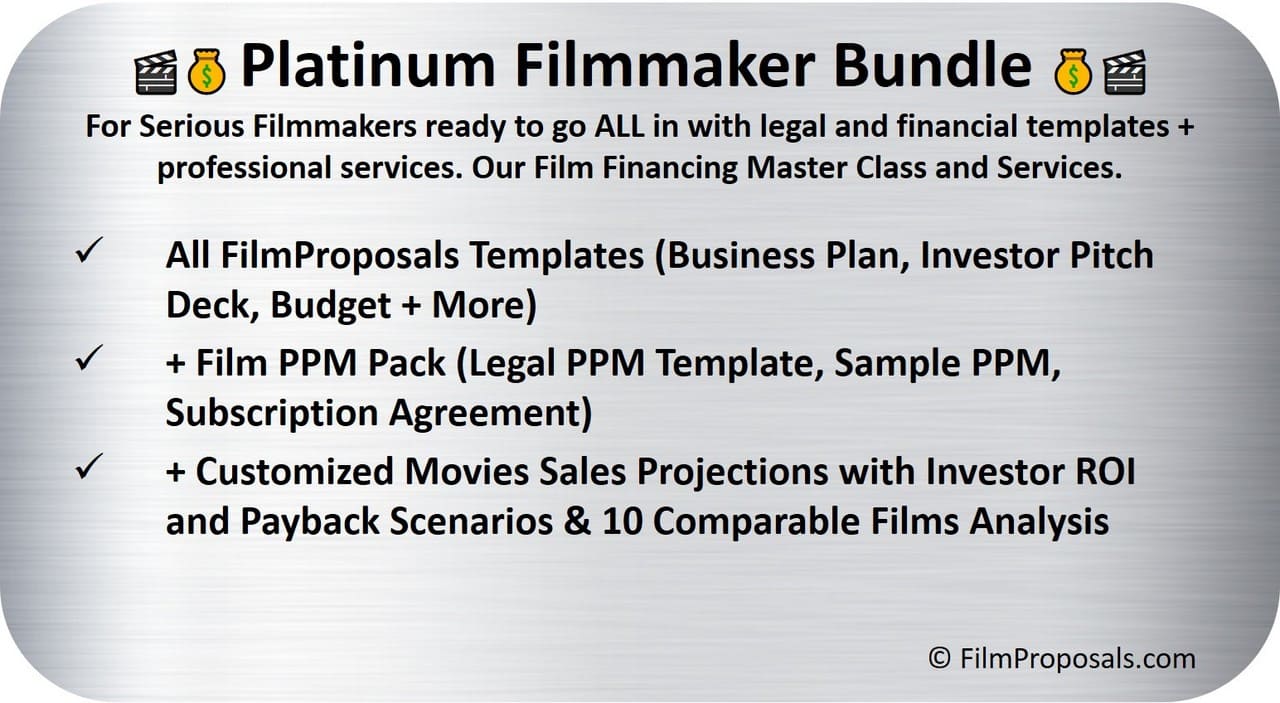 Full Gold Toolkit
+ Professional Sales Projections & Investor ROI
+ PPM (Private Placement Memorandum)
Regular Price $1301, Save $302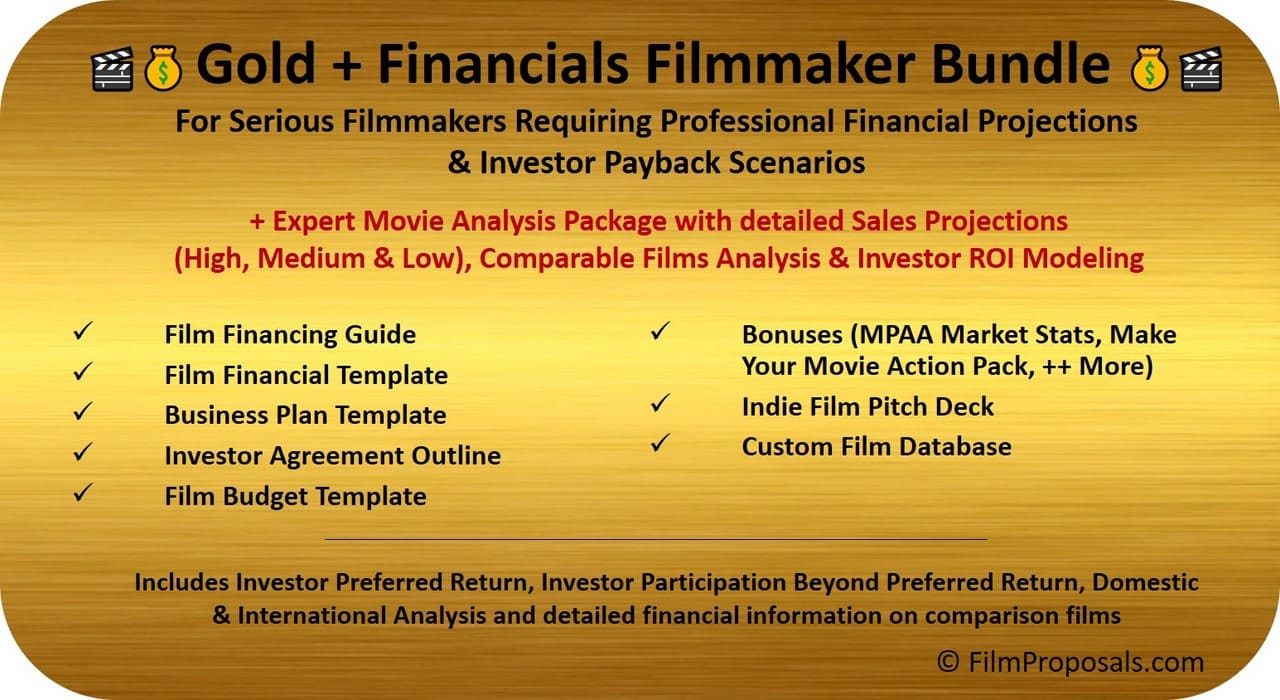 Full Gold Toolkit
+ Professional Sales Projections & Investor ROI
Regular Price $802, Save $203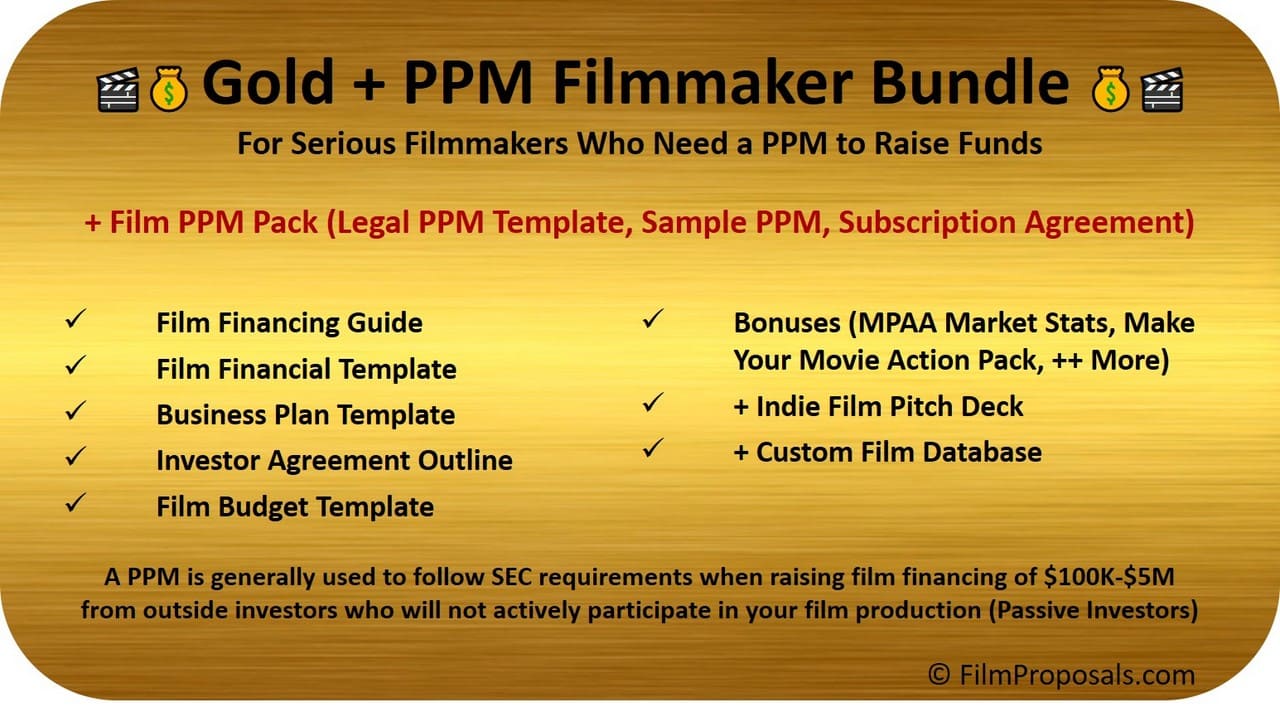 Full Gold Toolkit
+ PPM (Private Placement Memorandum)
Regular Price $802, Save $203
Film Financing Toolkits - Templates & Tools for the DIY Filmmaker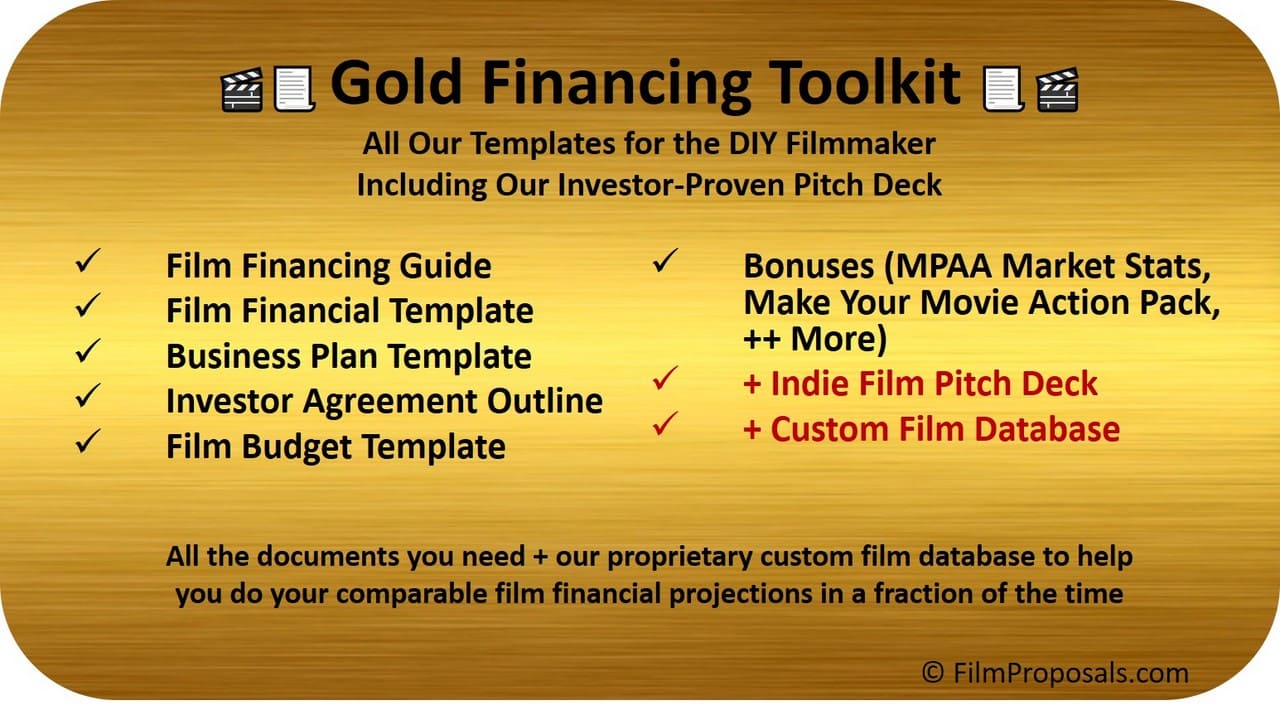 Full Silver Toolkit
+ Indie Film Pitch Deck Template
+ Custom Indie Film Database
Regular Price $303, Save $124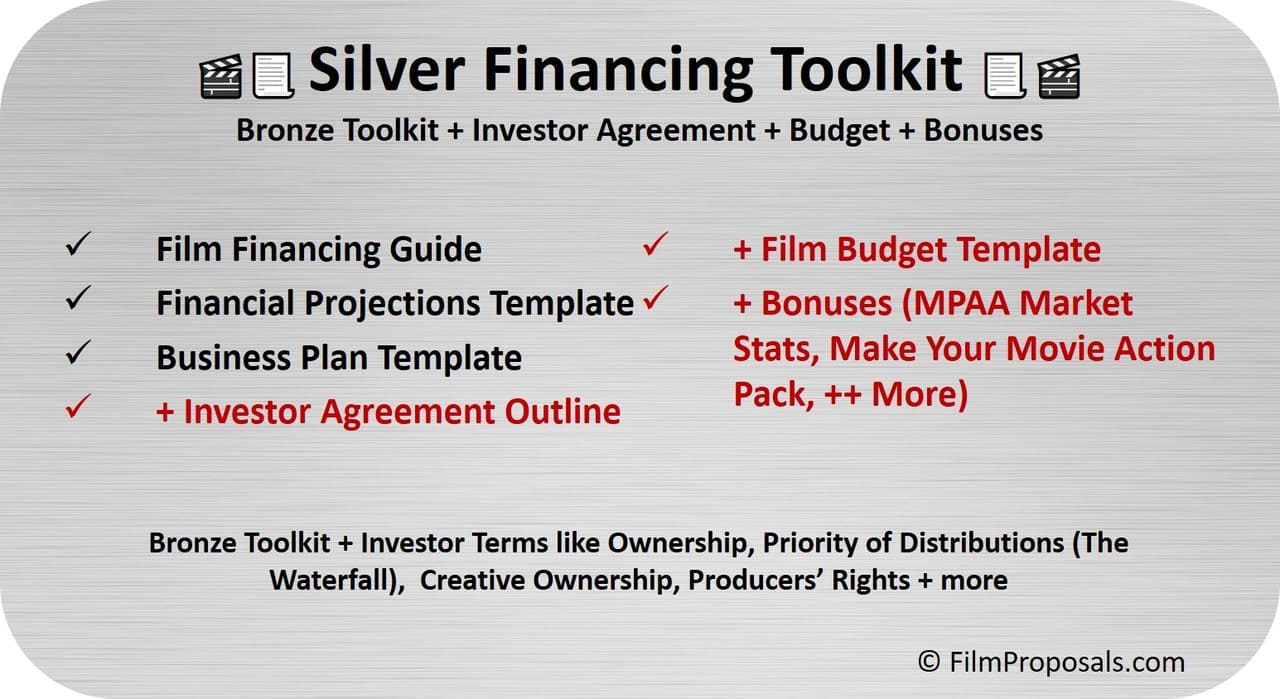 Full Bronze Toolkit
+ Investor Agreement Outline
+ Film Budget Template
+ Bonuses (MPAA Market Stats, Make Your Movie Action Pack, ++ More)
Regular Price $205, Save $76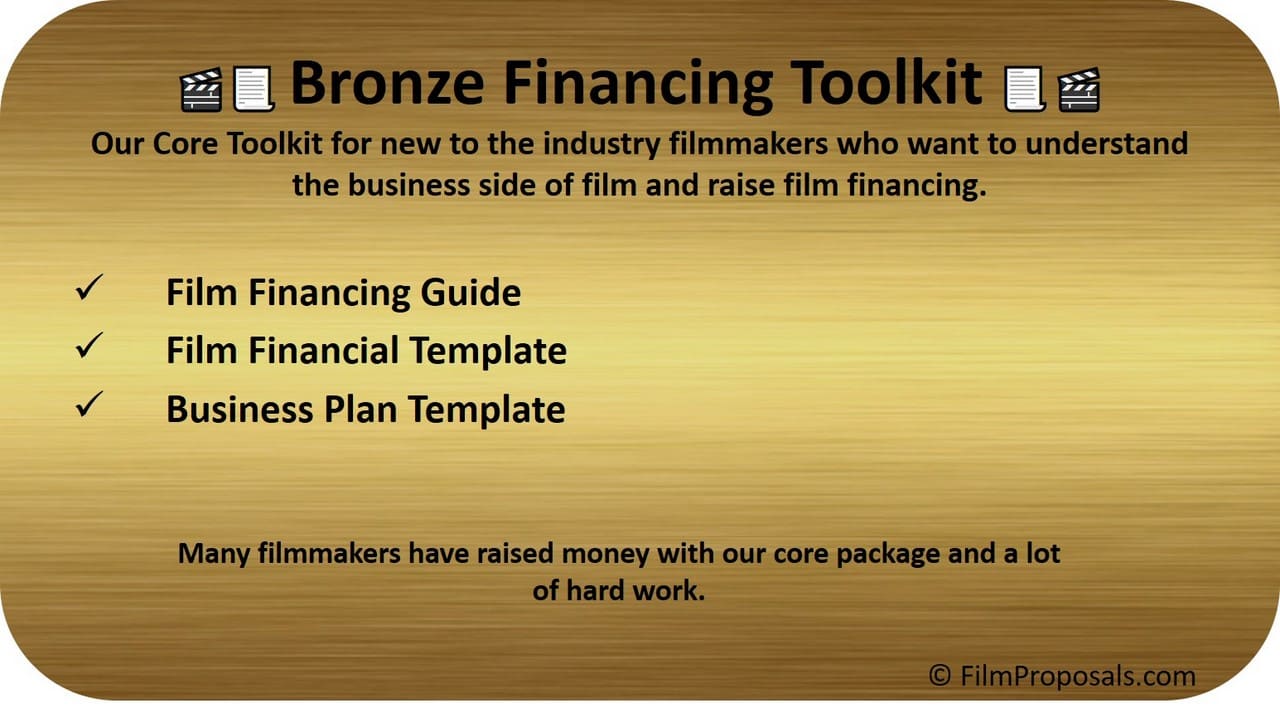 Film Financing Guide
Film Financial Projections Template
Business Plan Template
Regular Price $137, Save $38
Testimonials
Check out some of our Filmmaker Reviews
Just want to thank you for your materials and help over the past year. I could not have raised the $1.5 million or made this film without the materials you provided -- and for $99? The bargain of my career!

This is perfect! I have potential investors but I had no idea how to prepare a professional investment package to present to them. (I'm an artiste', not a business person. :) ) The information is clear and easy to understand, and Melissa is very prompt in answering emails.

Hi Melissa! I purchased Package #3 a couple of days ago, and I feel like I'm taking a crash course in film financing. So far, what I've read and learned has been invaluable. Thank you!
FilmProposals Tools and Templates