Up to $30,000 in Money to Make your Movie - Create the Next Pepto Bismol Commercial
by FilmProposals
(LA, CA)
Up to $30,000 in Money to Make your Film - Create the Next Pepto Bismol Commercial
You are challenged to create a series of four or more 15 second long commercials expressing how Pepto-Bismol allows you to "eat, drink and be covered" throughout a range of those indulgent occasions when everyone
indulges a little too much.

You must include at least four (4)15-second commercials in a series, uploaded as one video, that all use a similar
structure and feel for the situation. This could mean you use the same actors, same voiceover style, same tone
and personality etc.

Details at:
http://zooppa.com/contests/pepto-bismol

Pepto Moments - Eat, Drink and Be Covered
Just about everyone knows what Pepto-Bismol does, knows what Pepto pink looks like, and has had a Pepto Moment. You know the moment – when you've enjoyed life a little too much, and need someone or something to help out, to have your back.

At Pepto, we view these moments as a time when you are really living and enjoying the spontaneity of life. Therefore, when one of these moments presents itself, we believe you should embrace the chance to enjoy a little food with friends (or perhaps even a little too much food) and forget the serious side of life. Sometimes a great experience is worth a bit of stomach trouble, particularly when you have a witty friend like Pepto to pick you up.
Join in and write your own page! It's easy to do. How? Simply click here to return to Prize Money to Make a Movie.
Promote YOUR Story, Business, Film on FilmProposals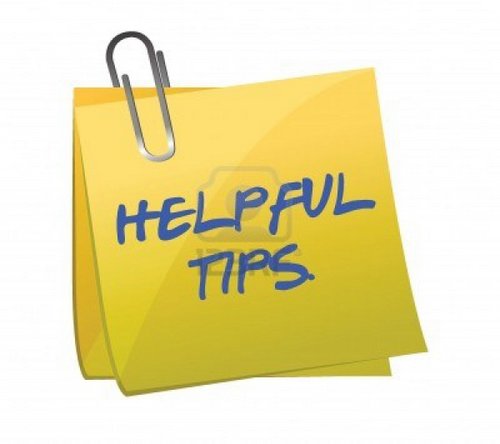 Do you have some great indie filmmaker tips to share with other aspiring or current filmmakers? Do you want to promote your latest film or service to a huge global network of filmmakers, producers, directors, potential investors and distributors? Here is a great opportunity to first, pay it forward, and then promote your projects, products and services.
More Info: Filmmaker Tips - Write for FilmProposals
All New 2021 Financing Packages (Bundles & Toolkits)
Film Financing Bundles - All the Templates + Professional Services & Legal Options for the Serious Filmmaker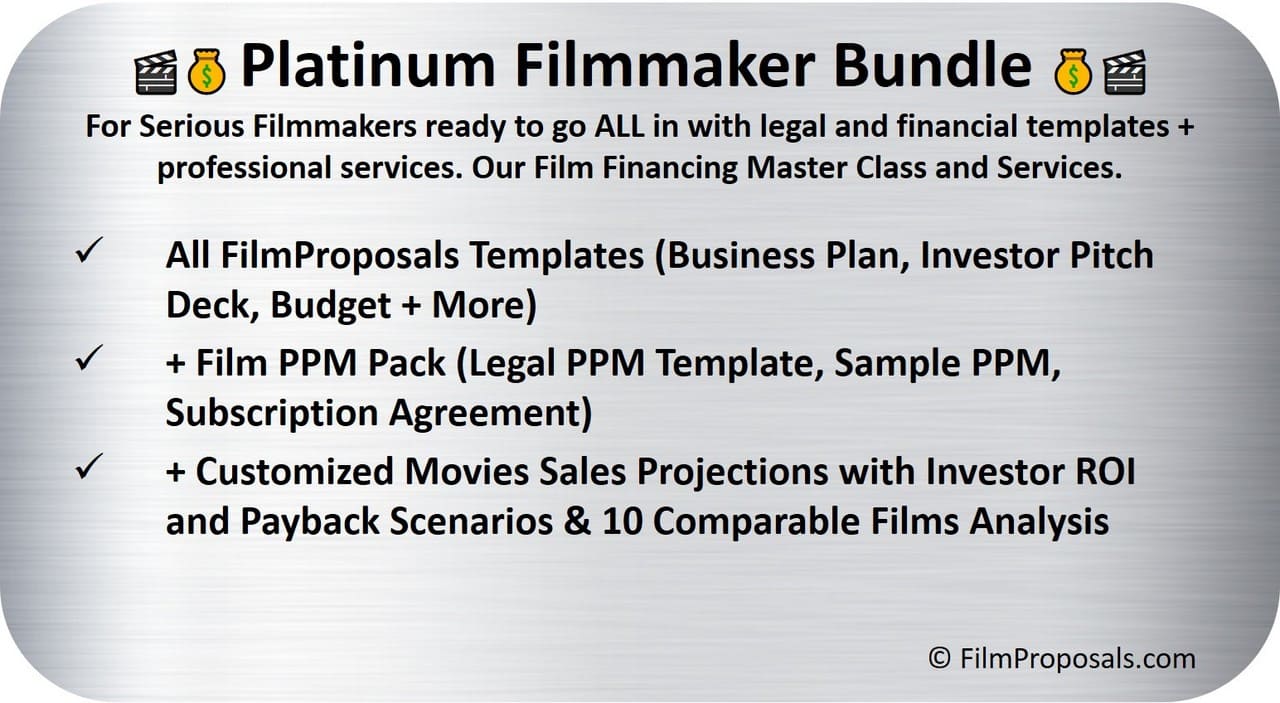 Full Gold Toolkit
+ Professional Sales Projections & Investor ROI
+ PPM (Private Placement Memorandum)
Regular Price $1301, Save $302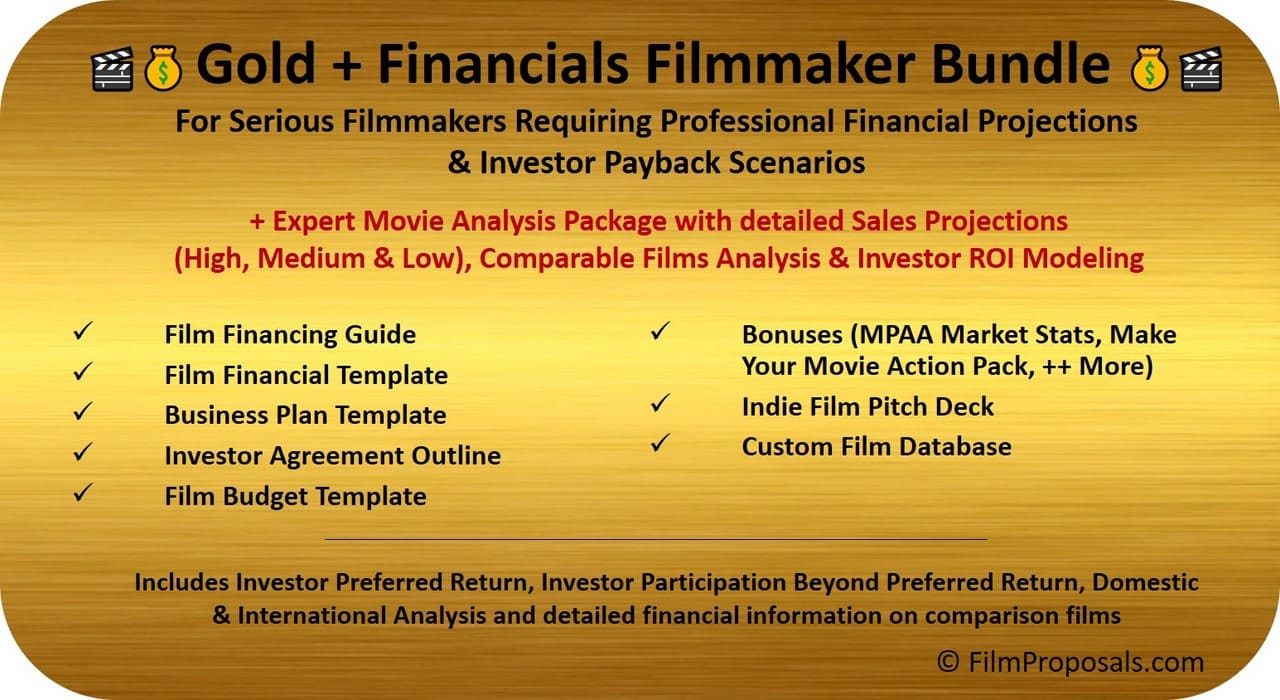 Full Gold Toolkit
+ Professional Sales Projections & Investor ROI
Regular Price $802, Save $203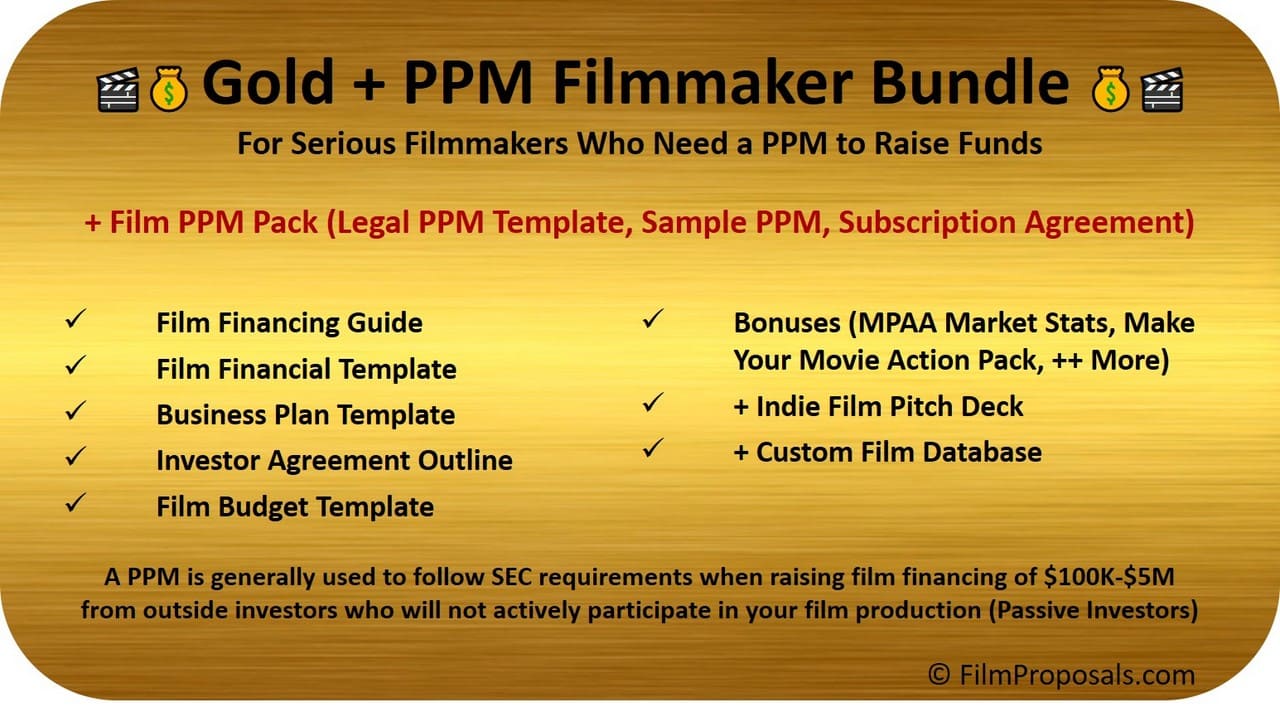 Full Gold Toolkit
+ PPM (Private Placement Memorandum)
Regular Price $802, Save $203
Film Financing Toolkits - Templates & Tools for the DIY Filmmaker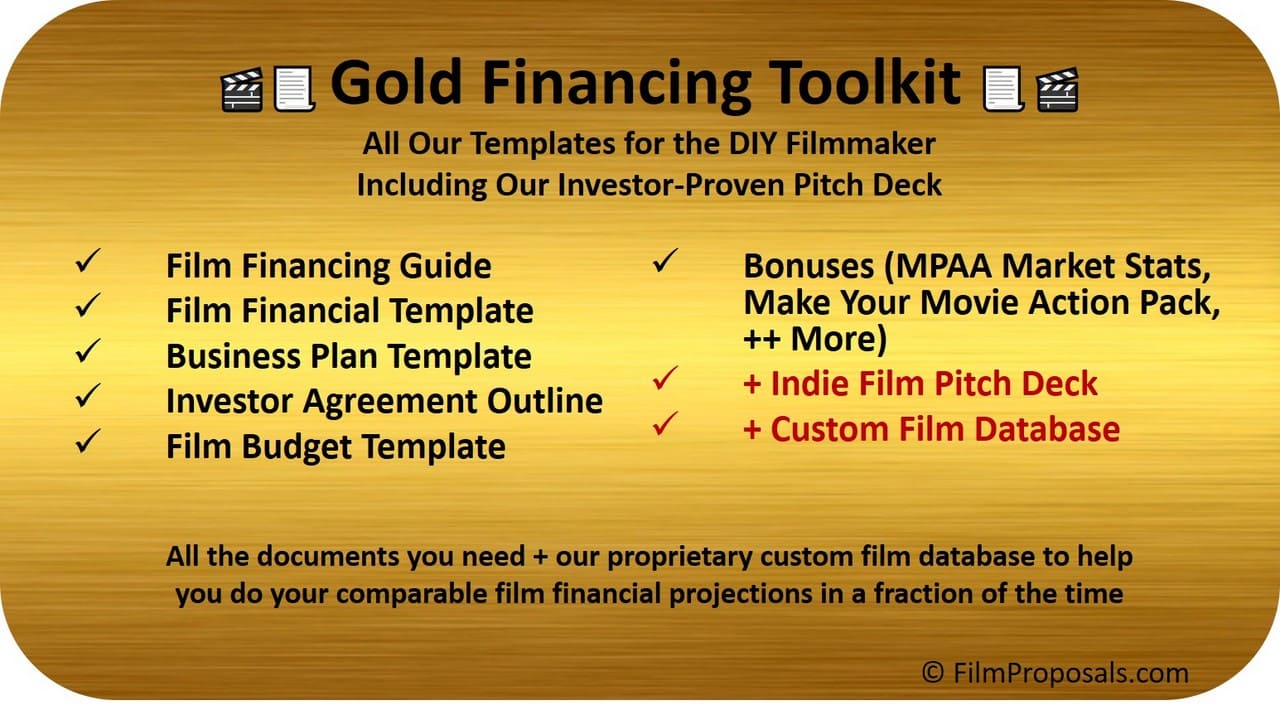 Full Silver Toolkit
+ Indie Film Pitch Deck Template
+ Custom Indie Film Database
Regular Price $303, Save $124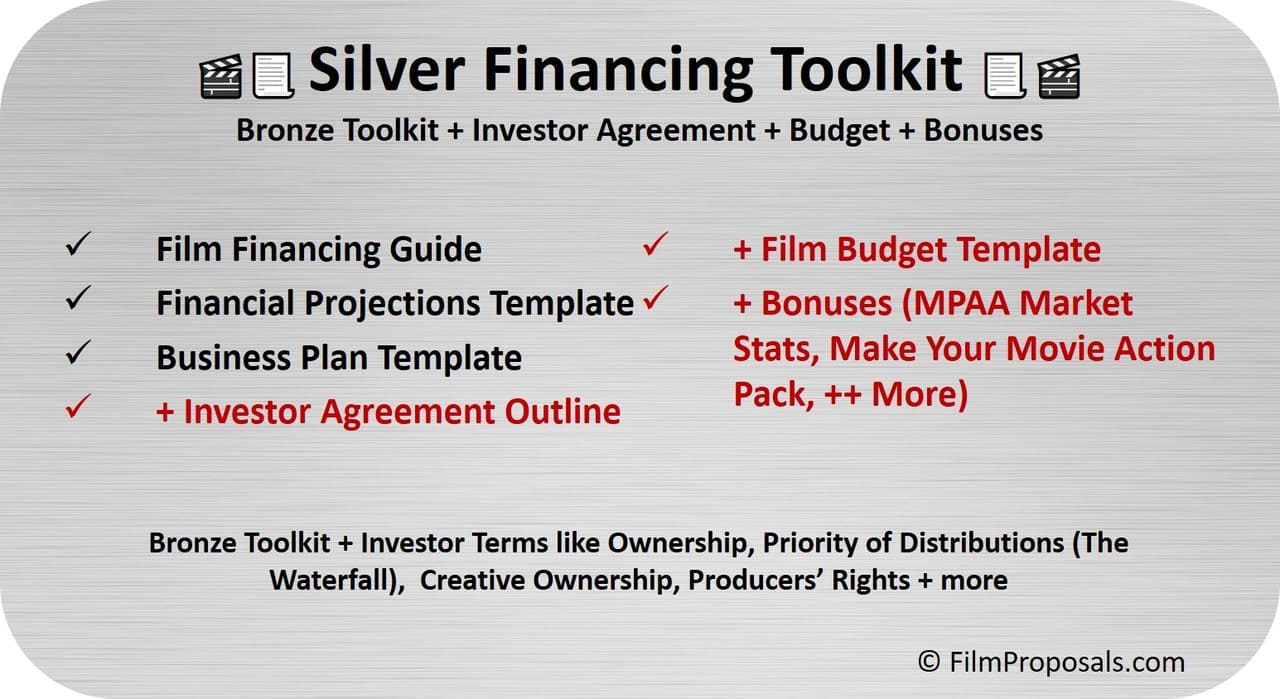 Full Bronze Toolkit
+ Investor Agreement Outline
+ Film Budget Template
+ Bonuses (MPAA Market Stats, Make Your Movie Action Pack, ++ More)
Regular Price $205, Save $76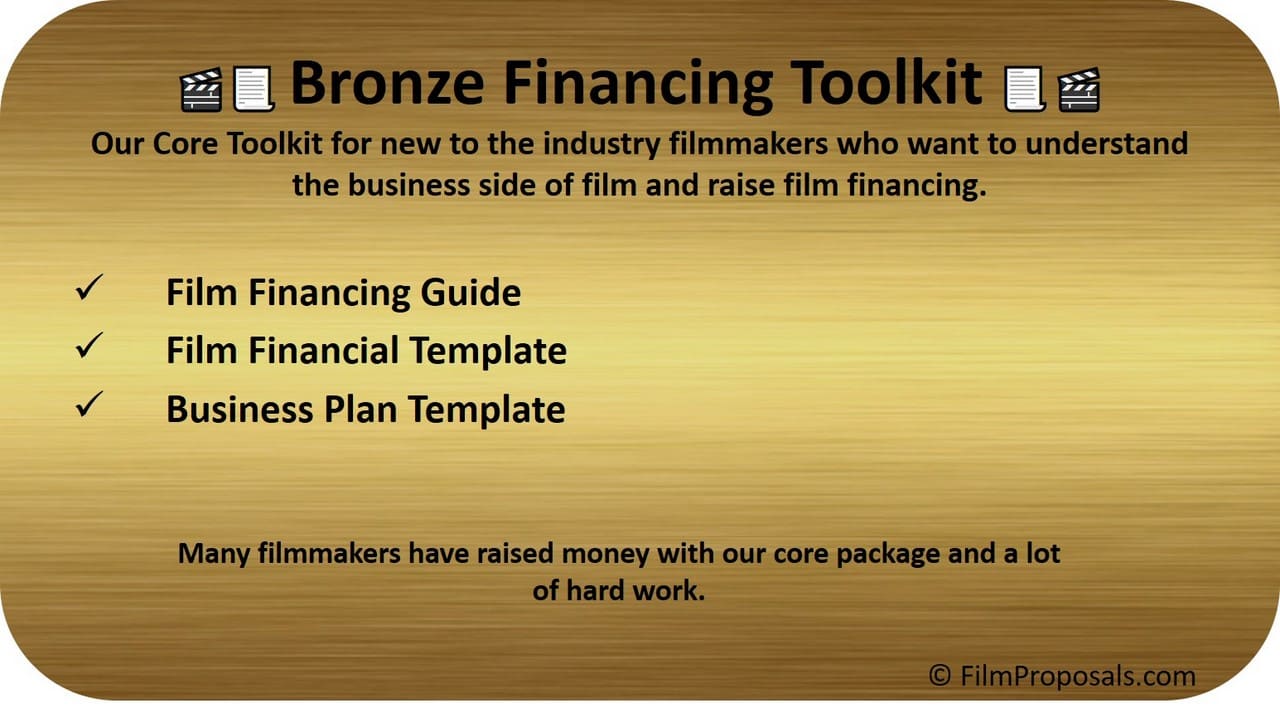 Film Financing Guide
Film Financial Projections Template
Business Plan Template
Regular Price $137, Save $38
Testimonials
Check out some of our Filmmaker Reviews
Just want to thank you for your materials and help over the past year. I could not have raised the $1.5 million or made this film without the materials you provided -- and for $99? The bargain of my career!

This is perfect! I have potential investors but I had no idea how to prepare a professional investment package to present to them. (I'm an artiste', not a business person. :) ) The information is clear and easy to understand, and Melissa is very prompt in answering emails.

Hi Melissa! I purchased Package #3 a couple of days ago, and I feel like I'm taking a crash course in film financing. So far, what I've read and learned has been invaluable. Thank you!
FilmProposals Tools and Templates