Will the FilmProposals Products Work in the UK or Other Countries?

(UK)
I'm very interested in your packs, as I am a fairly new producer packaging up numerous projects. I am based in the UK so I'm concerned that your site is purely geared to the U.S, as I see everything is in dollars etc.


FilmProposals Answer
Hi and thanks for your question. Most of our Film Financing products are compatible with any country.
1) Financial Template - In terms of using US Dollars as our unit of measure, that is a 1 second change in Excel (just change $ to £ - or any currency in the world). This does not affect any calculations or formulas, which are mostly the same worldwide, and therefore the Financial Template should work anywhere.
2) Financing Manual - There are a few areas of the Financing Manual that apply only to the US, such as anything having to do with SEC laws or the JOBS Act. Every country is different with regards to fundraising and securities laws. All the ways to find investors, how to attract and secure them, how to pitch them apply worldwide.
3) Business Plan Template - the majority of the Business Plan Template will apply worldwide. One area that will need tweaking is the US MPAA Market Statistics (you will either delete these and only keep worldwide numbers or find those for your country).
Hope that helps!
Back to
FilmProposals Frequently Asked Questions
Join in and write your own page! It's easy to do. How? Simply click here to return to Ask a Question.
Promote YOUR Story, Business, Film on FilmProposals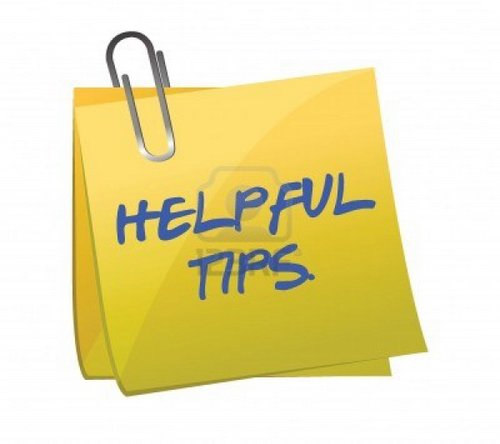 Do you have some great indie filmmaker tips to share with other aspiring or current filmmakers? Do you want to promote your latest film or service to a huge global network of filmmakers, producers, directors, potential investors and distributors? Here is a great opportunity to first, pay it forward, and then promote your projects, products and services.
More Info: Filmmaker Tips - Write for FilmProposals
All New 2021 Financing Packages (Bundles & Toolkits)
Film Financing Bundles - All the Templates + Professional Services & Legal Options for the Serious Filmmaker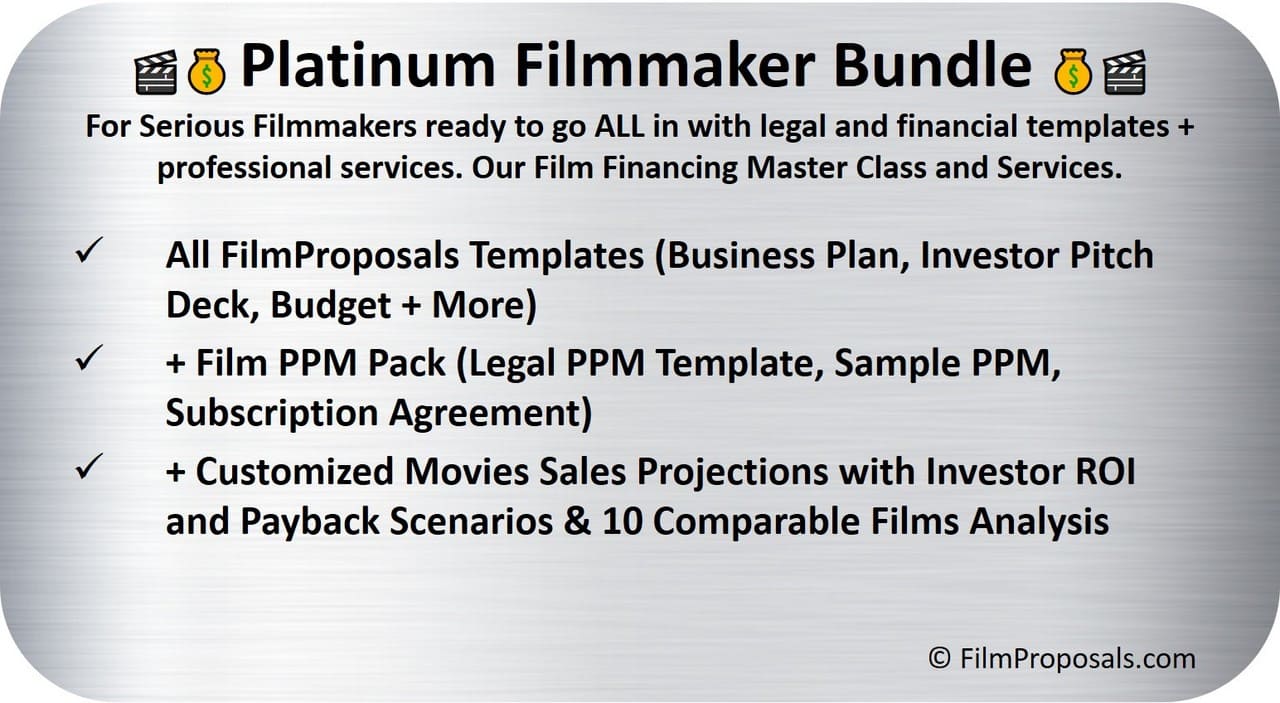 Full Gold Toolkit
+ Professional Sales Projections & Investor ROI
+ PPM (Private Placement Memorandum)
Regular Price $1301, Save $302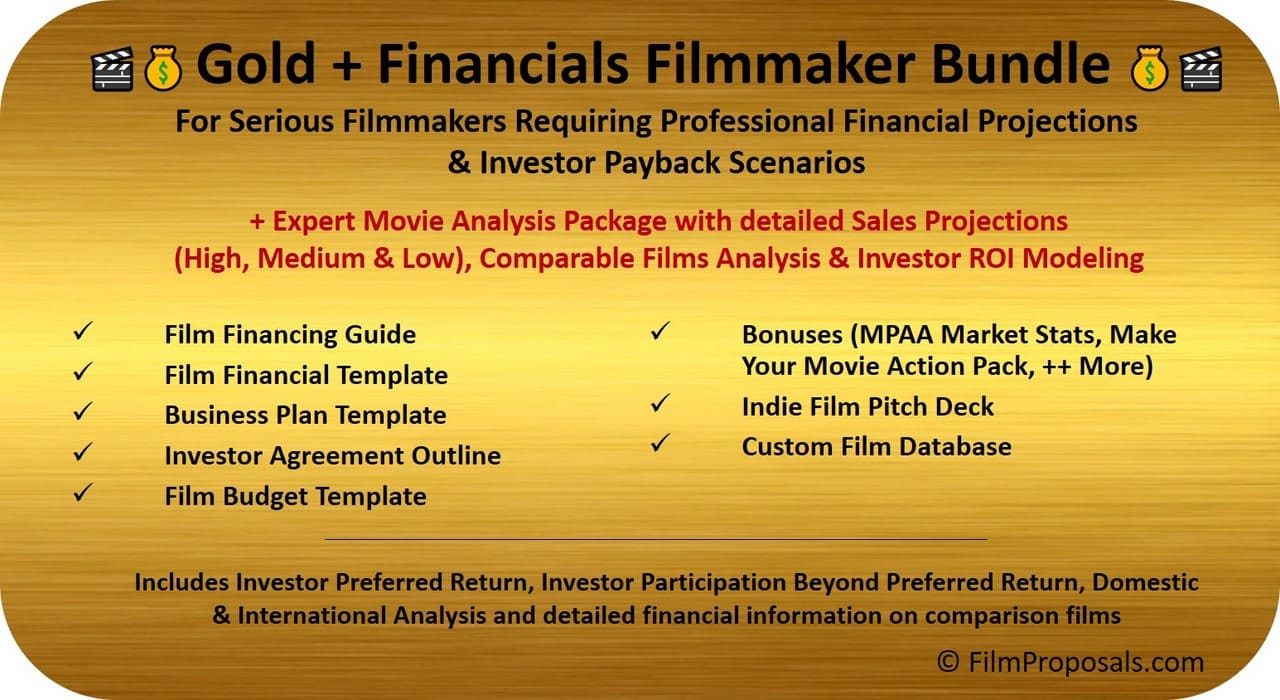 Full Gold Toolkit
+ Professional Sales Projections & Investor ROI
Regular Price $802, Save $203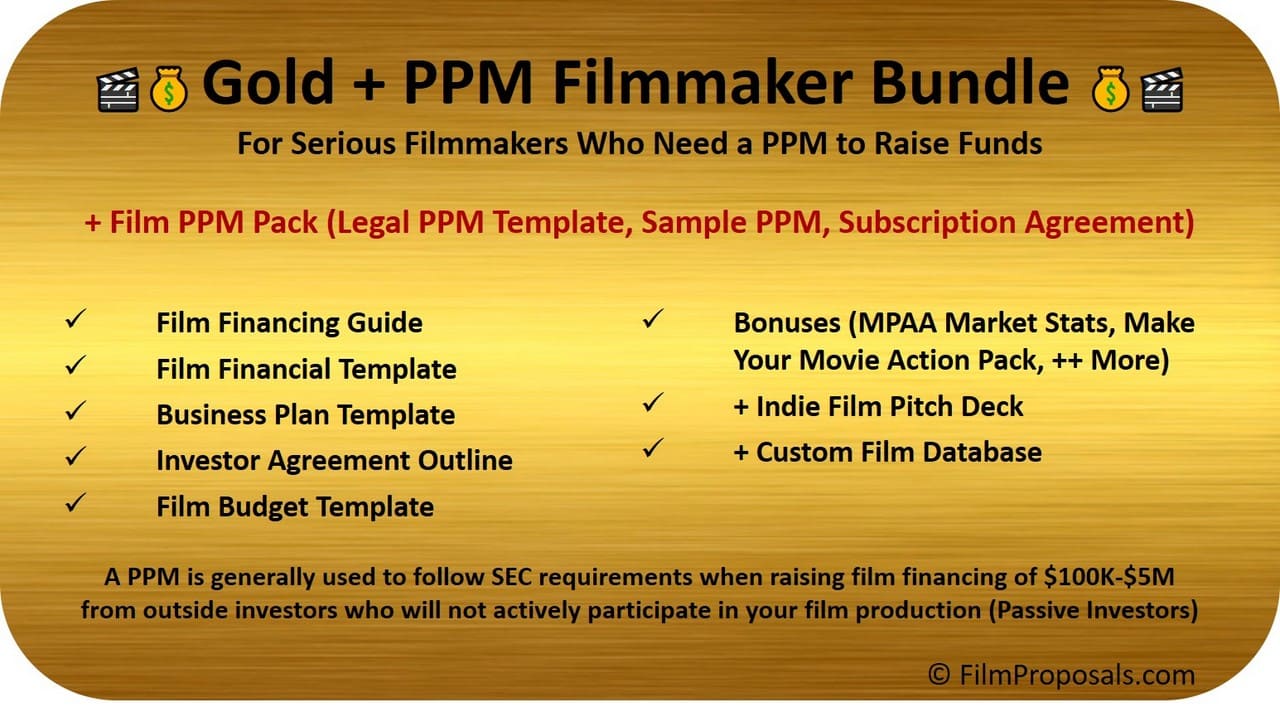 Full Gold Toolkit
+ PPM (Private Placement Memorandum)
Regular Price $802, Save $203
Film Financing Toolkits - Templates & Tools for the DIY Filmmaker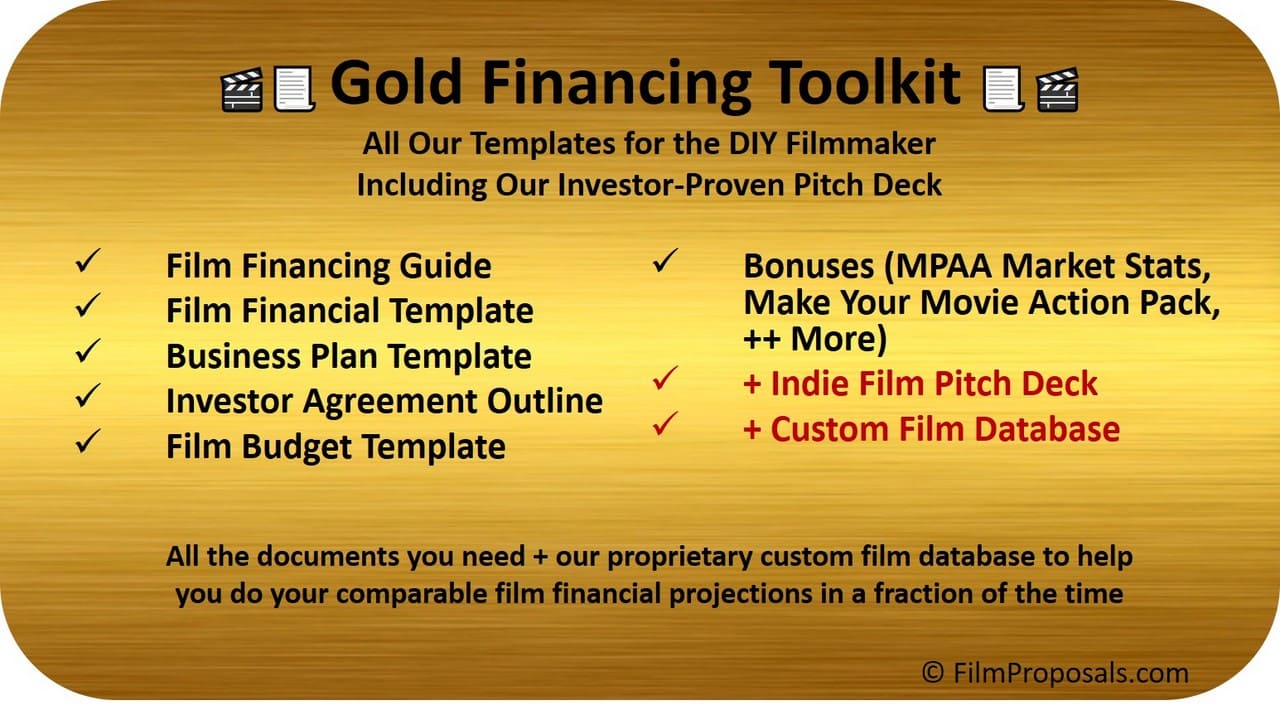 Full Silver Toolkit
+ Indie Film Pitch Deck Template
+ Custom Indie Film Database
Regular Price $303, Save $124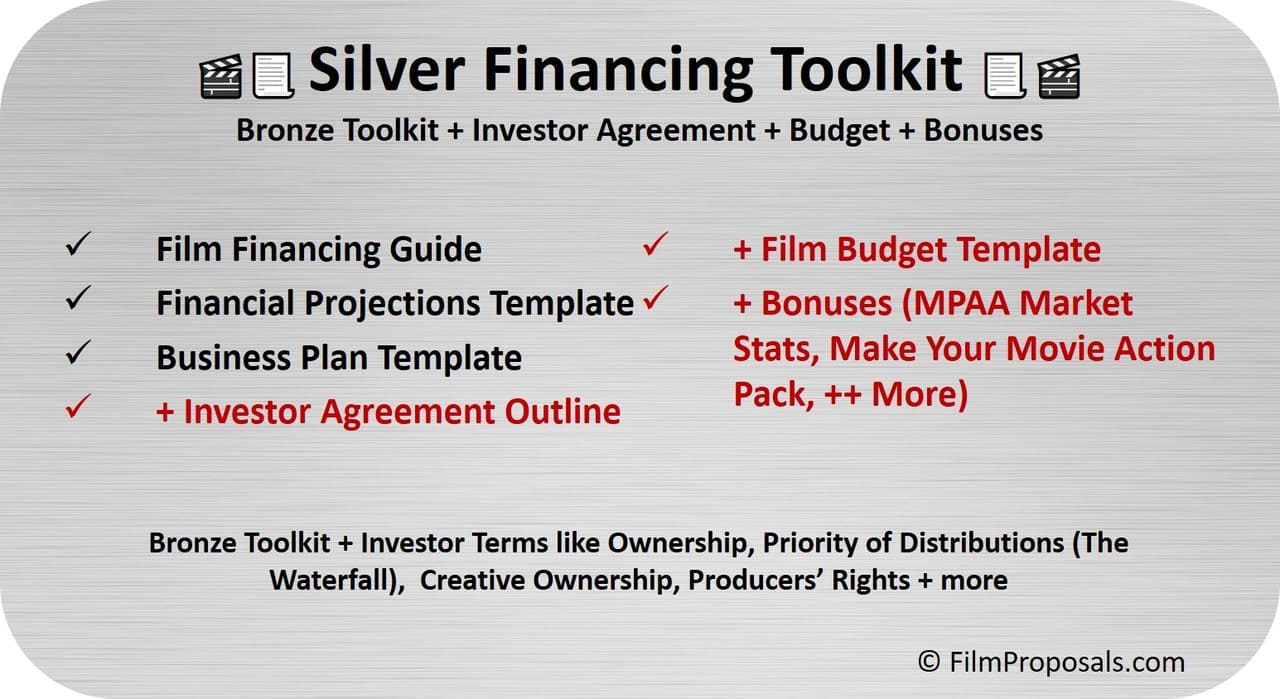 Full Bronze Toolkit
+ Investor Agreement Outline
+ Film Budget Template
+ Bonuses (MPAA Market Stats, Make Your Movie Action Pack, ++ More)
Regular Price $205, Save $76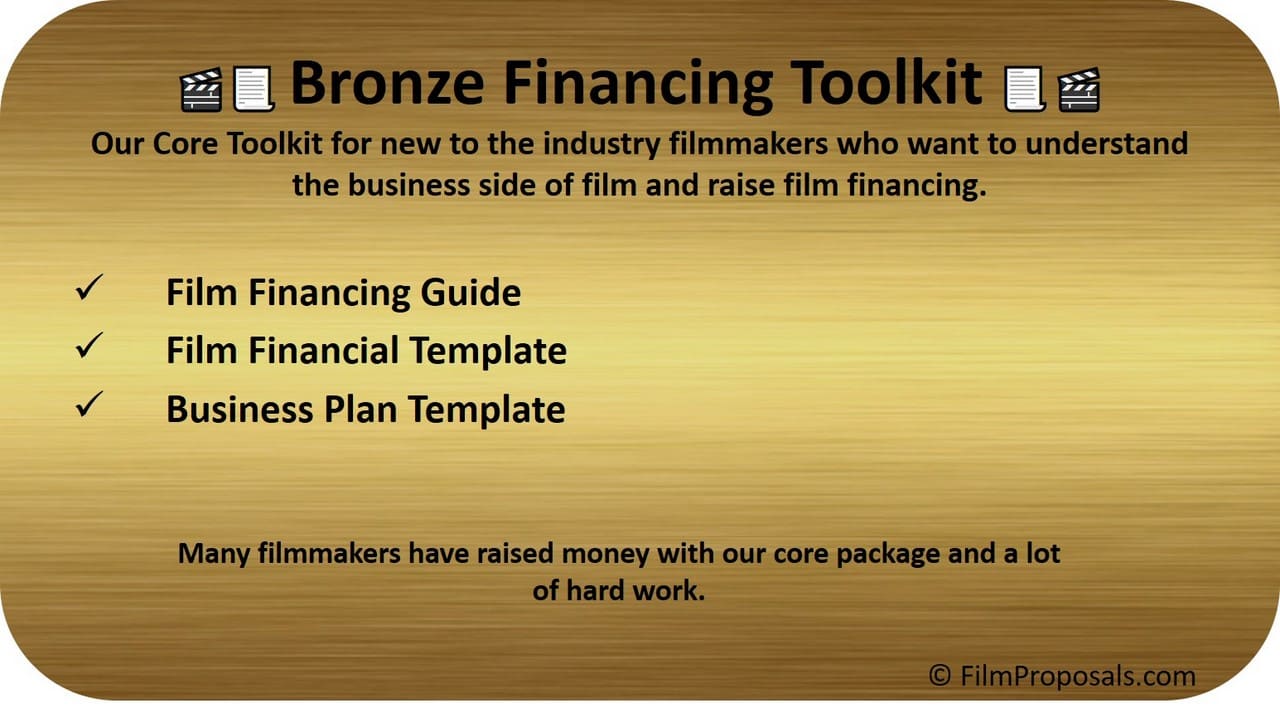 Film Financing Guide
Film Financial Projections Template
Business Plan Template
Regular Price $137, Save $38
Testimonials
Check out some of our Filmmaker Reviews
Just want to thank you for your materials and help over the past year. I could not have raised the $1.5 million or made this film without the materials you provided -- and for $99? The bargain of my career!

This is perfect! I have potential investors but I had no idea how to prepare a professional investment package to present to them. (I'm an artiste', not a business person. :) ) The information is clear and easy to understand, and Melissa is very prompt in answering emails.

Hi Melissa! I purchased Package #3 a couple of days ago, and I feel like I'm taking a crash course in film financing. So far, what I've read and learned has been invaluable. Thank you!
FilmProposals Tools and Templates