FilmProposals Business Plan Services are designed to help all independent film makers create the best feature film, indie film or short film project with the highest chances for worldwide success. We offer a variety of services to suit all budgets. Choose from:
Film Business Plan Services
Business Plan Review (Most Popular)
If you already have a Proposal or Business Plan developed, we provide a thorough review of your plan and financials against best practice film proposals. You get 2 reviews with feedback given both written and verbal via phone. We will review your plan from an investor's perspective, challenge and question your assumptions as well as provide thorough feedback on your Proposal's strengths and weaknesses. Download the Free Self Review to see how we will evaluate your plan. For those who pre-purchase the Business Plan Review with a Film Financing Package, you have up to one year from date of purchase to schedule your sessions.
Read more about our Business Plan Review, including how it works, how to schedule, the information we'll need from you and more.
FilmProposals Business Plan Review Packages
Business Plan Review
For non FilmProposals Customers
Must have your own business plan prepared
Business Plan Review with
(Silver)
Business Plan Review using Film Proposals Movie Investor Toolkit
Purchased separate from Silver Film Financing Package
ONLY for FilmProposals Customers
Gold - Includes Business Plan Review

Most Popular
Business Plan Sections - Done For You
Just need help with a specific part of your business plan? We can write just specific modules and sections of your business plan. Pricing is per section and the offer includes as many of the following as you choose: The Industry, The Market and/or Film Investment Overview.
Usual turnaround time: 2 weeks
Professional Sales Projections Done for You Prepared by Nash Info Services
Financial Projections and Comparable Films completed by the industry's leading finance and movie stastics experts, the movie data gurus behind the-numbers.com , who created our Indie Film Database. Professional reports include Investor ROI scenarios, Domestic & International Analysis and Comparable Films Analysis.
Usual turnaround time: 1 Week
This Do-It-For-You Service is included with select Film Financing Bundles or you can purchase it as a stand alone service.
Complete Film Business Plan
A professional, complete Film Proposal with all sections and financial projections completed by one of our experts. We will walk through the Plan with you and coach you for investor meetings (includes multiple Business Plan Reviews).
Usual turnaround time: 1 month
**All expenses approved in advance by client
Miss just one thing on your film proposal - and you are rejected! Unless, of course, your last name is Spielberg. Assuming it's not, don't take a chance by having one misspelled word come between you and your Filmmaking dreams.
Think about it - you are asking people, often strangers, to give you their money, by dazzling them with your filmmaking abilities, which include a 'strong attention to detail.' Given that your investors have a 1 in 20 chance of ever seeing their money again, how much of a chance are you willing to take with a sub-standard Business Plan?
Do you know what the competition looks like? We do! Get an expert review to identify the areas that could change your destiny!
Our Film Proposal practice specializes in:
Helping independent filmmakers prepare their film proposals
Maximizing your chances for funding and overall film project success
Teaching you to think like an investor
Preparing you for meetings with potential and current investors
Understand funding for Feature and Indie films
Becoming knowledgeable about film financing now is sure to make financing easier and faster and allow you more control over your projects throughout your filmmaking career. Please do not think Film Financing is a one-time process - even the most famous film makers have and continue to face film financing challenges.
Ready to Get Started? Contact FilmProposals Today!
FilmProposals Recommended Entertainment Lawyer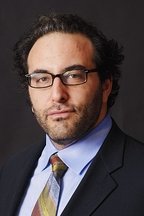 Ben Feldman, Feldman, Golinski + Reedy
Filmproposals highly recommends hiring our experienced film attorney, Mr. Benjamin Feldman, as legal counsel for your full cycle of motion picture and television needs, including independent and feature film production, domestic and international. Mr. Feldman has years of experience with SEC rules, Film Investor Agreements, Financing Agreements, Prospectuses, PPMs, co-production agreements, distribution agreements and crowd funding. For superior service and rates, make sure to tell Mr. Feldman, Entertainment Lawyer, you were referred by Melissa @ FilmProposals!
How to Schedule Your Business Plan Review
You have up to one year from date of purchase to schedule your first Review Session
Reply to the email you received with the subject "Thank You for your Film Financing Package #3 Purchase" or "Thank You for your Film Financing Package #4 Purchase" and let me know you're ready to schedule
If you don't have the original email, you can Contact FilmProposals Here, and you MUST include your Date of Purchase and Paypal email used.
In your email, tell us where you are with your Business Plan, any places you'd like to focus specifically, how you plan to raise funds (if you know) and attach both your current plan and financial projections.
If we are not able to schedule live sessions (phone or another method), the verbal coaching might be a video screencast session rather than a live call or even additional and more detailed emails
The Review may also be used as support or coaching towards helping you finish your plan (in lieu of a review)
The Business Plan Review includes ROUGHLY 3 hours of FilmProposals time. Sometimes it is more, and sometimes it less. The MORE you have accomplished with your plan, the more you will get out of the review and coaching.
It's HARD. It's WORK. It's WORTH it!!!!
Be Motivated. Be PERSISTENT and always just know, you will succeed.
Hopefully, FilmProposals will help you do just that.
-

The business plan info really opened my eyes to how a lot of this business is so dependent on a sound business plan...and that creativity does not have to be compromised.--More Business Plan Reviews
Back to Top of FilmProposals Business Plan Services
All New 2021 Financing Packages (Bundles & Toolkits)
Film Financing Bundles - All the Templates + Professional Services & Legal Options for the Serious Filmmaker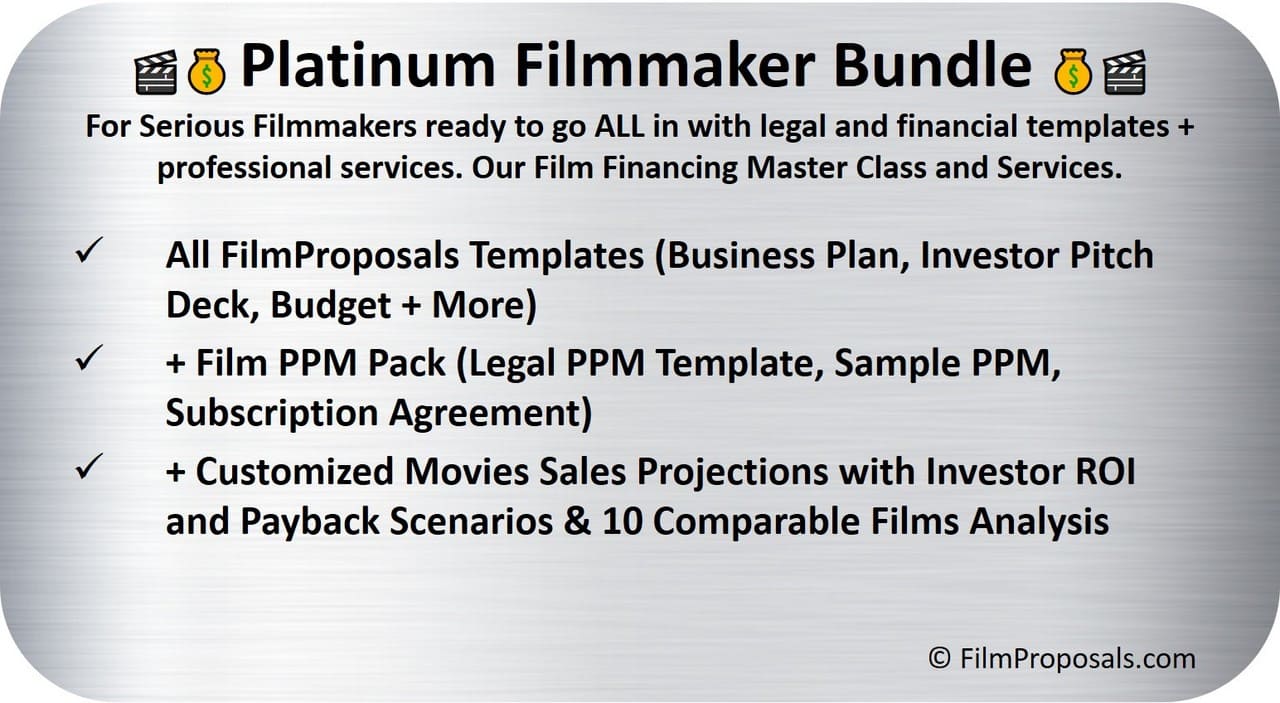 Full Gold Toolkit
+ Professional Sales Projections & Investor ROI
+ PPM (Private Placement Memorandum)
Regular Price $1301, Save $302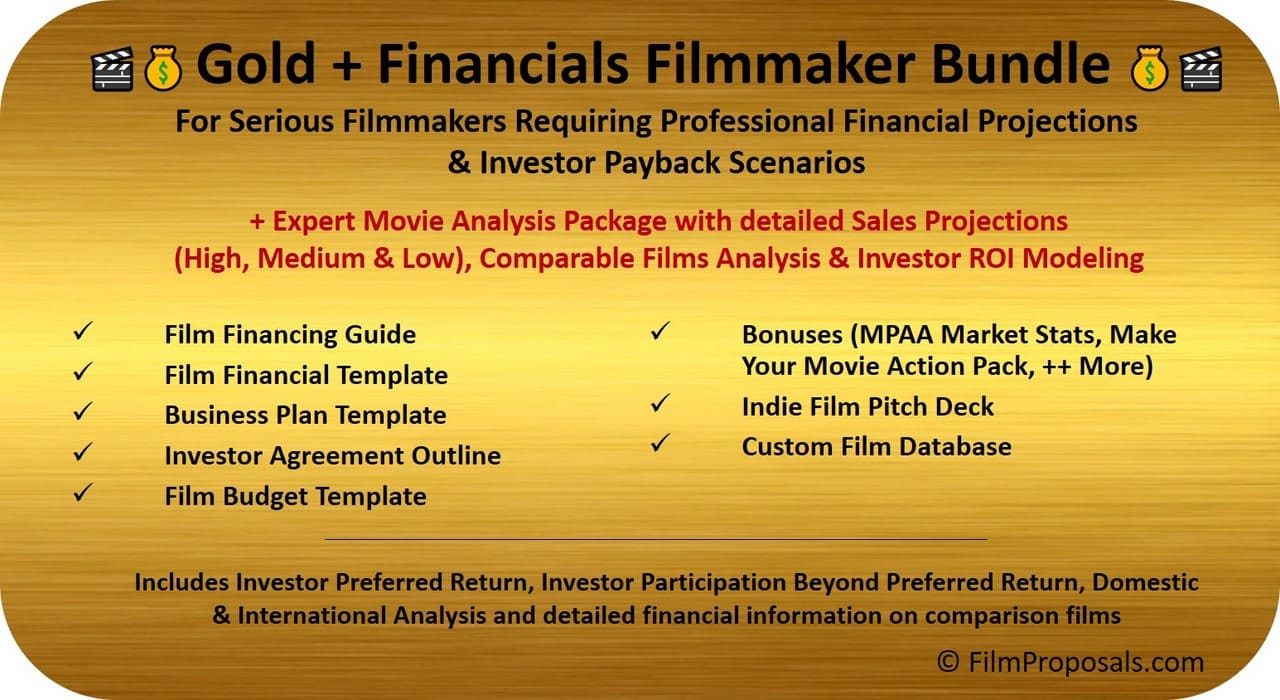 Full Gold Toolkit
+ Professional Sales Projections & Investor ROI
Regular Price $802, Save $203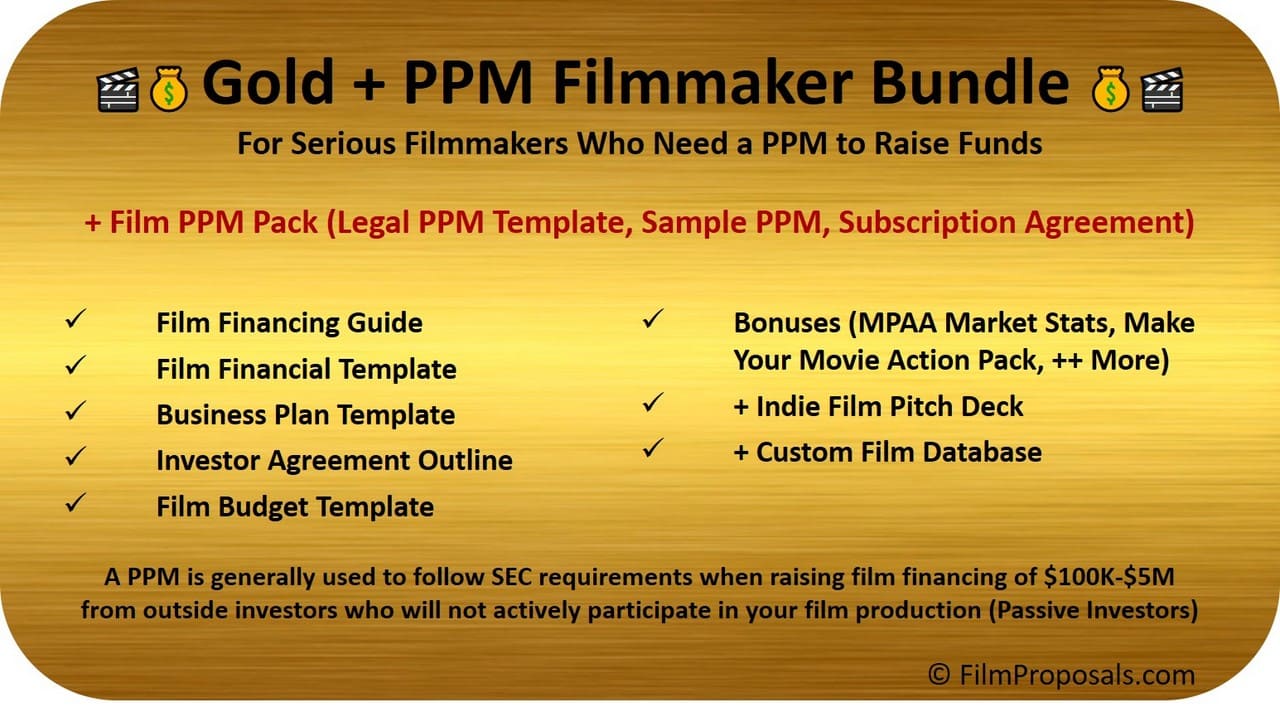 Full Gold Toolkit
+ PPM (Private Placement Memorandum)
Regular Price $802, Save $203
Film Financing Toolkits - Templates & Tools for the DIY Filmmaker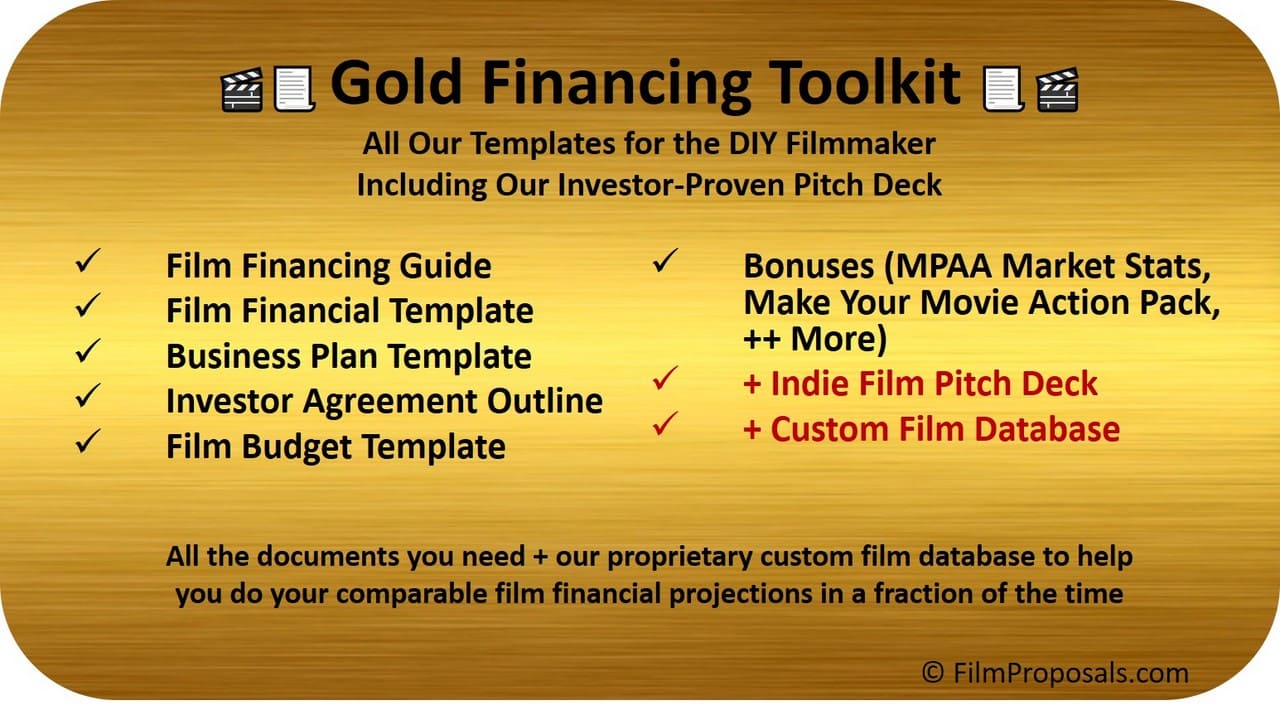 Full Silver Toolkit
+ Indie Film Pitch Deck Template
+ Custom Indie Film Database
Regular Price $303, Save $124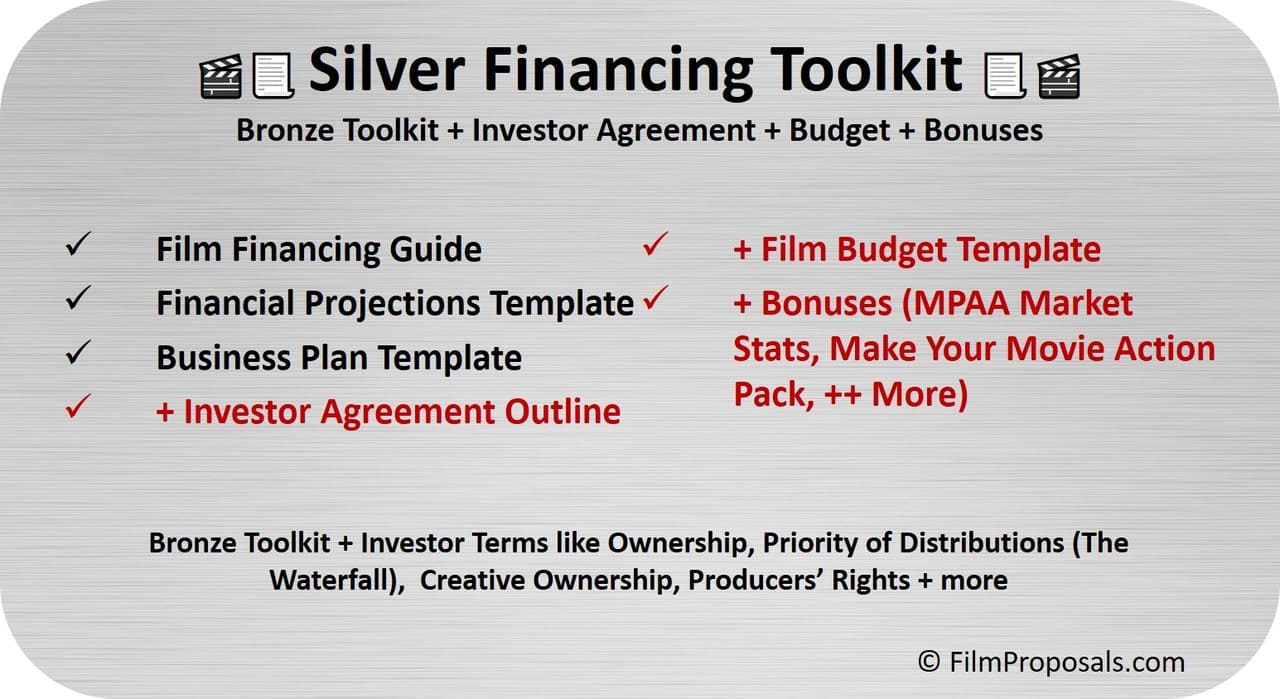 Full Bronze Toolkit
+ Investor Agreement Outline
+ Film Budget Template
+ Bonuses (MPAA Market Stats, Make Your Movie Action Pack, ++ More)
Regular Price $205, Save $76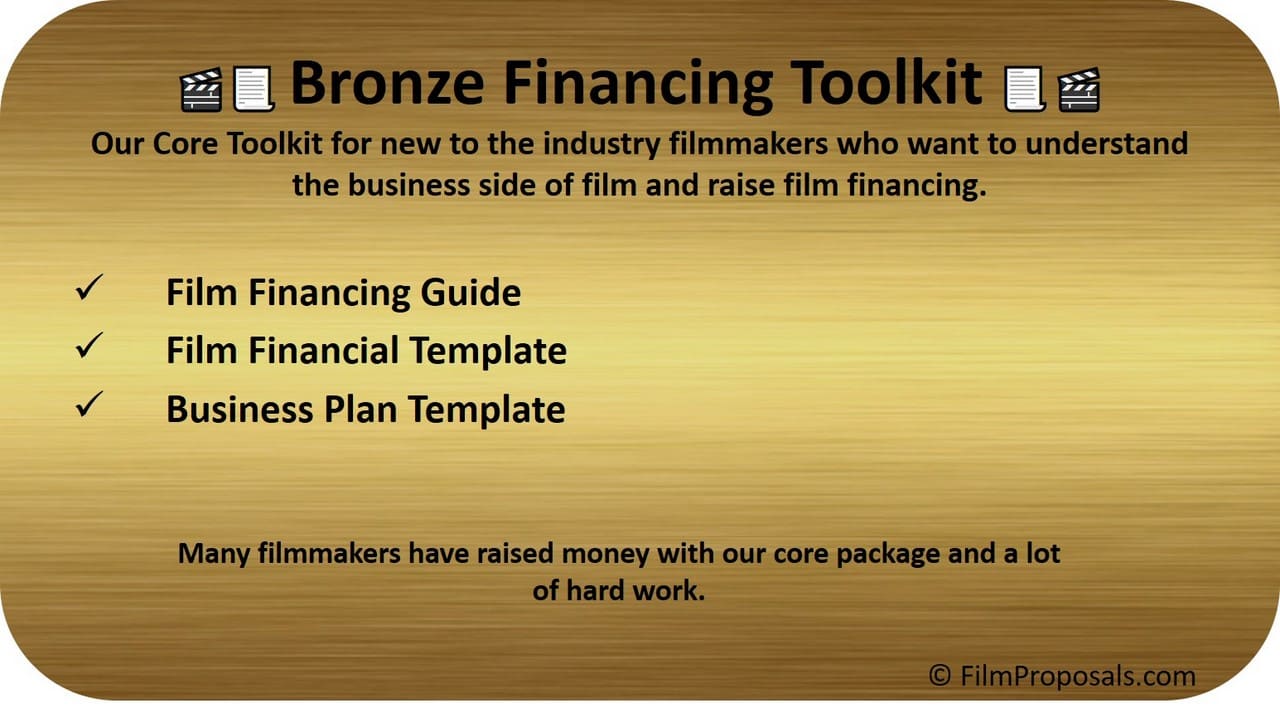 Film Financing Guide
Film Financial Projections Template
Business Plan Template
Regular Price $137, Save $38
Testimonials
Check out some of our Filmmaker Reviews
Just want to thank you for your materials and help over the past year. I could not have raised the $1.5 million or made this film without the materials you provided -- and for $99? The bargain of my career!

This is perfect! I have potential investors but I had no idea how to prepare a professional investment package to present to them. (I'm an artiste', not a business person. :) ) The information is clear and easy to understand, and Melissa is very prompt in answering emails.

Hi Melissa! I purchased Package #3 a couple of days ago, and I feel like I'm taking a crash course in film financing. So far, what I've read and learned has been invaluable. Thank you!
FilmProposals Tools and Templates