Film Business Plan Template
The FilmProposals Business Plan template has been evolving since 2002 and successfully used by hundreds of filmmakers around the world to raise their film financing. We have consistently worked with filmmakers and investors and updated our template after every film investor interaction to add all the best practices we come across. After every meeting, we adjust our Film Business Plan Template based directly on film investor feedback. Our Business Plan allows you to present your film business case using only the VERY BEST of the best information accumulated by film investors and filmmakers over 18 years in the film industry.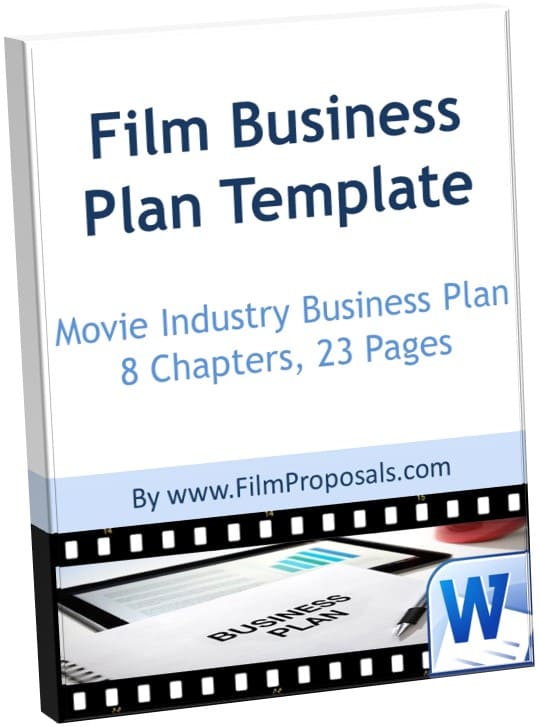 This Film Business Plan Template is professionally formatted and includes all the key business plan sections, with dozens of real-world examples in each. Our business plan was created by film investors and top industry producers, with the specific goal of helping filmmakers find film investors and secure funding. The business plan template is fully customizable to suit most any indie film project.
Professional Presentation - The template is key to finding and attracting financing, as it walks you through the nuts and bolts of your project so you present the investment opportunity in the best light possible, without compromising your creativity.
Business Plan Outline - Includes all key sections of a professional Business Plan, including Company, Project, Industry, Market, Investment and Financial Opportunity.
Real World Examples - Examples from other successful business plans are included in every key section of the film business plan template.
Return on Investment (ROI) - make your compelling case for why a potential investor should invest in your film
This easy-to-use 23 page Business Plan Template can be used alone, or in conjunction with our Film Proposals and Financing Manual and Film Projections Templates. Using Microsoft Word, with a film theme background, the template requires your customization when writing a film business plan, but is formatted, includes tons of re-usable professional industry sections and saves you hours and hours of typing and formatting time. All of our products are available for immediate download and come with a 7-day 100% MONEY BACK GUARANTEE!

Film Business Plan Template Screenshots
The template is consistently updated. Screenshots may be dated but the template is not.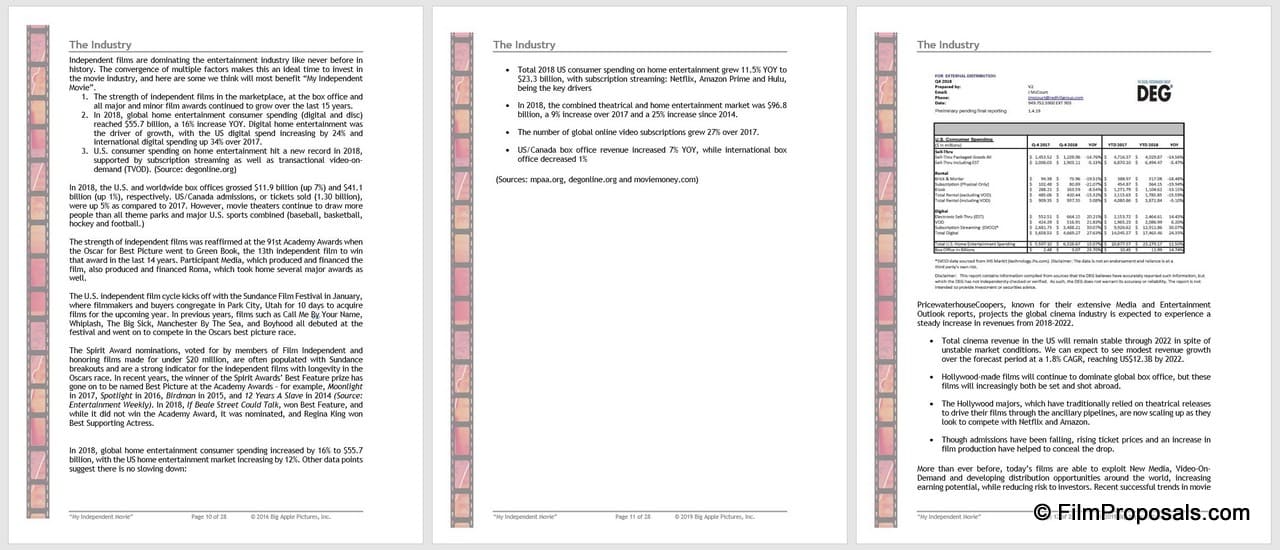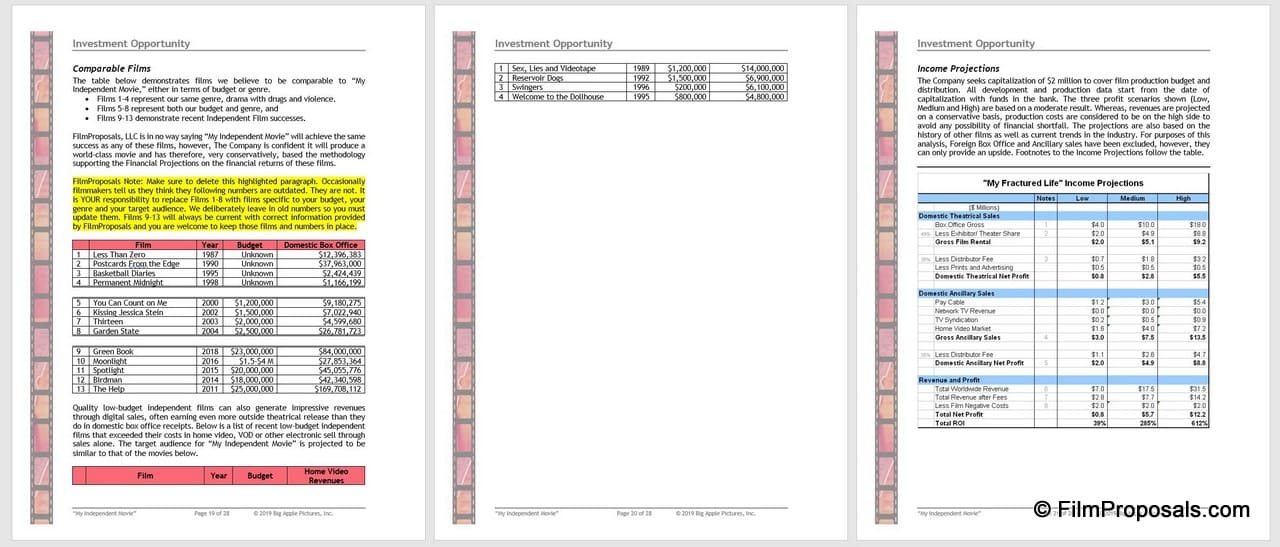 Film Proposal Business Plan
The film business plan template is a step-by-step guide enabling you to understand your film as a business proposition to film investors. We walk you through the nuts and bolts of your project so you present the investment opportunity in the best light possible, without compromising your creativity.
Film Business Plan Sections
Examples from other successful business plans are included in every key section of the film business plan template.
Executive Summary

You write this section last. It is the one page overview of everything that follows. Just wait until you see your plan all put together and you get to read through how good your investment opportunity sounds out loud, with proven industry statistics, real world examples and well-crafted language. This is always the highlight for every filmmaker - when they get to say, "Wow! I would totally invest in this film and here's why..."

Company Section

This is where you discuss the type of company you've set up and why, highlight all the successes of your management team and producers, describe what you're all about and highlight the competitive advantages your team has over any others.

The Project

This is where you get to tell your story, describe your project, use your log-line, compare briefly to other films, development highlights to date, talent attached and more.

The Industry

This is where your business plan gets good! Filmproposals has fine-tuned this section with dozens of known film investors. We highlight all the latest industry trends and awards using references to elite sources, describe how the film industry works, use the latest box office and other film industry statistics and describe the overview of the movie industry simply and clearly. This section is updated multiple times per year so it always has the most current information available.

The Market

Here is where you want to discuss your specific audience: who are they, how many, their demographics, how you will target them, what are their past habits, etc. We provide a few examples, but leave you plenty of room to get creative.

The Investment Opportunity

Ahhh...this is where we really shine! First we put all the disclaimers we must (film investment is inherently risky....) but then we talk about all the ways you have mitigated these risks! Then you discuss exactly how this investment opportunity is structured and how you plan to pay your investors back. You then use all the included full explanations and detailed notes and charts for every line item, to explain how you arrived at all your calculations.

Distribution Plan

Here we emphasize how crucial the distribution strategy is to any type of film. We walk through film festivals, theatrical release, digital release (streaming and VOD), TV, other ancillary markets and why independent films have more opportunities and advantages than ever before. You just pick and choose which sections are right for your project and customize them based on your distribution strategy

Confidentiality Notice

Basic legal info to protect you, your project and any potential investors.
You then add on any other relevant documentation, such as your budget (template included in our Film Financing Package), official agreements, letters of intent and more.

FREE Sample Business Plan Template
Our actual Business Plan Template in Microsoft Word is always up to date (this sample is older), fully editable and contains far more detail and text than this short excerpt.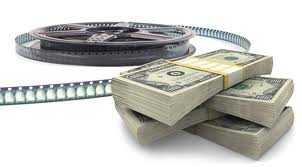 The business plan info really opened my eyes to how a lot of this business is so dependent on a sound business plan... and that creativity does not have to be compromised. --More Testimonials
2020 is YOUR Year - Make Your Movie


FilmProposals Financing Packages
Bronze
Regular Price $137, Save $38
Full Bronze Package
Regular Price $214, Save $75
Gold

Full Silver Package
Regular Price $564, Save $175
Testimonials
Check out some of our Filmmaker Reviews
Just want to thank you for your materials and help over the past year. I could not have raised the $1.5 million or made this film without the materials you provided -- and for $99? The bargain of my career!

This is perfect! I have potential investors but I had no idea how to prepare a professional investment package to present to them. (I'm an artiste', not a business person. :) ) The information is clear and easy to understand, and Melissa is very prompt in answering emails.

Hi Melissa! I purchased Package #3 a couple of days ago, and I feel like I'm taking a crash course in film financing. So far, what I've read and learned has been invaluable. Thank you!
FilmProposals Tools and Templates