The Movie Cents Newsletter brings you the latest on Film Festivals, Investors looking for you, Contests, Grants, Prizes, Specials and Discounts. Subscribe to Movie Cents and get our FREE 8 Week Film Financing, Film Investors and Business Plan E-Course.
Follow Us and Get the Latest Film News on Your Favorite Site:
Oct 29, 2020
Film Investor Tip Sheet | Practical, Proven Fundraising Tips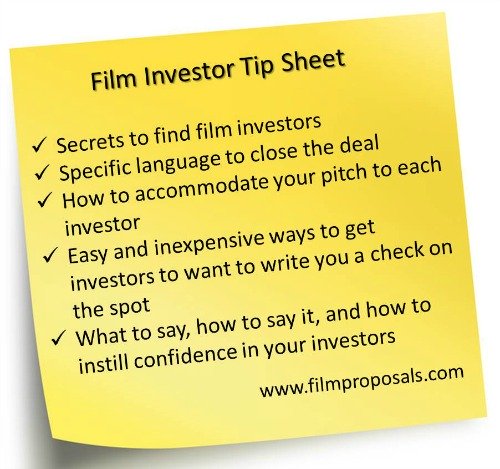 Our Film Investor Tip Sheet includes practical tips, real world examples and proven fundraising language. Do you know one, specific thing you can do for almost no money that immediately creates the Executive Producer vision in the investor's mind..and makes them want it? Only those very serious about making their films have access to our film investor tips and tricks. Find out more about how to download our Film Investor Tip Sheet, compiled from leading industry film financiers.
Continue reading "Film Investor Tip Sheet | Practical, Proven Fundraising Tips"
Start Your Financing in Five Minutes - 2020 is YOUR Year

Fast Track Your Film Financing Today!
Bronze
Regular Price $137, Save $38
Full Bronze Package
Regular Price $214, Save $75
Full Silver Package
Regular Price $683, Save $184
Testimonials
Check out some of our Filmmaker Reviews
Just want to thank you for your materials and help over the past year. I could not have raised the $1.5 million or made this film without the materials you provided -- and for $99? The bargain of my career!

This is perfect! I have potential investors but I had no idea how to prepare a professional investment package to present to them. (I'm an artiste', not a business person. :) ) The information is clear and easy to understand, and Melissa is very prompt in answering emails.

Hi Melissa! I purchased Package #3 a couple of days ago, and I feel like I'm taking a crash course in film financing. So far, what I've read and learned has been invaluable. Thank you!
FilmProposals Tools and Templates