Financial Projections Template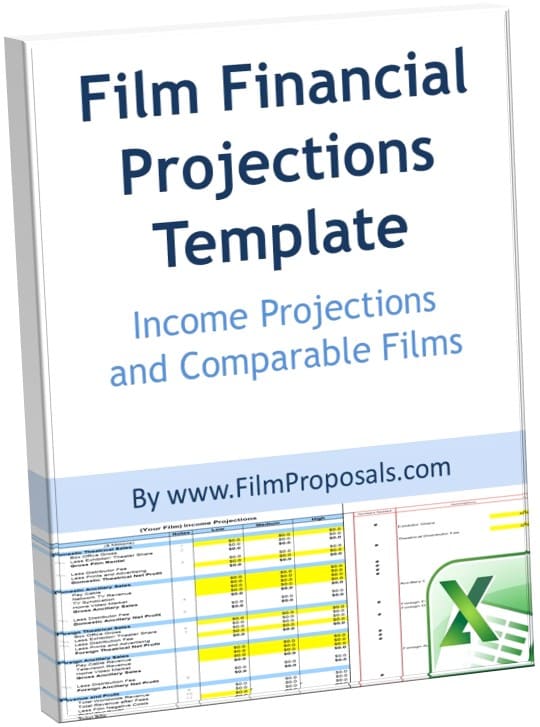 Our Film Financial Projections Template will make calculating revenue projections for your independent film production a breeze. This Excel template walks you through analyzing your film, comparing it to other films, movie production costs and easily allows you to add financials directly into your Independent Film Business Plan.
Getting the overall picture of your financial projections has never been easier. And with the Comparable Films Template, you can compare and contrast how your project's financial outlook stacks up.
Just fill in the yellow cells with your key figures and the spreadsheet calculates the rest for you! Then, just copy and paste your financials right into your business plan. Get an inside look at our Income Projections and Comparable Films Template with the screenshots below.
Three Different Options for Comparable Films and Movie Sales Projections
DIY - all of our Toolkits and Bundles include our Film Financial Projections template. You find movies similar to yours, plug in the numbers and our spreadsheet does the work for you
Indie Film Database - Add our proprietary Indie Film Database and do your own projections in a fraction of the time! Instead of looking up film by film, and consulting multiple websites and pages to find the numbers you need, just use simple filters on our DB to find all the numbers you need.
Professional Sales Projections Done FOR You - FilmProposals now partners with Nash Info Services, the movie data gurus behind the-numbers.com (who created our Indie Film Database), to do professional movie projections based on comparable films for you.
Option #2 - Indie Film Custom Database
Custom Detailed Budget and Box Office Stats Make Finding Comparable Films a Breeze
Our new Filmproposals Custom Indie Film Database contains 200+ titles (both Indie and Studio), making finding comparable films and completing your revenue projections a no-brainer. Our proprietary spreadsheet was researched JUST for indie filmmakers, contains info you can't easily find anywhere else and will save you hours of time finding just the right films similar to yours. You can use our Financial Projections Template + Indie Film Database and do it all yourself or you can hire us to do projections for you.
We hired Nash Info Services, the movie data gurus behind the-numbers.com to create a completely custom spreadsheet for us analyzing indie and studio films 2006-2019. Our custom database is available as a separate product or an add-on with a discount to any of our Film Financing Toolkits.
Now, let's be clear. You can get a lot of this information yourselves - for free. Let's use Birdman as an example: 
https://www.the-numbers.com/movie/Birdman#tab=summary
Our spreadsheet includes everything under Theatrical Performance and Home Market Performance. Then you could scroll through each tab and pull a lot of the other numbers yourselves. 
And then you could do that for 10-20 films. And you could do it after you even figure out which 10-20 films you want to use as your comparables after researching which are Indie vs Studio. You can use the-numbers, IMDB and/or Box Office Mojo. It's been the way we've done things for years...but oh-so-many of you have let us know how much you hate the tedious work. You just want to get on with filming, right? 
What we're offering is you can just filter for let's say, Indie Films & Comedy and BOOM!!! In 5 seconds...you have this: 

You can sort, filter, compare numbers, do whatever you like to make sure you narrow down the best comparable films for your business plan. Then just copy/paste the numbers right into your Business Plan Template. This info is even better if used as you write your screenplay - see what does well. See which movies just like yours brought in the most at the box office.
Fields Included in FilmProposals Custom Indie Film Database
Title
Year
Studio/Indie
Genre
Subgenre
MPA Rating
Source
Creative Type
Production Method
Production Budget
Opening Weekend
Opening Theaters
Maximum Theaters
Distributor
Domestic Box Office
International Box Office
Total BO
Domestic DVD Spending
Domestic Blu-ray Spending
Theatrical Release Date
Video Release Date
Box Office Revenue Multiplier
S/VOD info is NOT included in our spreadsheet. While we know a lot of content has been released this way the last few years, there just is not enough information right now to provide any meaningful analysis. There are also so many different types of release patterns, it's hard to do any apples to apples comparison.  Once you pick your movies, you can research just those 10-20 numbers on your own where available if S/VOD is a distribution model you pursue. 
Buy the Filmproposals Custom Indie Film Database separately or add it on with a discount to any of our Film Financing Toolkits.

Option #3 - Professional Sales Projections Done FOR You Prepared by Nash Info Services
FilmProposals is thrilled to partner with Nash Info Services, the movie data gurus behind https://the-numbers.com to create an expert Movie Analysis Package we know film investors respond to and respect. These packages are used industry-wide by independent producers, investment banks and analysts, technology companies, retailers, web sites and the major studios. This Do-It-For-You Service is included with select Film Financing Bundles.
Your Professional Comparable Films Analysis Includes:
Investor Scenarios - Returns to investors based on high, medium and low scenarios. Includes Investor Preferred Return and Investor Participation Beyond Preferred Return.
Domestic & International Analysis - Potential revenue to the production company, based on the performance of the comparable films domestically and internationally
Comparable Films - Detailed financial information on the comparison films used in the analysis.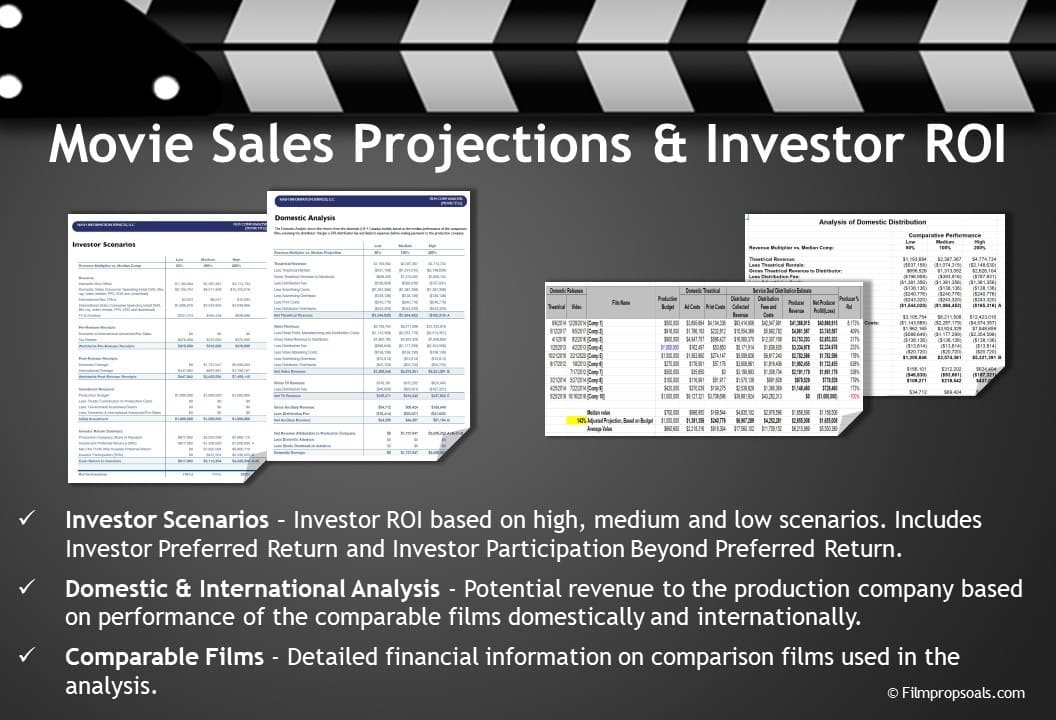 All you need to do is pick 10 films from our Custom Indie Film Database you believe are similar to yours in terms of budget, genre and production method. Submit these films to us and we'll use them as your Comparable Films to work our magic.

Sit back and relax.....and in about a week (7-10 business days), you'll open your email and find this...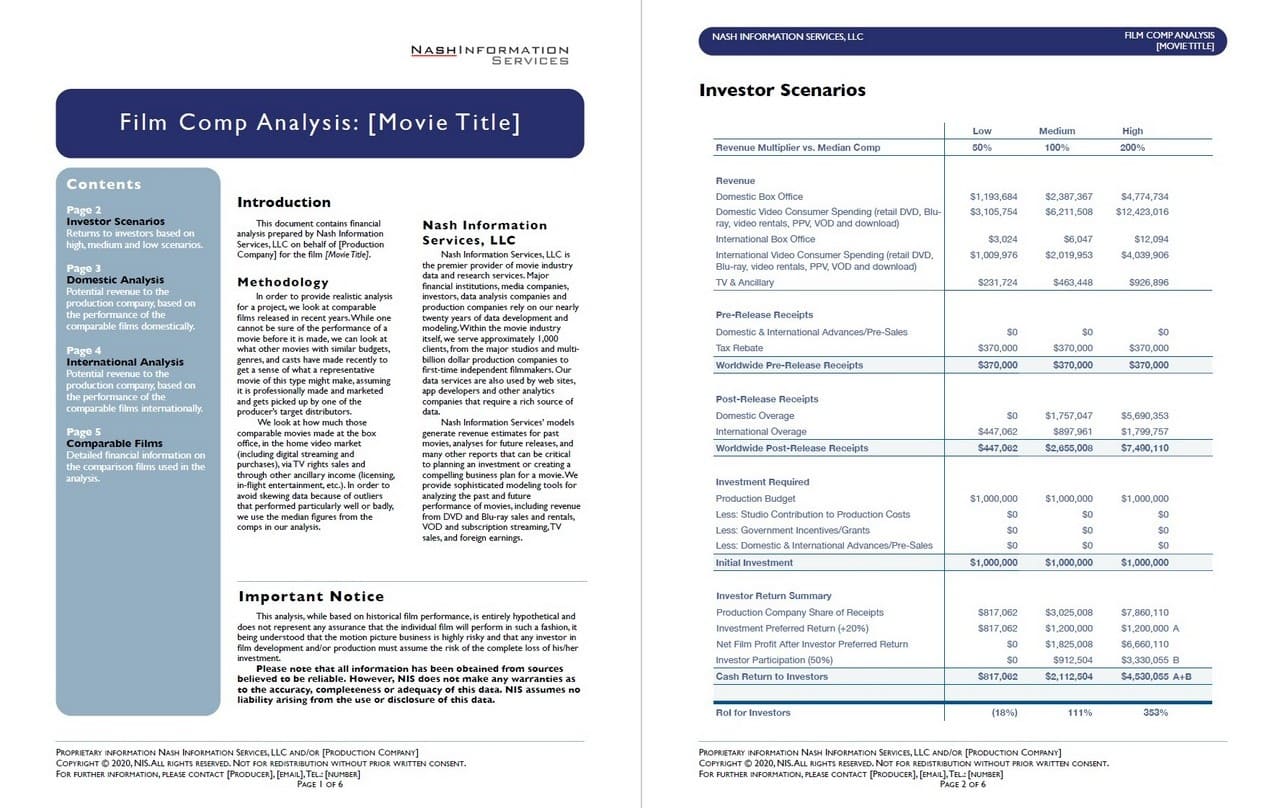 This Do-It-For-You Service is included with select Film Financing Bundles.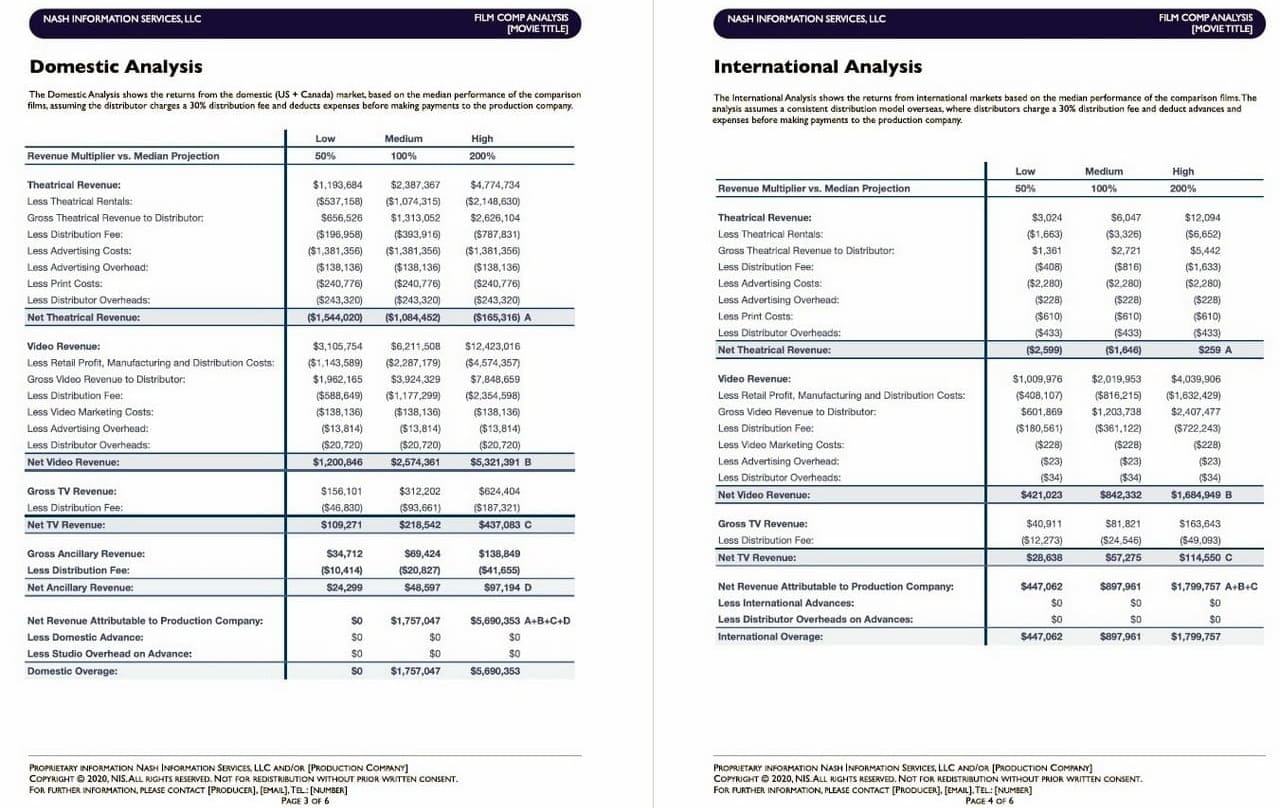 This Do-It-For-You Service is included with select Film Financing Bundles.
You receive a professionally formatted PDF report designed for investors, which can easily integrate into your Film Business Plan. You will also receive the full Excel workbook of the analysis supporting your Movie Sales Projections, with all the assumptions and formulas used to create your Investor Scenarios. 
DIY - Flexible Financial Projections with our Film Financial Projections Template
Streaming and Video on Demand
The template includes flexibility to allow the input of various types of S/VOD numbers. You have complete flexibility over the distribution and VOD revenue model(s) you choose and you complete your calculations any way that works for you. However you do your calculations, just fill in the blanks for the various revenue streams and change the distribution fee (anywhere from 0-100%), according to your calculations.
International and Domestic Sales
Whether you use the traditional theater and/or new streaming/subscription distribution model(s), the template can adjust for any international or domestic sales scenario.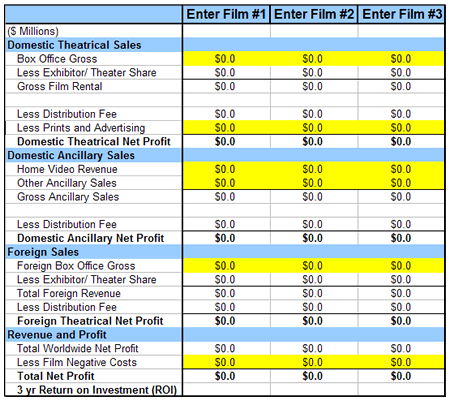 I hate Excel, so this is very useful. I can work in other numbers such as Number of theater screens, P&A Interest, tax incentive/rebates, loan interest, and revenue splits with investors.--More Testimonials
Financial Projection Screenshot - Income Projections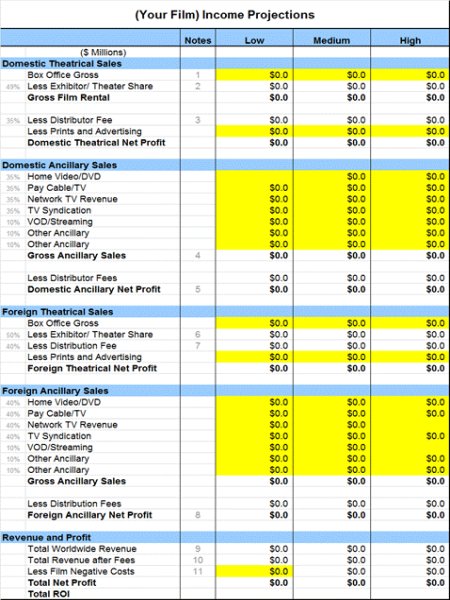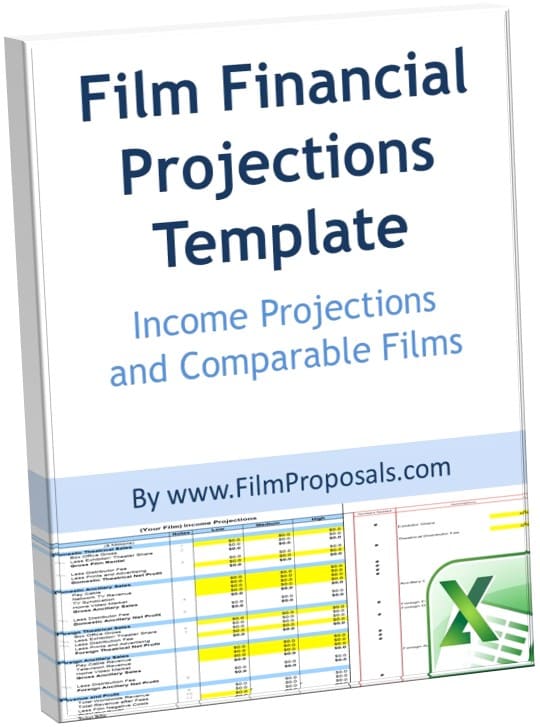 This film finance package is very useful. Very educational and saves tons of time researching and building plans and projections from scratch. I would highly recommend this to anyone trying to raise money for an independent film.-- More Testimonials
How to Use the Revenue Projections Template
Instructions and examples included in template
The Film Financial Projections template works with both PC and Mac
Just fill in the yellow cells (the yellow disappears after you type in a number)
The template does the rest for you
Project Low, Medium and High financial return scenarios
Financial Notes and great comparable film resources are included in our Film Proposals Manual
Copy and paste the financial projections in to your Independent Film Business Plan Template
Film Financial Projection Screenshot - Comparable Films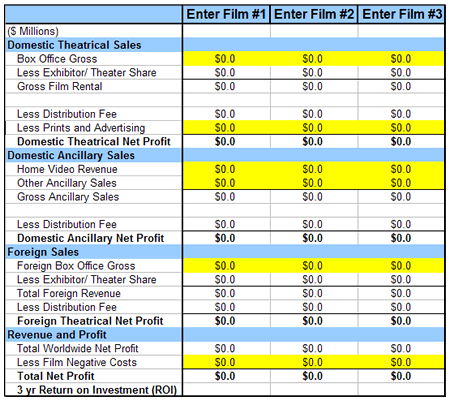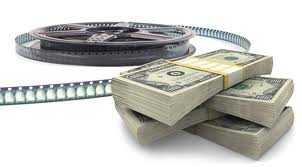 I purchased your package and I am delighted with it! It has saved me time, shown me the light and illuminated the WAY. I am well on my way, a few months after receiving this information towards producing my FIRST Feature! Thanks a million! -- More Testimonials
All New 2021 Financing Packages (Bundles & Toolkits)
Film Financing Bundles - All the Templates + Professional Services & Legal Options for the Serious Filmmaker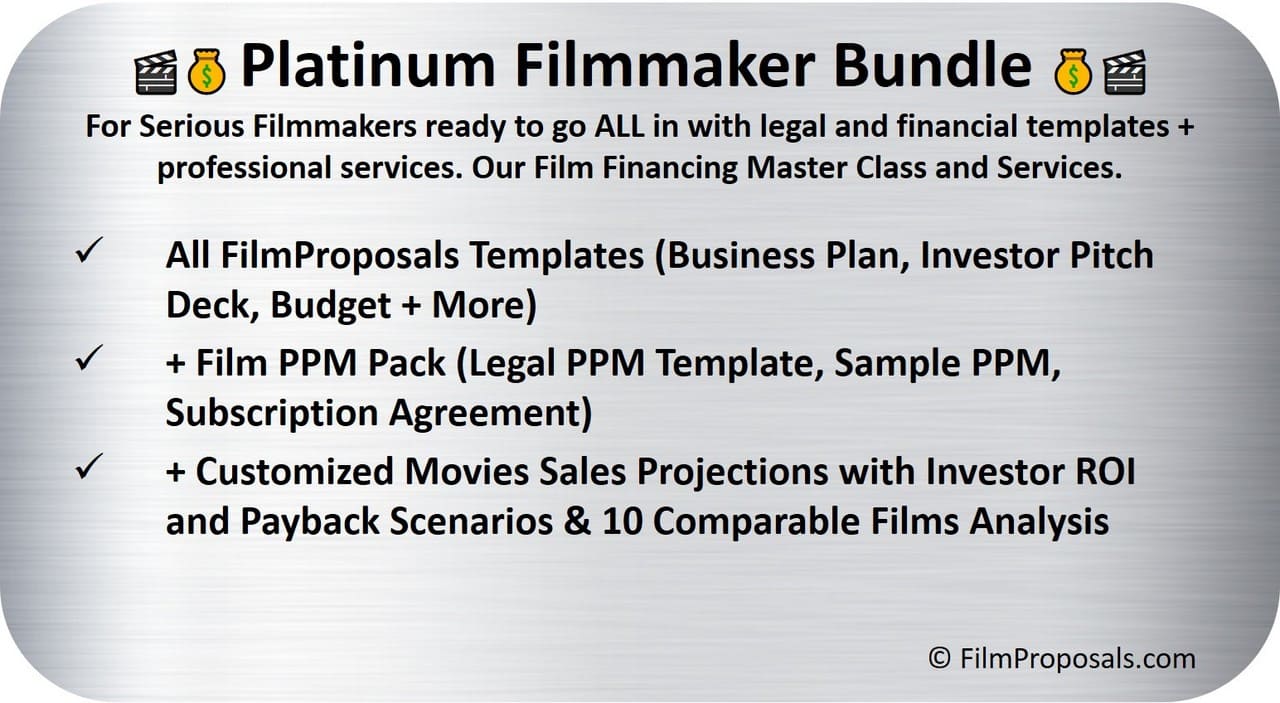 Full Gold Toolkit
+ Professional Sales Projections & Investor ROI
+ PPM (Private Placement Memorandum)
Regular Price $1301, Save $302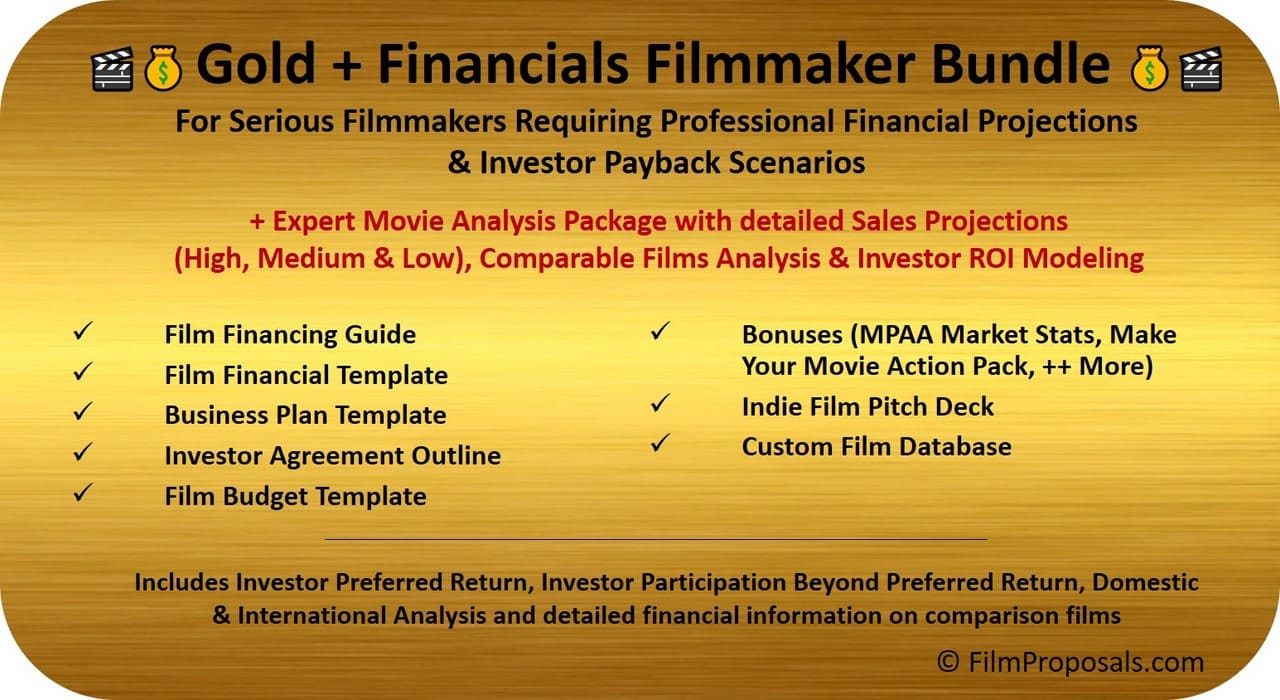 Full Gold Toolkit
+ Professional Sales Projections & Investor ROI
Regular Price $802, Save $203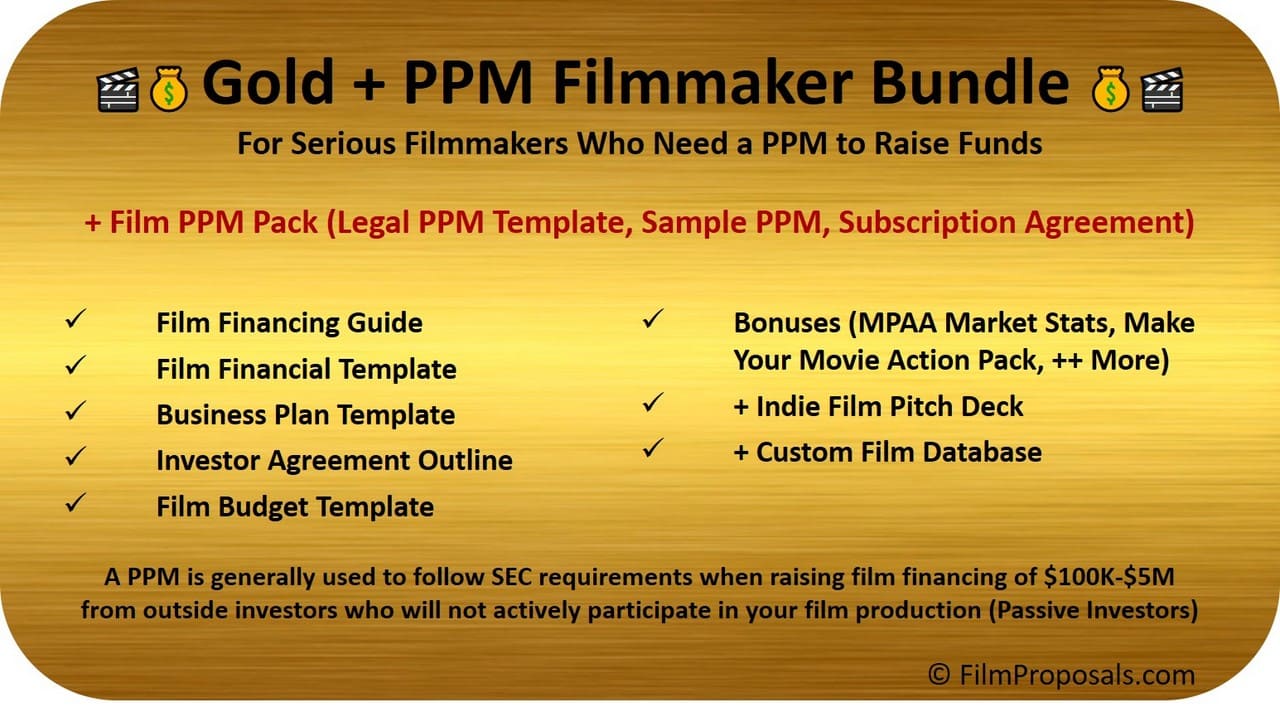 Full Gold Toolkit
+ PPM (Private Placement Memorandum)
Regular Price $802, Save $203
Film Financing Toolkits - Templates & Tools for the DIY Filmmaker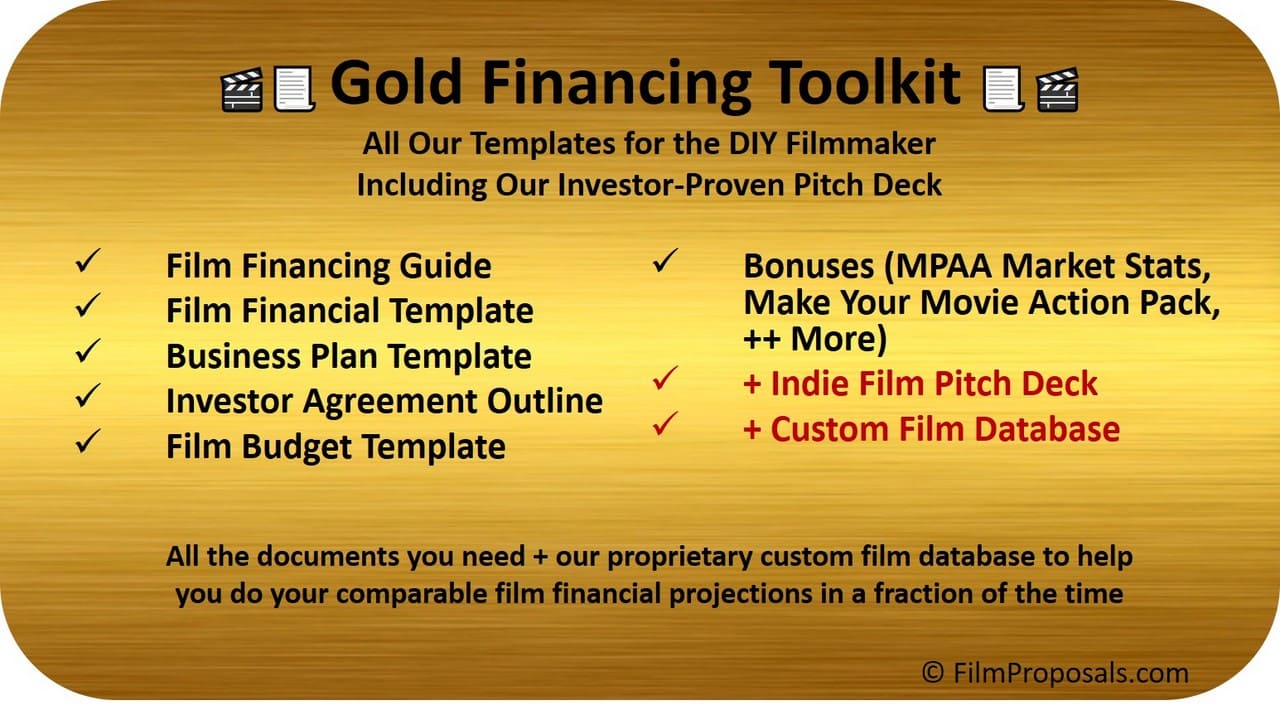 Full Silver Toolkit
+ Indie Film Pitch Deck Template
+ Custom Indie Film Database
Regular Price $303, Save $124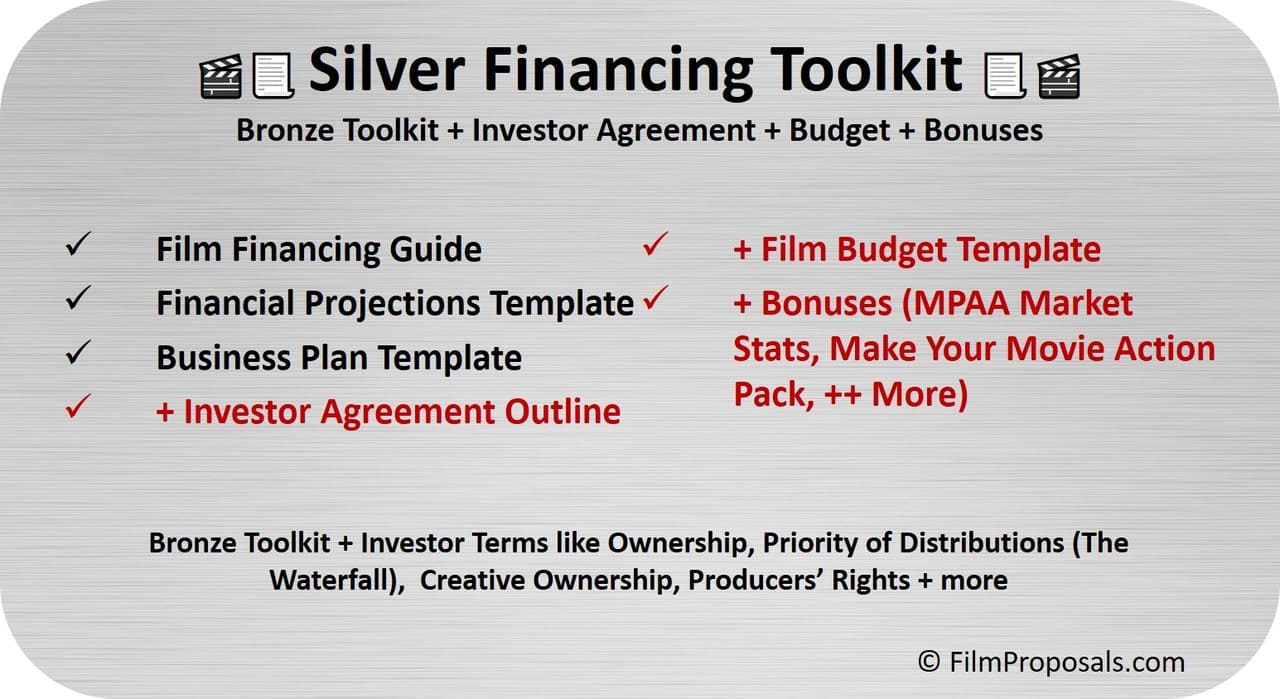 Full Bronze Toolkit
+ Investor Agreement Outline
+ Film Budget Template
+ Bonuses (MPAA Market Stats, Make Your Movie Action Pack, ++ More)
Regular Price $205, Save $76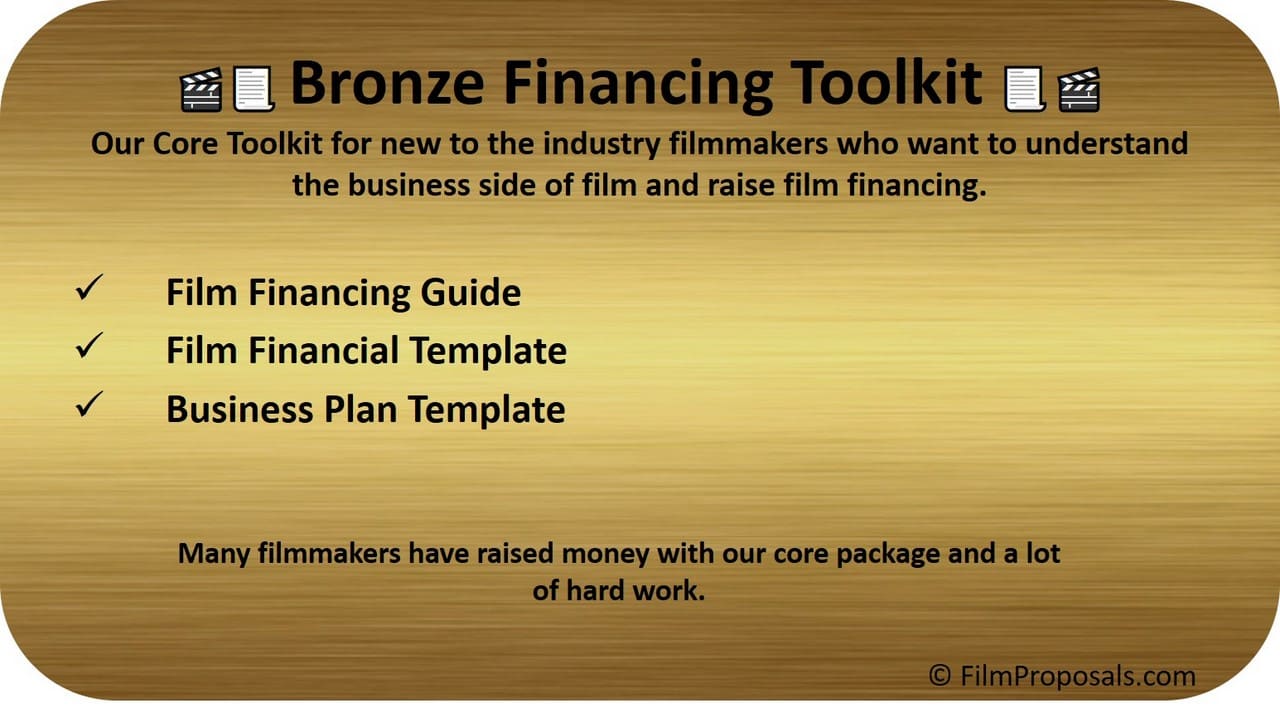 Film Financing Guide
Film Financial Projections Template
Business Plan Template
Regular Price $137, Save $38
Testimonials
Check out some of our Filmmaker Reviews
Just want to thank you for your materials and help over the past year. I could not have raised the $1.5 million or made this film without the materials you provided -- and for $99? The bargain of my career!

This is perfect! I have potential investors but I had no idea how to prepare a professional investment package to present to them. (I'm an artiste', not a business person. :) ) The information is clear and easy to understand, and Melissa is very prompt in answering emails.

Hi Melissa! I purchased Package #3 a couple of days ago, and I feel like I'm taking a crash course in film financing. So far, what I've read and learned has been invaluable. Thank you!
FilmProposals Tools and Templates