Movie Investor Toolkit
Speed through the learning curve and fast-track your way to film financing. Download our tools immediately to help you ace your business plan, easily crunch your numbers, find and pitch film investors and fund your film. Our film business plan tools, created by actual film investors, have helped 100's of worldwide independent filmmakers take their ideas from script to screen.
Did You Know?
Are YOU Ready?
2020 is YOUR Year - Make Your Movie
Stack the deck in your favor and use the industry's #1 Financing Toolkit. The Business Plan Template, Film Financing Manual and Film Financial Projections Template can be used individually or together for the ultimate Movie Investment Package.
Looking to buy individual products? Check out our FilmProposals Store, where you can purchase most of our Filmmaker Financing Tools & Templates separately.
Movie Investor Toolkit Designed for the Modern Filmmaker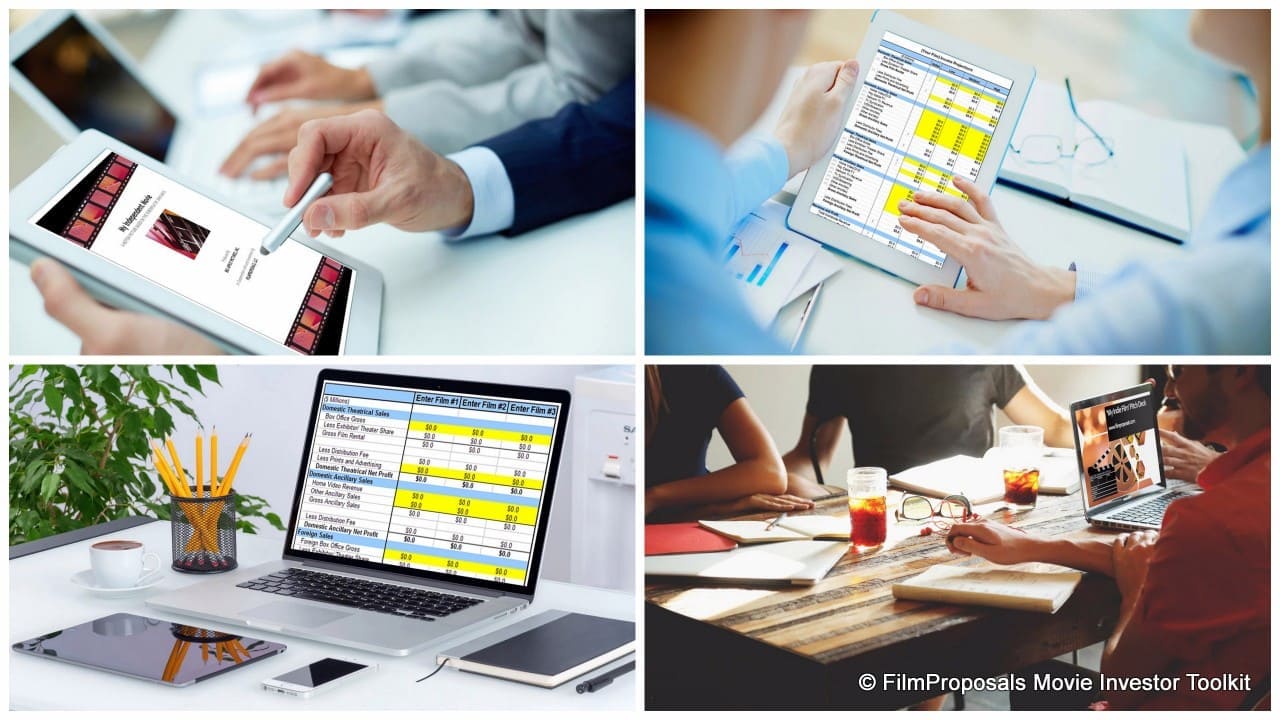 Looking to buy individual products? Check out our FilmProposals Store, where you can purchase most of our Filmmaker Financing Tools & Templates separately.
How to Write a Film Business Plan FREE Course
Frequently Asked Questions
Are the Film Business Plan Tools downloadable or hard copy?
All of our products are downloadable immediately after purchase. Nothing is delivered hard copy.


What is the file format of the Film Business Plan Tools?
The files are all Word, PDF and Excel. The Business Plan Template is in Word (so you can edit it), The Finance Manual in PDF (to read) and the Financial Template is in Excel. The Indie Film Pitch Deck is fully editable in Powerpoint.


Are Comparable Movie Statistics included in the Business Plan Template?
Yes, we include the most recent stats for a variety of movies that cover the general film industry. However, you will definitely have to research more specific titles to your budget and genre. We do about 2/3 of the work for you, but the rest is up to you.


How Often is the Business Plan Template Updated?
We perform many small updates throughout the year. If we come across some new information or statistics, a new industry trend or new charts and graphs we think will benefit your business plan, we add them immediately. A massive overhaul is done every April/May after awards and festival seasons are complete and the newest industry information has been analyzed.


If I purchase and download now, will I have access to future updates? 
Yes, we offer free upgrades within two years of purchase. After two years, we are happy to offer you a discount from the current price and all details are in your confirmation of sale email.


Are the Film Financial Projections All Formulas?
There are many formulas in the Financial Template and there are also many fields where you will have to manually enter your own numbers. For specifics, please see the Film Finance Projections Template screenshots. Per the instructions, the yellow cells must be manually entered with specific numbers, and we teach you where to find this information in our Film Financing and Investor Manual.

Sample Film Budget Template
Indie Film Pitch Deck
Film Investor Agreement Outline
MPAA Theatrical Market Statistics - BONUS #1
Film Investor Tip Sheet - BONUS #2
I was shocked and impressed after purchasing Package #3 as to the thoroughness and amount of information provided...have already begun fundraising, and my business plan is 10 times better than it was before receiving their materials and information. Wow!
Location Letter Example Template - BONUS #3
the early feedback from the "suits" in this project is that I've presented a clear yet compact overview of the prospects.

- TV Producer
How to Make, Market and Sell Your Movie Now - BONUS #4
Ten Prominent FilmMakers' BEST Advice - BONUS #5
Included In This Filmmaking Action Guide:
Successful, Modern Screenwriting Tips with Jurgen Wolff
Make the Most of Movie Money with Norman C. Berns
Six Ways to Finance Your Feature Film with Gordon Firemark
Bankroll Your Movie with Tom Malloy
The Inside Scoop On Crowdfunding with Carole Dean
Plan Your Production For Maximum Success, Peter D. Marshall
Modern Guerrilla Filmmaking with Gary King
Navigate Film Festivals and Do Them Right with Sheri Candler
Navigate Film Festivals and Do Them Right with Sheri Candler
Sell Your Movie Without the Middle-Man with Jason Brubaker
Find Out About The Producer of Marketing and Distribution and Utilize The New 50/50 with Jon Reiss
The MovieMaker Toolkit and Modern MovieMaker Movement Action Guide are FREE GIFTS with Purchase of Film Financing Packages Silver & Gold. They are graciously provided by Jason Brubaker of FilmMaking Stuff.