What are ATL and BTL costs in filmmaking is a very common question to which all filmmakers need to know the answer, especially if they are involved at all with their film's financing. For example, Fp. Porter (from Ft. Lauderdale, FL) asks, "I received a film fund application via email from Green Light Productions. One question ask ATL? or BTL? What does that mean? Also how do I tell how much equity will be brought into project, with a budget of 201,897?? Thanks!"
What Are ATL and BTL Costs in Filmmaking? Filmproposals Answer
Hi Fp! Thanks for your question. You are asking about Above the Line (ATL) and Below the Line (BTL) costs.
Above the Line costs are those determined or spent prior to filmmaking and may include screenplay rights and salaries of top talent (actors, directors, producers), casting director, screenwriter and others involved in the high level financial and creative direction of the film. Usually this is everything that has to be in place before principal photography can begin.
Below the Line costs include salaries of support staff and talent and all production costs - catering, studio, lighting, etc.
Above the Line costs are usually varied, while Below the Line costs are more fixed. Our Film Budget Template lets you fill in everything by line item and then automatically adds up for you what is ATL and BTL.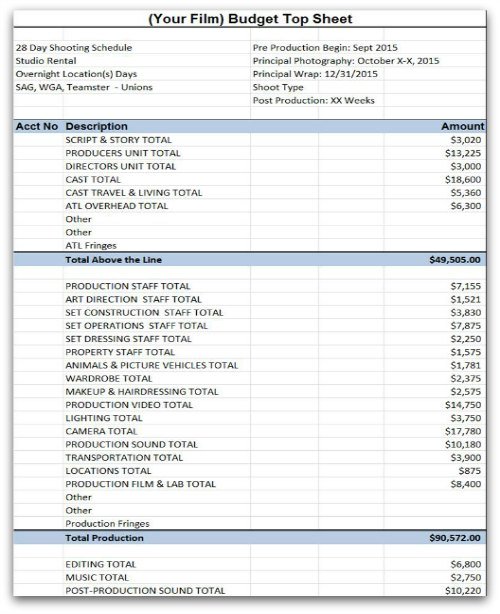 Your equity question has many variables, and cannot be answered based on the information provided. However, our Business Plan Tools for film will help you determine the equity of all parties involved in film financing. Good Luck!
All New 2021 Financing Packages (Bundles & Toolkits)
Film Financing Bundles - All the Templates + Professional Services & Legal Options for the Serious Filmmaker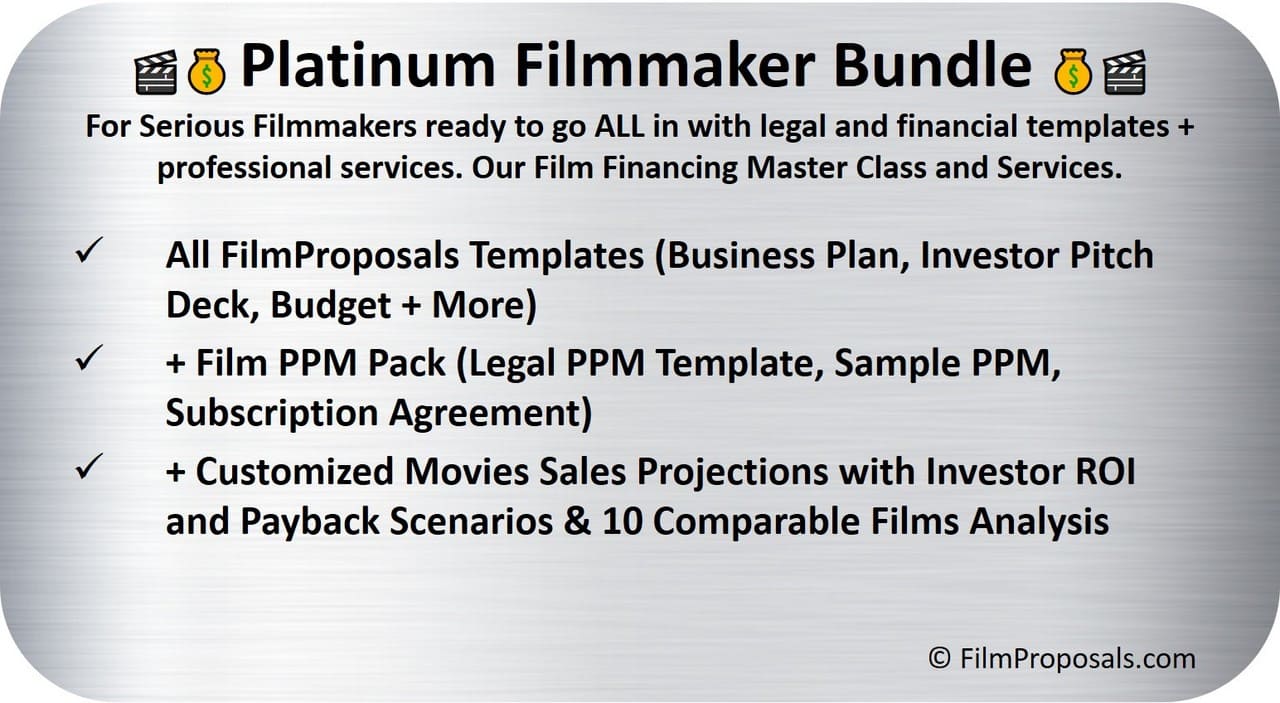 Full Gold Toolkit
+ Professional Sales Projections & Investor ROI
+ PPM (Private Placement Memorandum)
Regular Price $1301, Save $302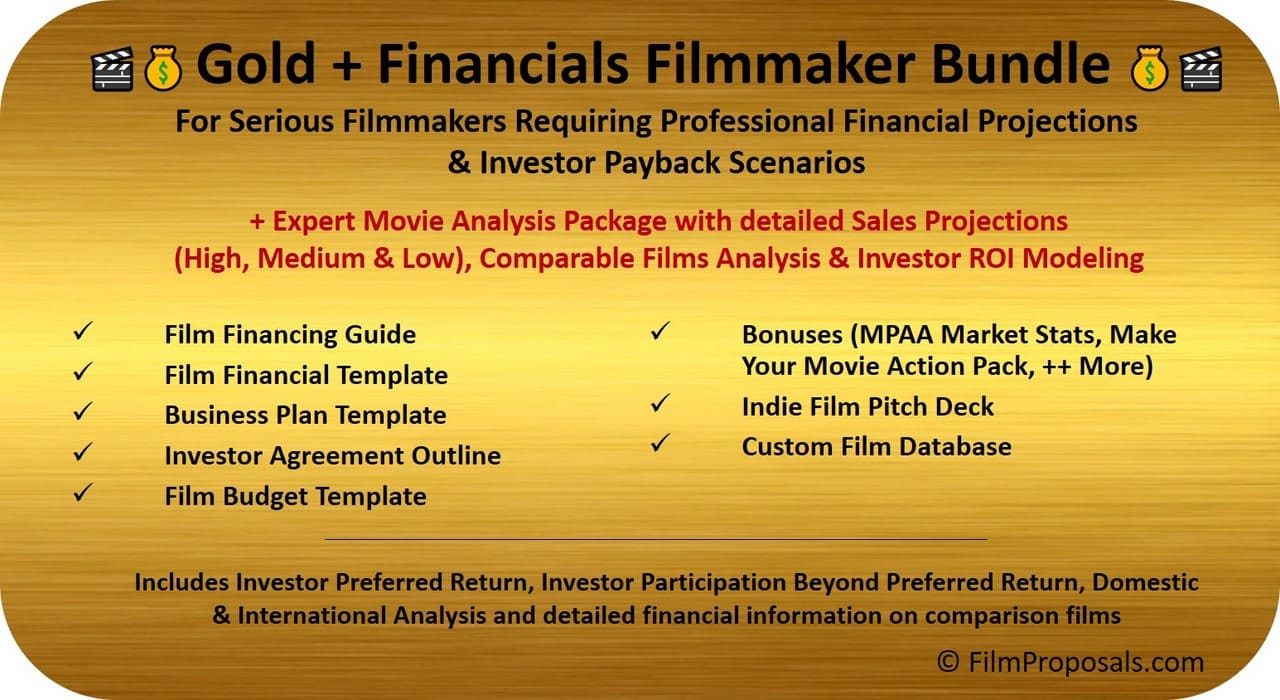 Full Gold Toolkit
+ Professional Sales Projections & Investor ROI
Regular Price $802, Save $203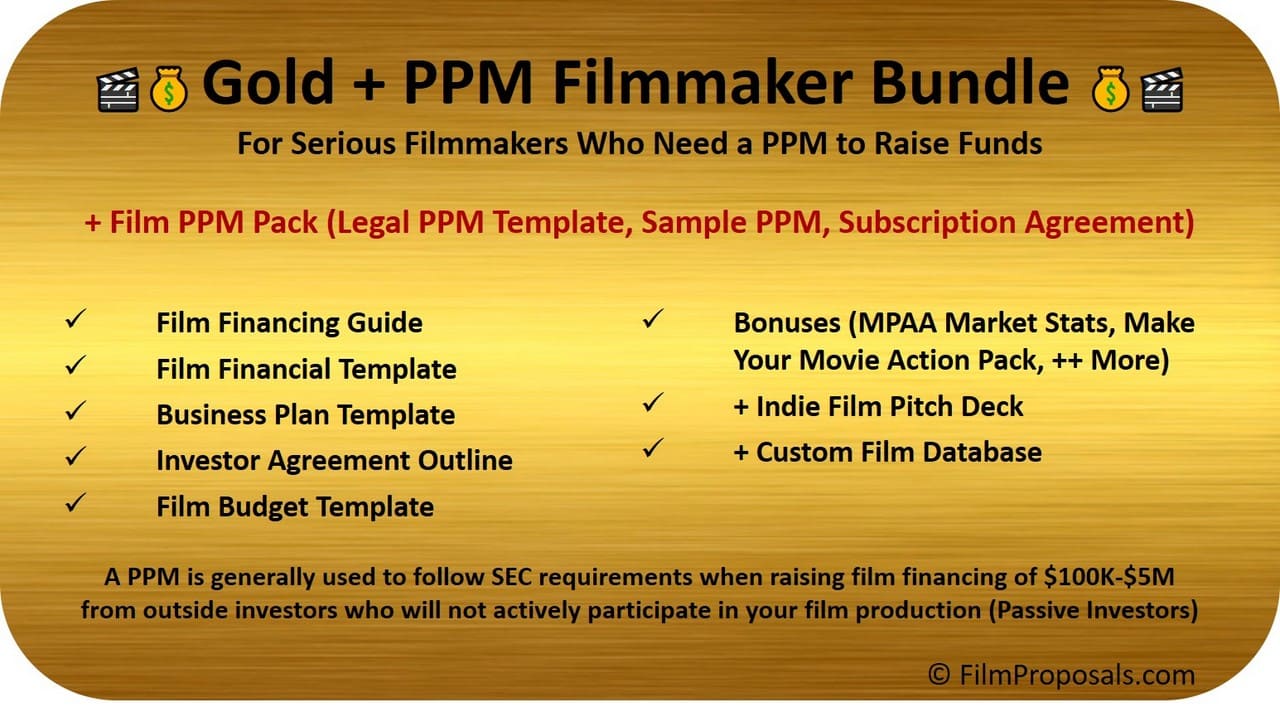 Full Gold Toolkit
+ PPM (Private Placement Memorandum)
Regular Price $802, Save $203
Film Financing Toolkits - Templates & Tools for the DIY Filmmaker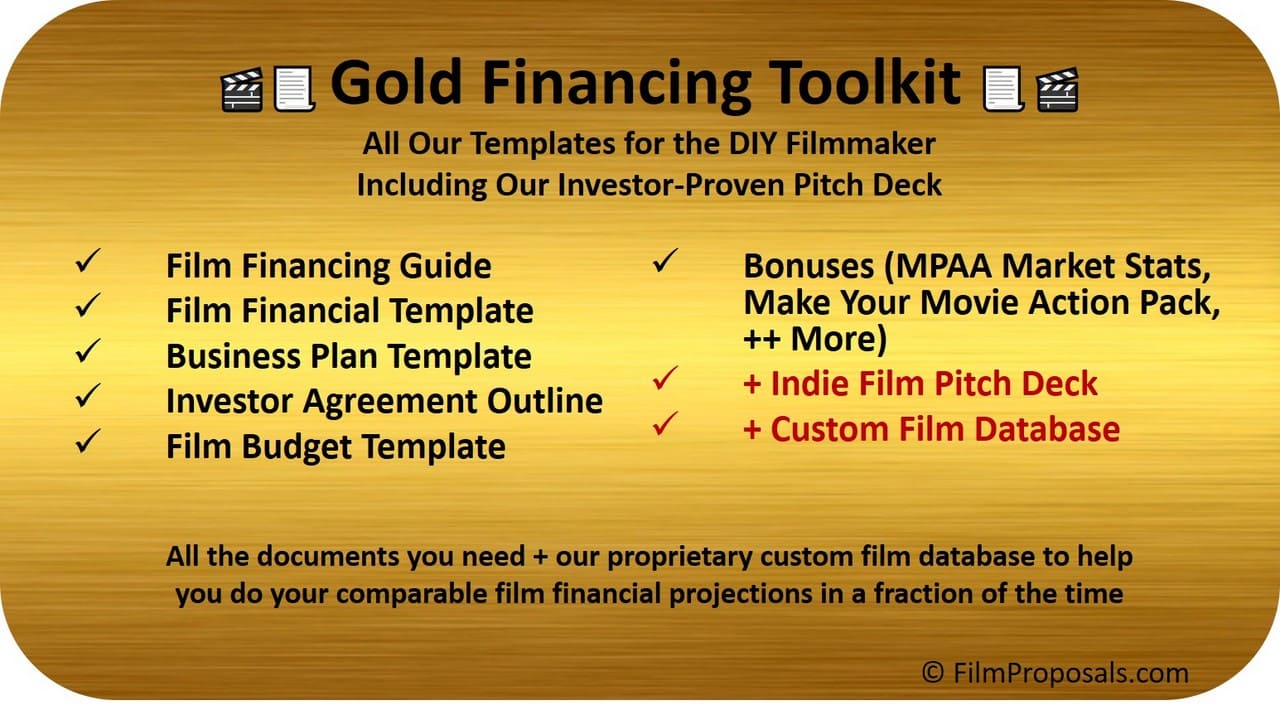 Full Silver Toolkit
+ Indie Film Pitch Deck Template
+ Custom Indie Film Database
Regular Price $303, Save $124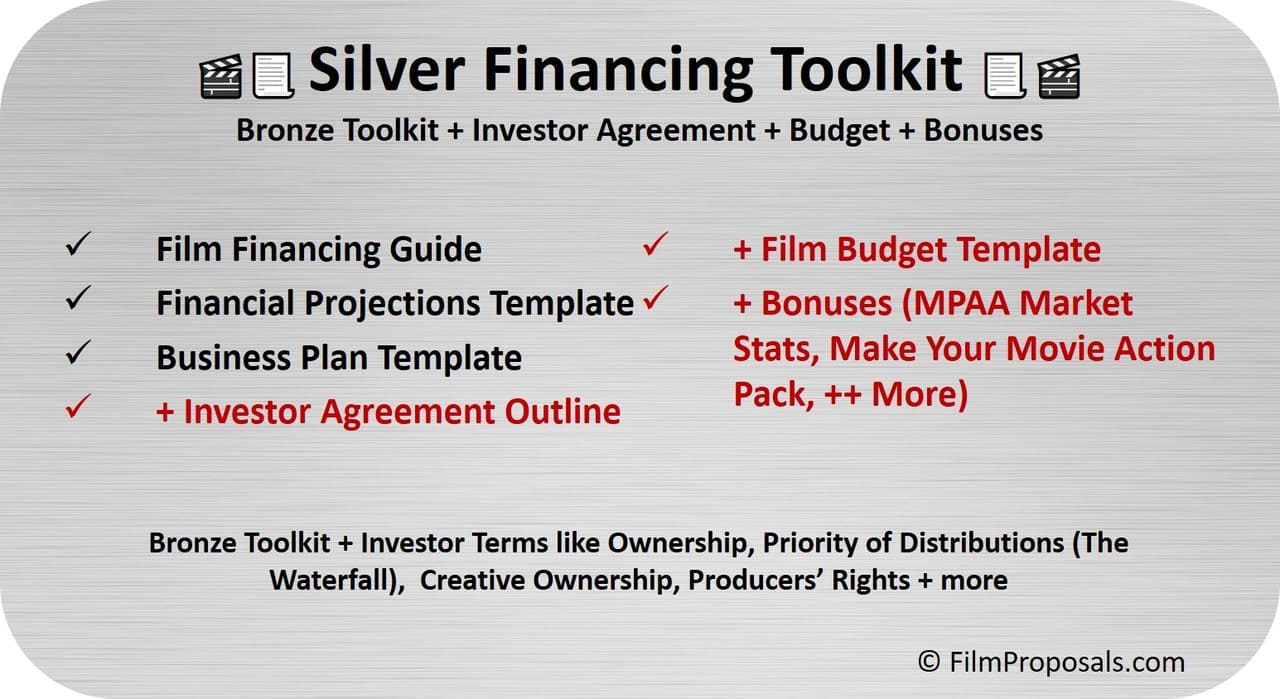 Full Bronze Toolkit
+ Investor Agreement Outline
+ Film Budget Template
+ Bonuses (MPAA Market Stats, Make Your Movie Action Pack, ++ More)
Regular Price $205, Save $76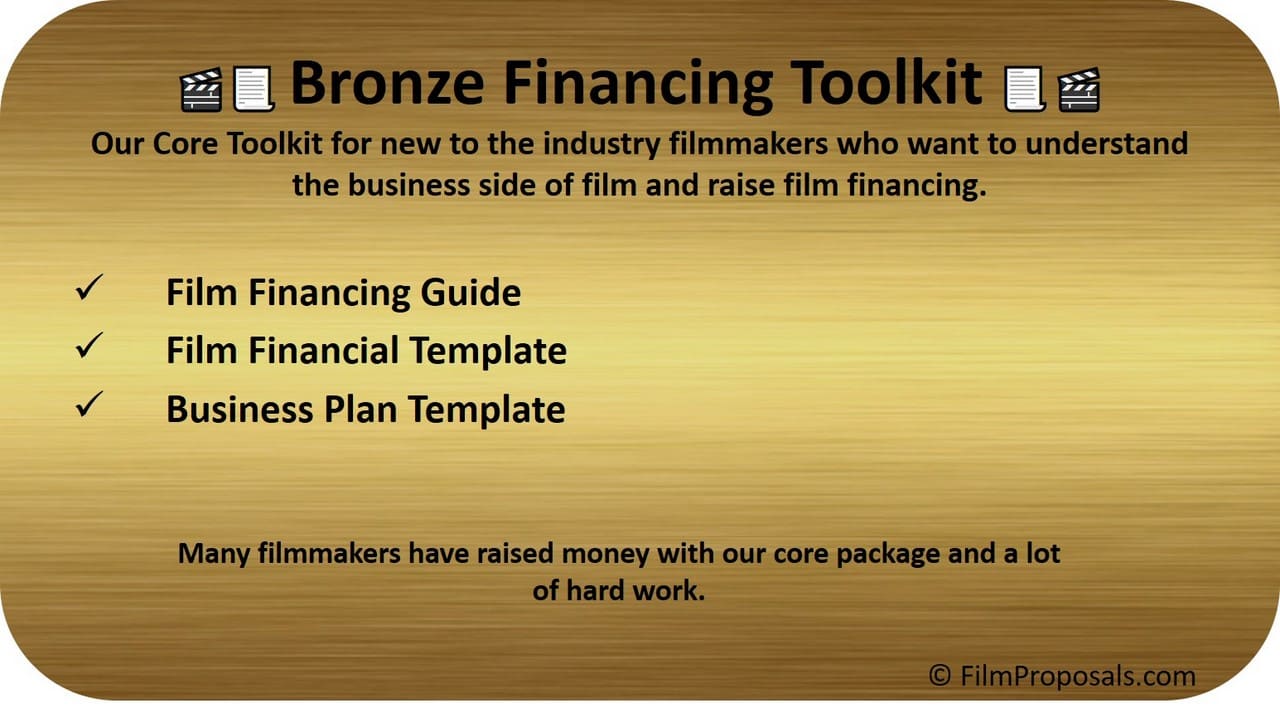 Film Financing Guide
Film Financial Projections Template
Business Plan Template
Regular Price $137, Save $38
Testimonials
Check out some of our Filmmaker Reviews
Just want to thank you for your materials and help over the past year. I could not have raised the $1.5 million or made this film without the materials you provided -- and for $99? The bargain of my career!

This is perfect! I have potential investors but I had no idea how to prepare a professional investment package to present to them. (I'm an artiste', not a business person. :) ) The information is clear and easy to understand, and Melissa is very prompt in answering emails.

Hi Melissa! I purchased Package #3 a couple of days ago, and I feel like I'm taking a crash course in film financing. So far, what I've read and learned has been invaluable. Thank you!
FilmProposals Tools and Templates