Hi! I'm looking for a TV pilot business plan template. I need a Business Plan Template to raise funds from investors for a TV show pilot and pitch it to a network. Can you help me ? Thank you! - Tim
TV Pilot Business Plan Template? Filmproposals Answer
Hi Tim: This is a great question! While we don't specialize in TV, we have had a few customers who have successfully adapted our Film Financial Projections for TV Execs. However, these were TV industry folks with some experience and not someone totally new to the game.
For example, read what "TV Producer now Consultant" had to say about using our Business Plan Tools. I will email him and see if he is available to help you.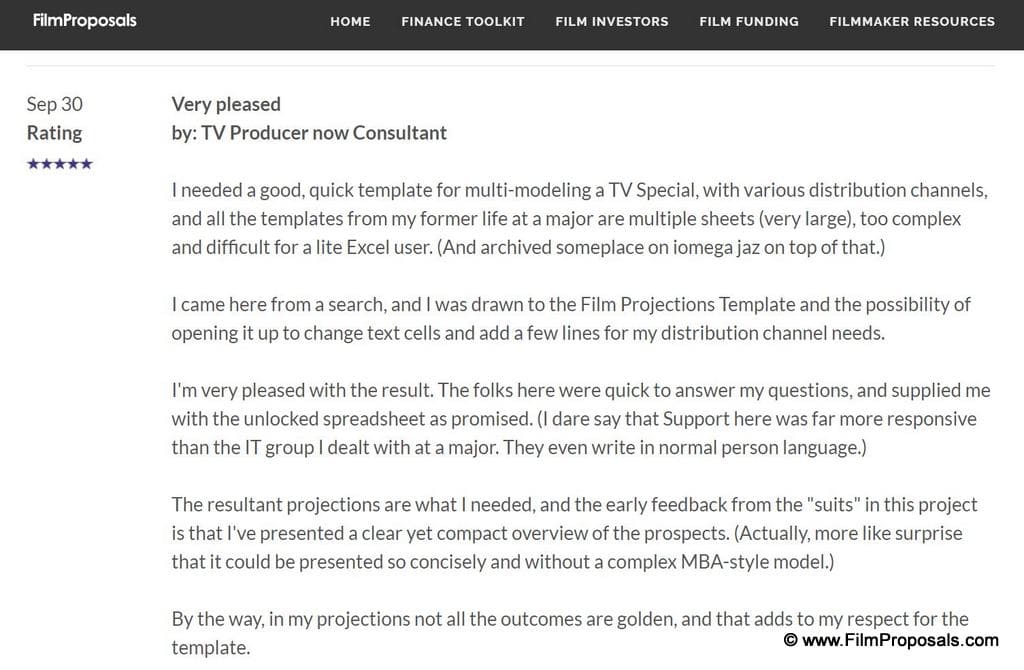 Others - have YOU pitched a TV Show? Tell us how you did it and what we can do to help other aspiring TV Show Writers.
More from FilmProposals about Pitching:
Start Your Financing in Five Minutes - 2020 is YOUR Year

Fast Track Your Film Financing Today!
Bronze
Regular Price $137, Save $38
Full Bronze Package
Regular Price $214, Save $75
Full Silver Package
Regular Price $683, Save $184
Testimonials
Check out some of our Filmmaker Reviews
Just want to thank you for your materials and help over the past year. I could not have raised the $1.5 million or made this film without the materials you provided -- and for $99? The bargain of my career!

This is perfect! I have potential investors but I had no idea how to prepare a professional investment package to present to them. (I'm an artiste', not a business person. :) ) The information is clear and easy to understand, and Melissa is very prompt in answering emails.

Hi Melissa! I purchased Package #3 a couple of days ago, and I feel like I'm taking a crash course in film financing. So far, what I've read and learned has been invaluable. Thank you!
FilmProposals Tools and Templates