Looking for the best list of free film templates? Here we list all the great downloads, templates, samples, spreadsheets, contracts, agreements and much more so you can get started on your film financing right away. Many free film tools and samples exist across the internet and here is a great starter list of free budgets, guides, books and more for the Independent Filmmaker. Grab your Film Making Action Guide, Production Directory, Film Festival Report, Film Business Plan Sample, Cash Flow Report, Movie Budgets, Film Investment Memorandum and more today!
FREE 8 Week Film Financing, Film Investors and Business Plan E-Courrse
Our free course includes a sample Film Business Plan Template excerpt (short version) and each week you'll receive your homework assignments. If you follow along and stick to the plan, it will be 8 short weeks until you have a complete film business plan and are totally ready to approach the film investors we teach you to find.
Film Industry Contracts
John Cones, one of the world's most respected entertainment attorneys, offers many free and PAID forms, examples, contracts and more. Yes, you will have to pay for some of them, but Mr. Cones is an attorney - do you really want freebie legal documents as opposed to those created by a film financing attorney?
Dependent Films
Dependent Films has a great selection of free downloads, such as Script Breakdowns, Budgets, Call Sheets, Production Sheets and many more.
Sample Independent Film Prospectus (Crossing Walter Comedy)
Filmmaking Stuff
Sign up for the Filmmaking Stuff newsletter and instantly download a free Film Making Action Guide and mini filmmaking course.
Free Film Budget Template
StudioBinder download
Crowdfunding Field Guide from Indiegogo
The original guide to successful crowdfunding
Free Sample Movie Budgets
Great page of sample budgets and production forms. Some might be difficult to navigate without also buying the associated the books.
Film Budgeting Tips and Downloads
Another great free sample movie budget.
Back to Top of Free Film Templates
1000 Ways to Finance Your Movie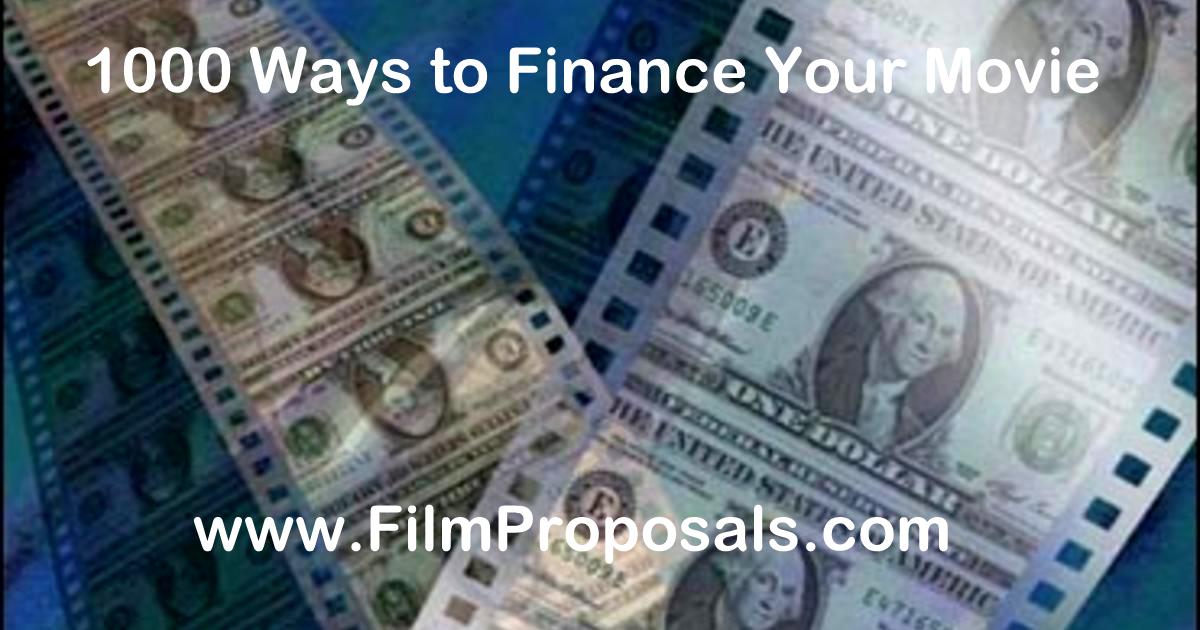 Start Your Financing in Five Minutes - 2020 is YOUR Year

Fast Track Your Film Financing Today!
Bronze
Regular Price $137, Save $38
Full Bronze Package
Regular Price $214, Save $75
Full Silver Package
Regular Price $683, Save $184
Testimonials
Check out some of our Filmmaker Reviews
Just want to thank you for your materials and help over the past year. I could not have raised the $1.5 million or made this film without the materials you provided -- and for $99? The bargain of my career!

This is perfect! I have potential investors but I had no idea how to prepare a professional investment package to present to them. (I'm an artiste', not a business person. :) ) The information is clear and easy to understand, and Melissa is very prompt in answering emails.

Hi Melissa! I purchased Package #3 a couple of days ago, and I feel like I'm taking a crash course in film financing. So far, what I've read and learned has been invaluable. Thank you!
FilmProposals Tools and Templates