The Movie Cents Newsletter brings you the latest on Film Festivals, Investors looking for you, Contests, Grants, Prizes, Specials and Discounts. Subscribe to Movie Cents and get our FREE 8 Week Film Financing, Film Investors and Business Plan E-Course.
Follow Us and Get the Latest Film News on Your Favorite Site:
Dec 17, 2020
[Review] BEING PREPARED IS PARAMOUNT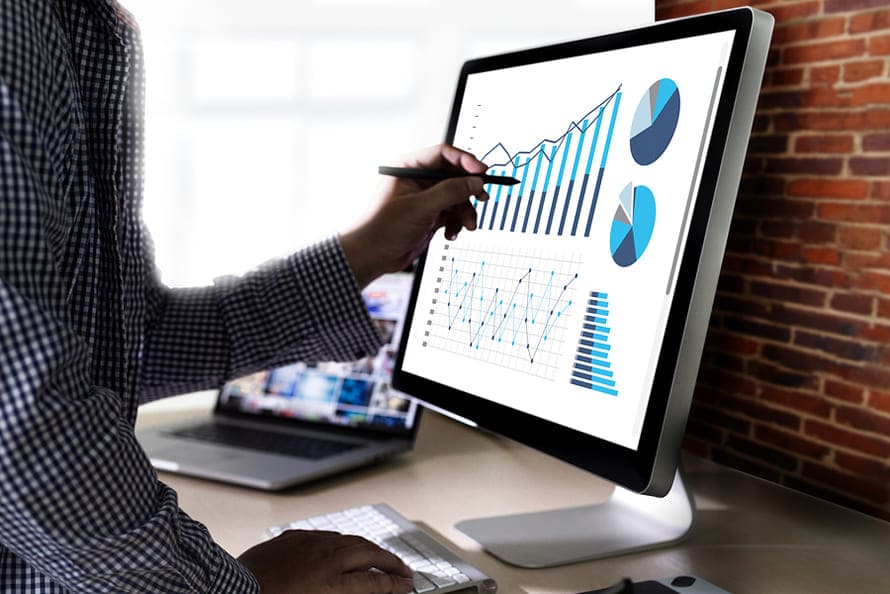 Where to start – one of the best things about using filmproposals.com was the step by step process to not only put together a professional proposal but with all the material that's included – it is a crash course on how the mechanics of the business part of 'show business' actually works. If you take your time to absorb all that is offered – you will be prepared for entry into this very insular business – especially from the point of view as a writer and producer. It's not that all the books and books of material about this business aren't helpful – but filmproposals.com has laid it all out in a digestible form so that it makes sense in a business that sometimes appears to have no rhyme of reason on how things work or ever get produced.
As in any business venture – there are 'tricks of the trade' – but when dealing with investors – it is all arranged in great detail what you are offering and what they definitely expect. After completing my proposal – I feel more prepared than ever to take the next steps! Thank you filmproposals.com!
All New 2021 Financing Packages (Bundles & Toolkits)
Film Financing Bundles - All the Templates + Professional Services & Legal Options for the Serious Filmmaker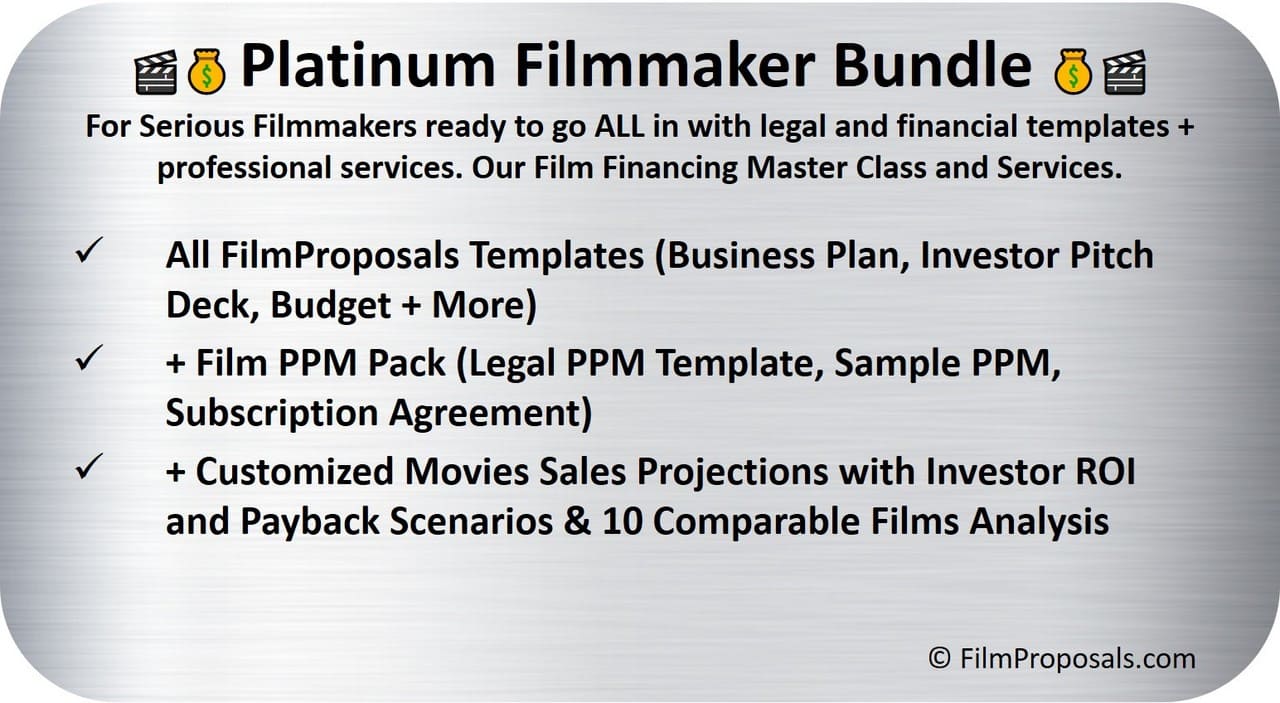 Full Gold Toolkit
+ Professional Sales Projections & Investor ROI
+ PPM (Private Placement Memorandum)
Regular Price $1301, Save $302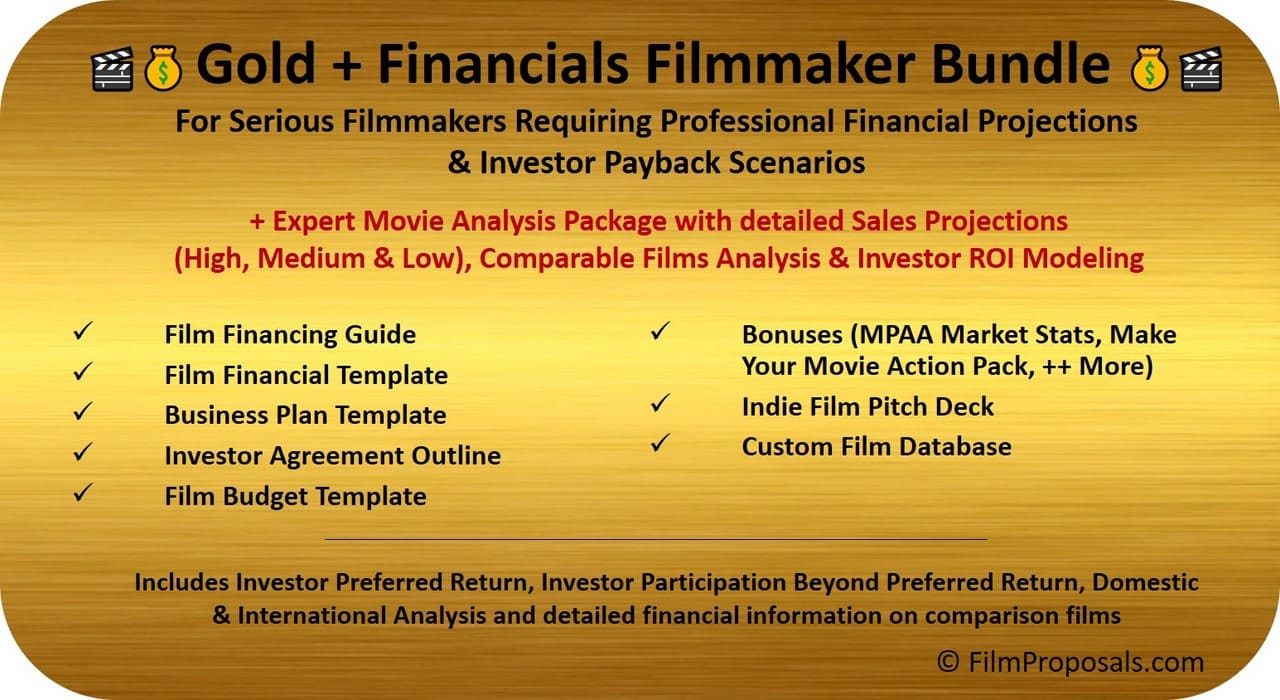 Full Gold Toolkit
+ Professional Sales Projections & Investor ROI
Regular Price $802, Save $203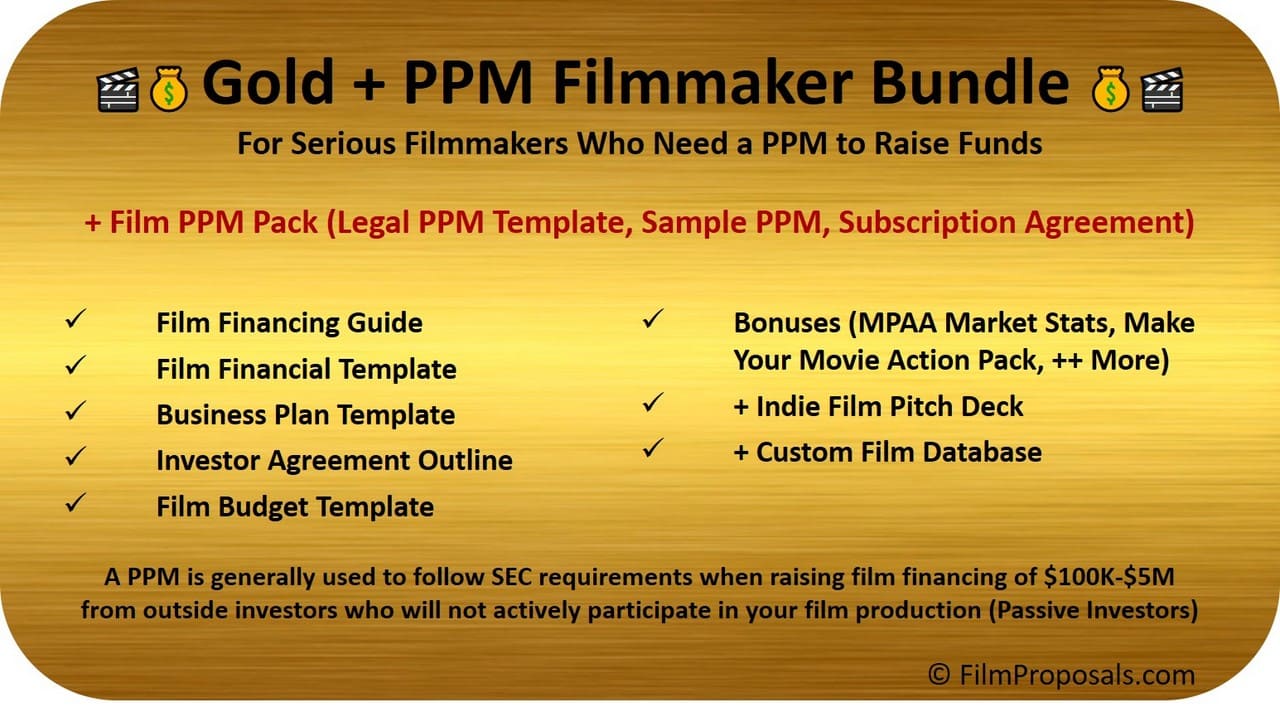 Full Gold Toolkit
+ PPM (Private Placement Memorandum)
Regular Price $802, Save $203
Film Financing Toolkits - Templates & Tools for the DIY Filmmaker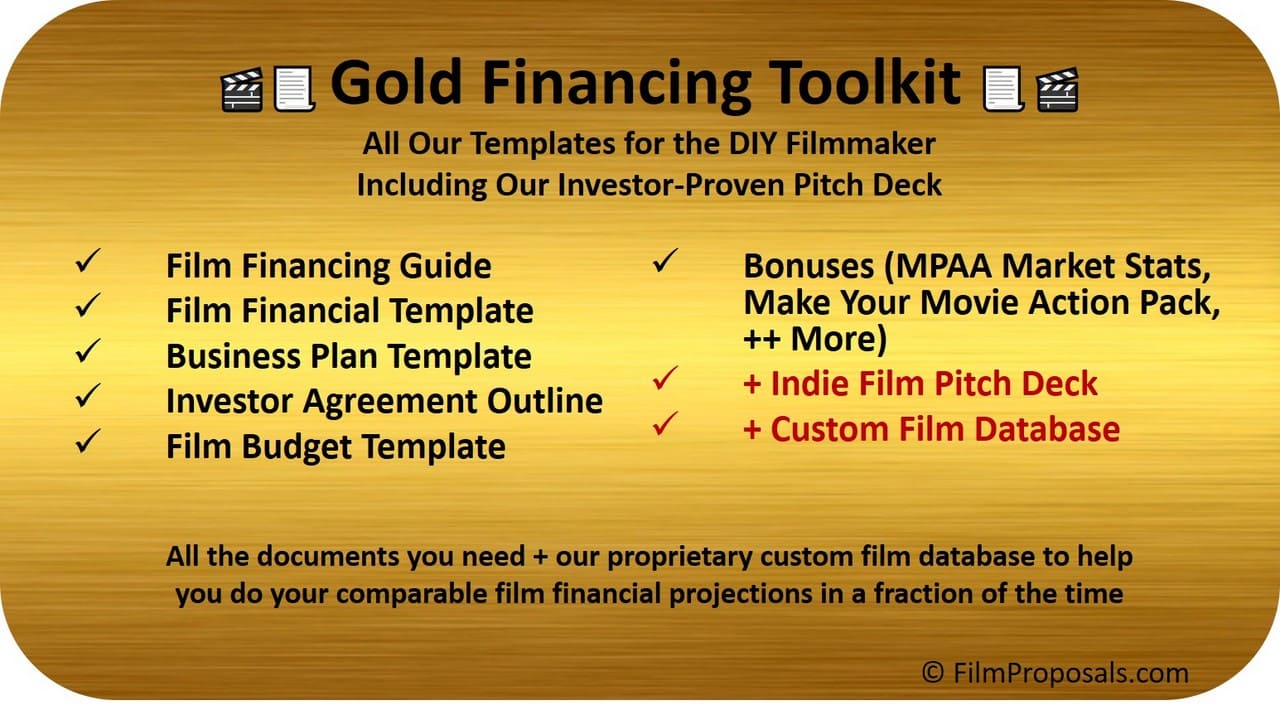 Full Silver Toolkit
+ Indie Film Pitch Deck Template
+ Custom Indie Film Database
Regular Price $303, Save $124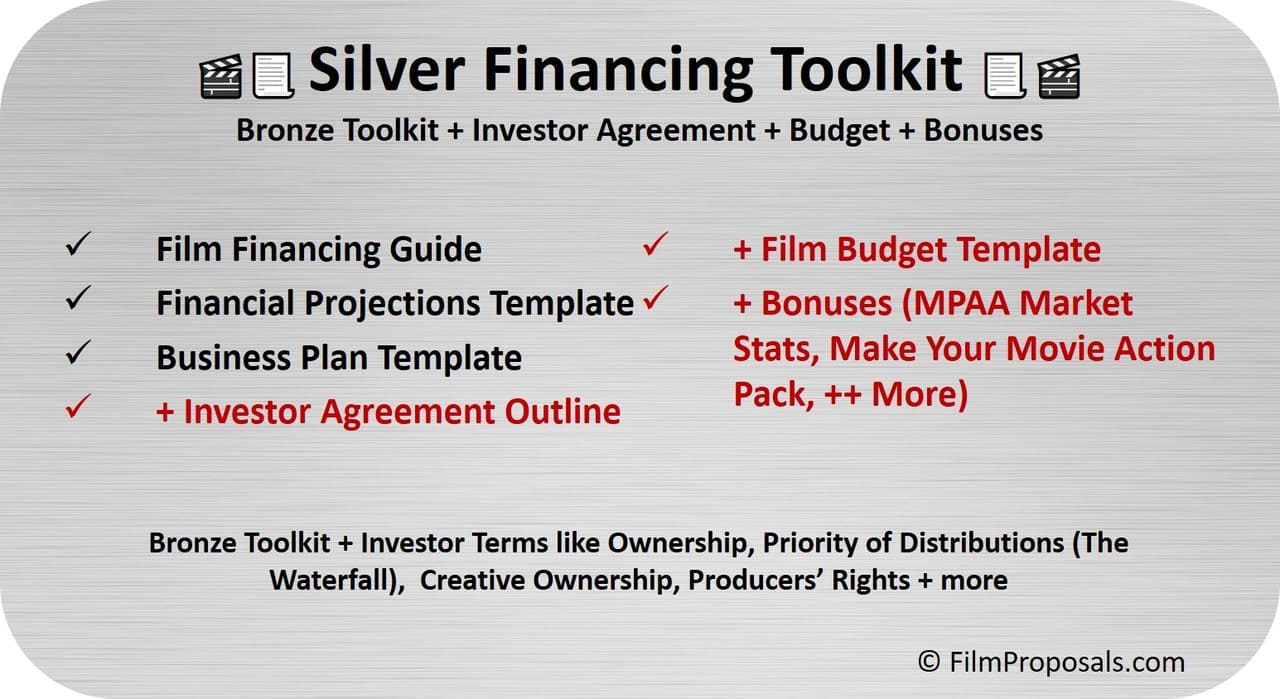 Full Bronze Toolkit
+ Investor Agreement Outline
+ Film Budget Template
+ Bonuses (MPAA Market Stats, Make Your Movie Action Pack, ++ More)
Regular Price $205, Save $76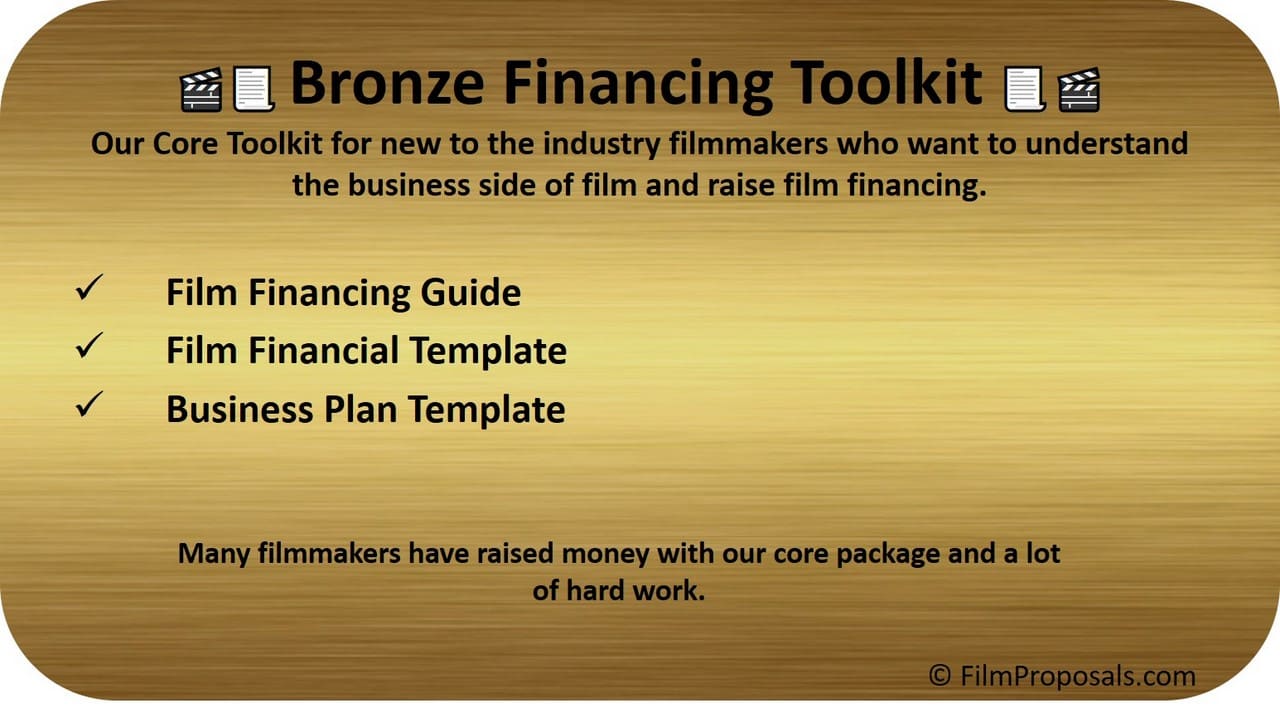 Film Financing Guide
Film Financial Projections Template
Business Plan Template
Regular Price $137, Save $38
Testimonials
Check out some of our Filmmaker Reviews
Just want to thank you for your materials and help over the past year. I could not have raised the $1.5 million or made this film without the materials you provided -- and for $99? The bargain of my career!

This is perfect! I have potential investors but I had no idea how to prepare a professional investment package to present to them. (I'm an artiste', not a business person. :) ) The information is clear and easy to understand, and Melissa is very prompt in answering emails.

Hi Melissa! I purchased Package #3 a couple of days ago, and I feel like I'm taking a crash course in film financing. So far, what I've read and learned has been invaluable. Thank you!
FilmProposals Tools and Templates