Our Filmmaking Tips Use a Gimbal will level up your film production by showcasing truly professional shots and we are going to show you just how to use a Gimbal to stabilize your footage, whether you are filming with a GoPro or iPhone. Using your iPhone as your primary filming camera is a great idea. It has a sharp camera, is lightweight and offers some solid tech.
Gimbals are stabilizing devices that enable you to get a smooth shot, even while the camera is moving. From far away, it looks like you are simply attaching your smartphone to a stick. Look closer, though, and you will discover a sophisticated technology that links up with your phone to deliver smooth shots. This will be especially helpful in replacing a dolly. It may sound crazy to get a smooth tracking shot by hand, but for a few hundred dollars, it is now very realistic.
Back to Top of Filmmaking Tips Use a Gimbal
Using a Selfie Stick
While you will not get the smoothness of a proper gimbal, the selfie stick still serves several purposes. It helps you get a more stable shot than just filming by hand. It can provide you with high and low angle shots that would be impossible without it. And it help you still an awesome crew photo at the end of your shoot! While the fact that this selfie stick has a bluetooth remote control is cool, it unfortunately only works for photos and not video. That aside, this is an excellent tool to make your production look more professional for a nominal amount of money.
Amazon Best Seller Gimbal
Filmmaking Tips Use a Gimbal
For less than $150, your shots will go from shaky to stable. Using the Osmo's ActiveTrack feature, built-in sensors and a brushless motor assist to provide a smooth shot. The Osmo has features to help you shoot great time lapses. And it goes even further, with MotionLapse. This lets you move with the camera while creating equally smooth video.
With just one hand on the Osmo handle, you can also get great zoom shots. This is achieved using the built-in zoom slider, providing you with a more fluid zoom shot.
While there are a lot of options out there to help smooth out your smartphone shots, both of the above choices will vastly improve the quality of the video you will be shooting. Either start small with a selfie stick, or get the best out of your iPhone with the DJI Osmo. Regardless, your production will be miles better than simply filming by hand with your smartphone.
Create Cinematic Movements with a Gimbal
Back to Top of Filmmaking Tips Use a Gimbal
About the Author
Sam Klein is a writer, producer, and director based in Los Angeles, CA. He is a member of the Producers Guild of America, has written and directed shorts that have been in festivals around the country, wrote the 'Hipsters" series for Youtube star Anna Akana, directed internationally distributed commercials for Dunlop, and is a staff producer for Tennis Channel's original content department.
Filmmaker Resources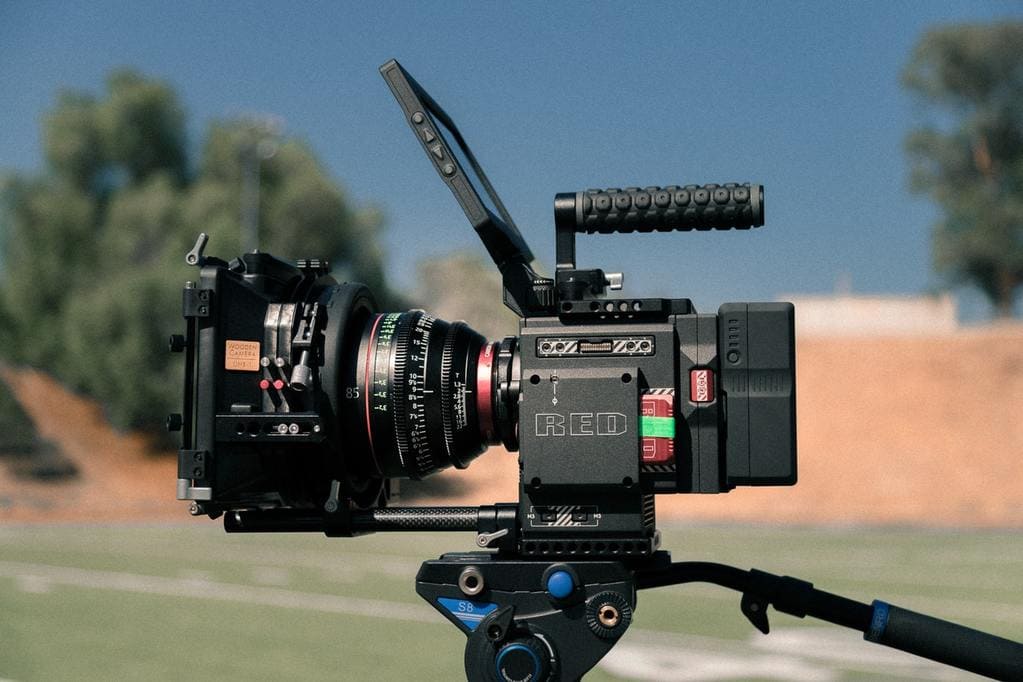 Tell us What's in YOUR Camera Bag!
Do you have some great indie filmmaker tips to share with other aspiring or current filmmakers? Do you want to promote your latest film or service to a huge global network of filmmakers, producers, directors, potential investors and distributors? Here is a great opportunity to first pay it forward, and then promote your projects, products and services.
We want to hear ALL your best tips and ideas on raising funds, working with investors, best camera and equipment deals, editing software, distribution deals, crowdfunding, film festivals, grants, creative deals with talent and staff, product placement, fundraising....basically, anything at all that contributed to the bottom line that lead to the success of making your film.
Tell us What's in YOUR Camera Bag!
Back to Top of Filmmaking Tips Use a Gimbal
All New 2021 Financing Packages (Bundles & Toolkits)
Film Financing Bundles - All the Templates + Professional Services & Legal Options for the Serious Filmmaker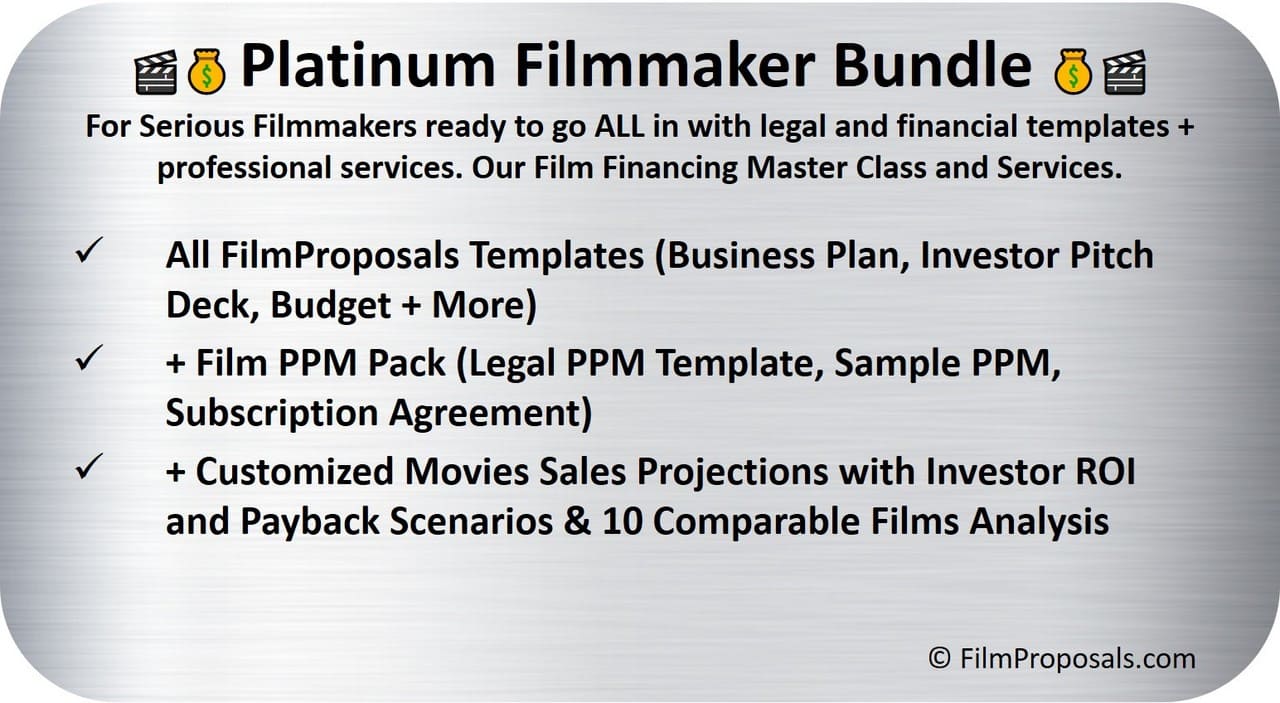 Full Gold Toolkit
+ Professional Sales Projections & Investor ROI
+ PPM (Private Placement Memorandum)
Regular Price $1301, Save $302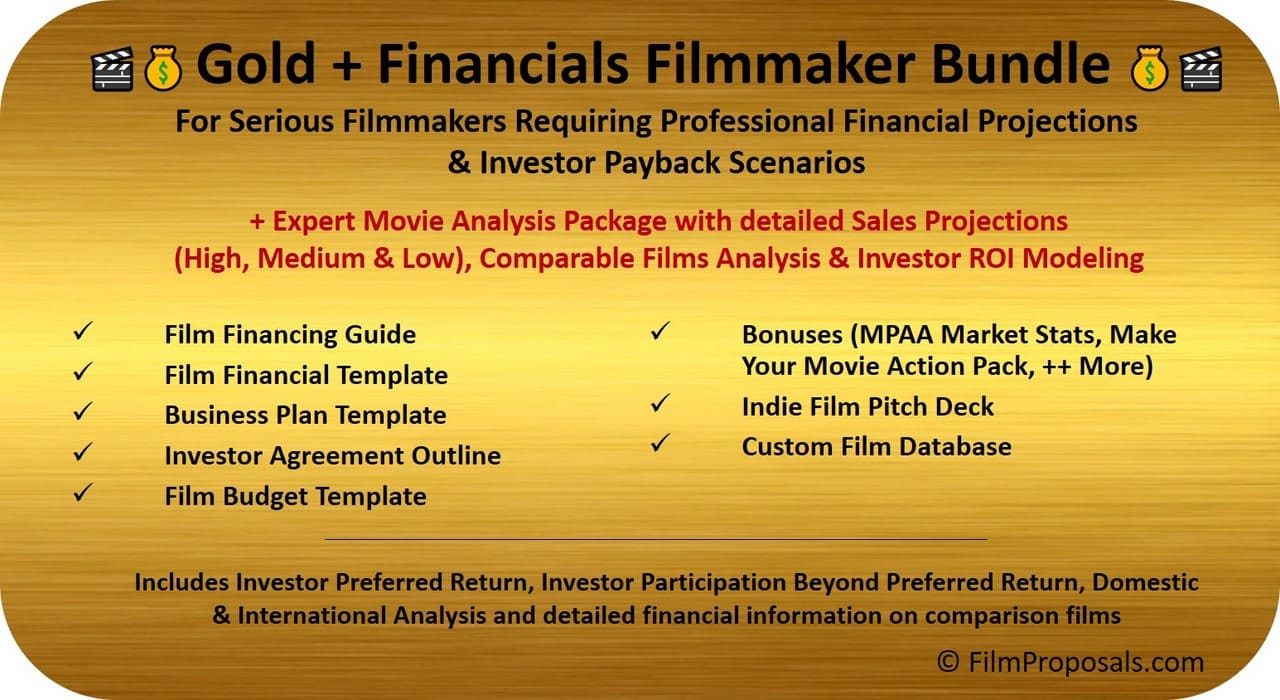 Full Gold Toolkit
+ Professional Sales Projections & Investor ROI
Regular Price $802, Save $203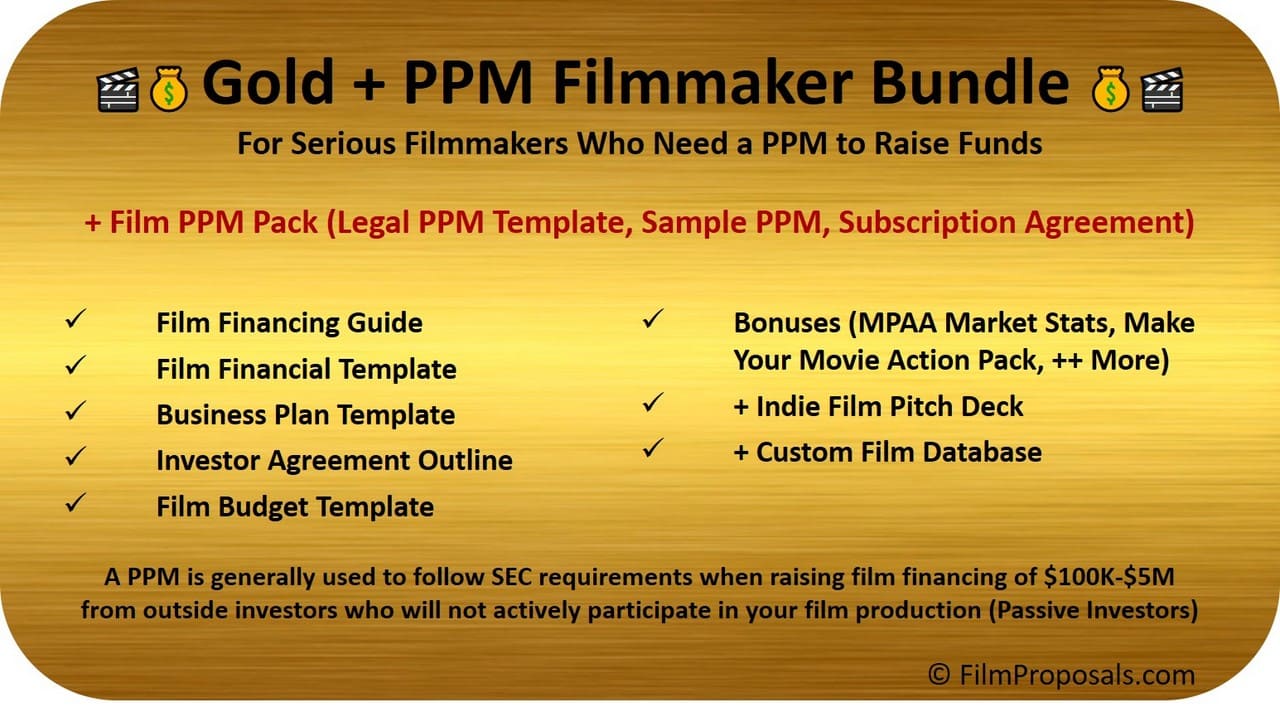 Full Gold Toolkit
+ PPM (Private Placement Memorandum)
Regular Price $802, Save $203
Film Financing Toolkits - Templates & Tools for the DIY Filmmaker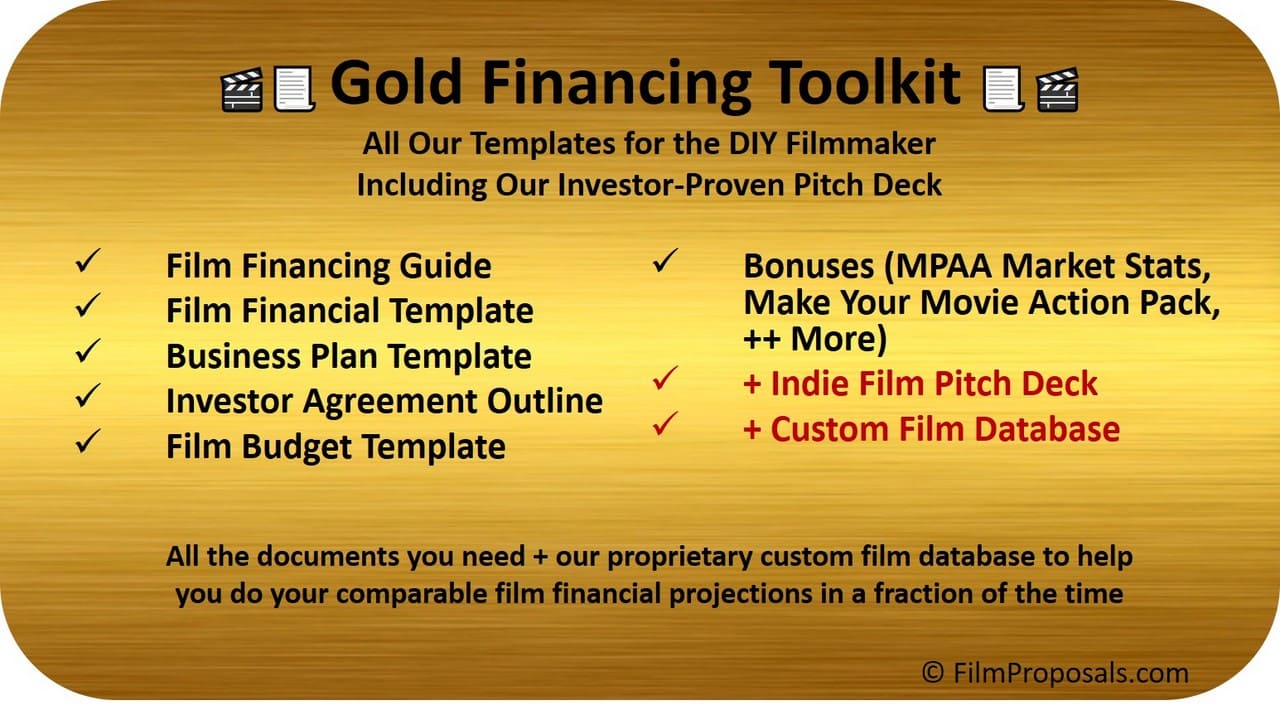 Full Silver Toolkit
+ Indie Film Pitch Deck Template
+ Custom Indie Film Database
Regular Price $303, Save $124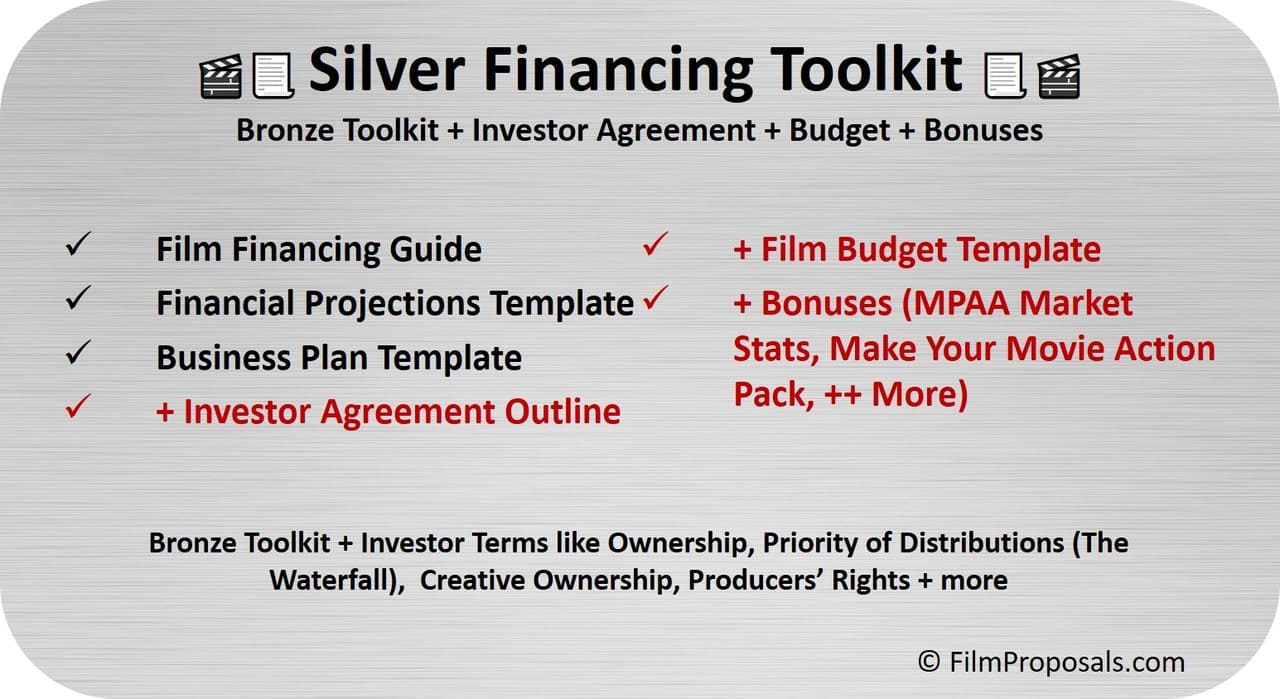 Full Bronze Toolkit
+ Investor Agreement Outline
+ Film Budget Template
+ Bonuses (MPAA Market Stats, Make Your Movie Action Pack, ++ More)
Regular Price $205, Save $76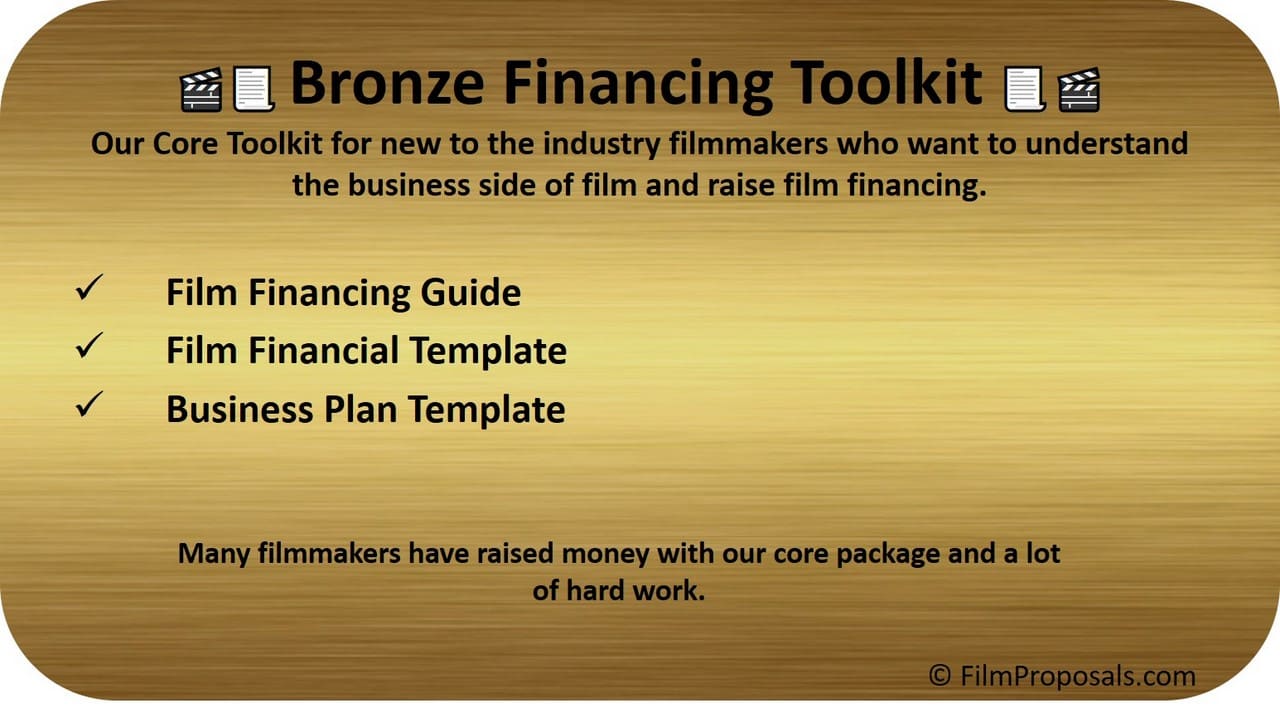 Film Financing Guide
Film Financial Projections Template
Business Plan Template
Regular Price $137, Save $38
Testimonials
Check out some of our Filmmaker Reviews
Just want to thank you for your materials and help over the past year. I could not have raised the $1.5 million or made this film without the materials you provided -- and for $99? The bargain of my career!

This is perfect! I have potential investors but I had no idea how to prepare a professional investment package to present to them. (I'm an artiste', not a business person. :) ) The information is clear and easy to understand, and Melissa is very prompt in answering emails.

Hi Melissa! I purchased Package #3 a couple of days ago, and I feel like I'm taking a crash course in film financing. So far, what I've read and learned has been invaluable. Thank you!
FilmProposals Tools and Templates