Use a smartphone video rig to get the most out of all your smartphone video filming accessories. You have your smartphone lenses, your external audio recording devices, and your external lights, but where are you going to put it all? If you are thinking "that seems like a lot of stuff to attach to a device that fits in the palm of your hand", you are correct. Fear not, though, because another thoughtful invention exists, and that is the smartphone video rig.
Using a rig is commonplace for those using smaller cameras such as DSLRs. However, now that the iPhone or Samsung Galaxy has the camera-power of a much more expensive device, a scaled down version of the standard camera rig was bound to come around. These rigs are great because not only do they put all of your equipment into on contraption, but the shape of the rigs is easy to hold, and always you to get more dynamic shots.
1. The Basic Rig
2. The Big Rig
3. Extreme Movement Rig
About the Author
Sam Klein is a writer, producer, and director based in Los Angeles, CA. He is a member of the Producers Guild of America, has written and directed shorts that have been in festivals around the country, wrote the 'Hipsters" series for Youtube star Anna Akana, directed internationally distributed commercials for Dunlop, and is a staff producer for Tennis Channel's original content department.
Back to Top of Five Gadgets to Start With Travel Vlogging
Filmmaker Resources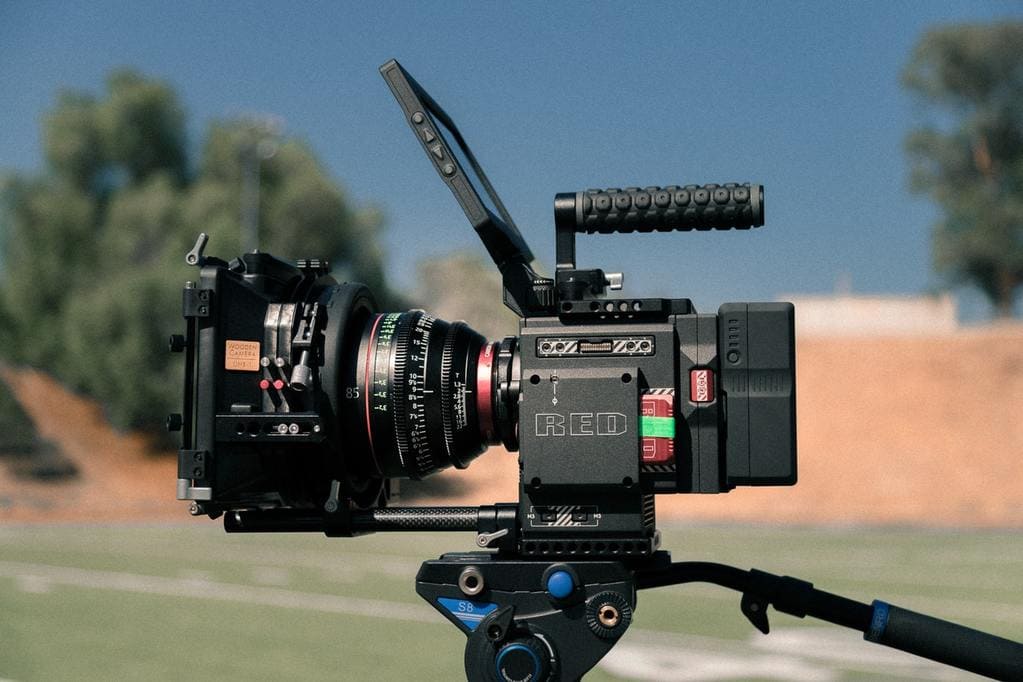 Tell us What's in YOUR Camera Bag!
Do you have some great indie filmmaker tips to share with other aspiring or current filmmakers? Do you want to promote your latest film or service to a huge global network of filmmakers, producers, directors, potential investors and distributors? Here is a great opportunity to first pay it forward, and then promote your projects, products and services.
We want to hear ALL your best tips and ideas on raising funds, working with investors, best camera and equipment deals, editing software, distribution deals, crowdfunding, film festivals, grants, creative deals with talent and staff, product placement, fundraising....basically, anything at all that contributed to the bottom line that lead to the success of making your film.
Tell us What's in YOUR Camera Bag!
All New 2021 Financing Packages (Bundles & Toolkits)
Film Financing Bundles - All the Templates + Professional Services & Legal Options for the Serious Filmmaker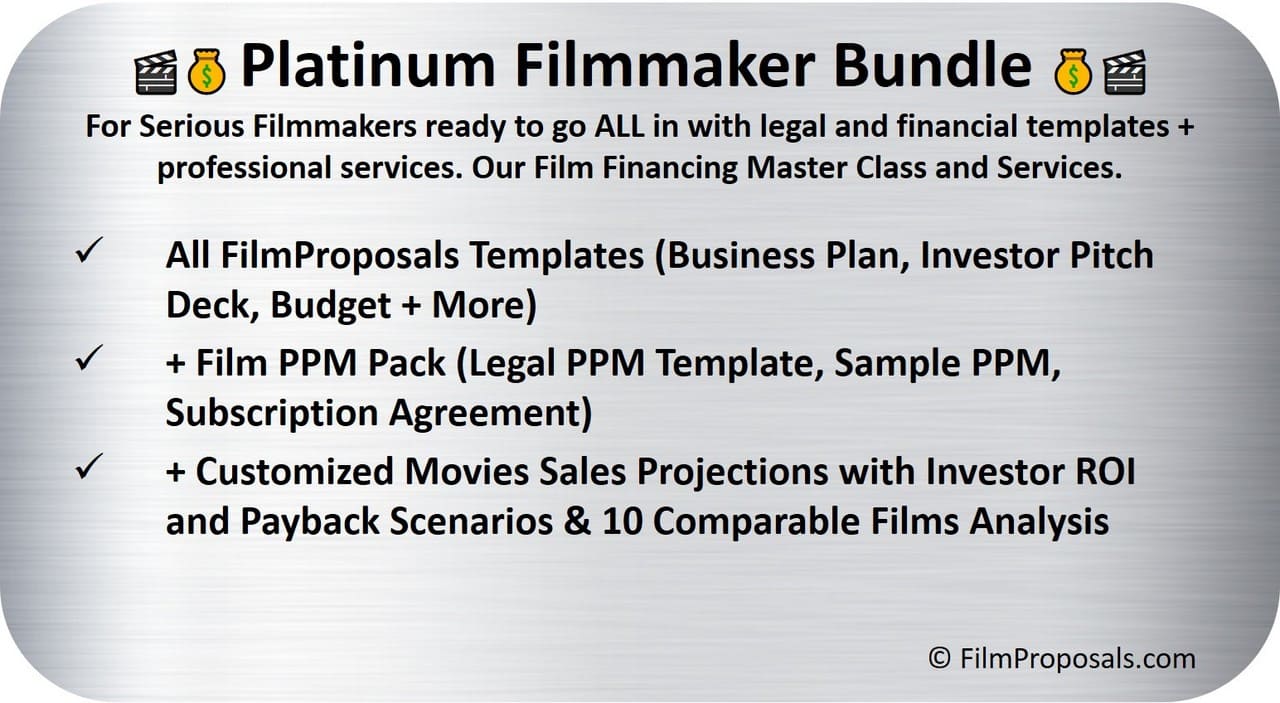 Full Gold Toolkit
+ Professional Sales Projections & Investor ROI
+ PPM (Private Placement Memorandum)
Regular Price $1301, Save $302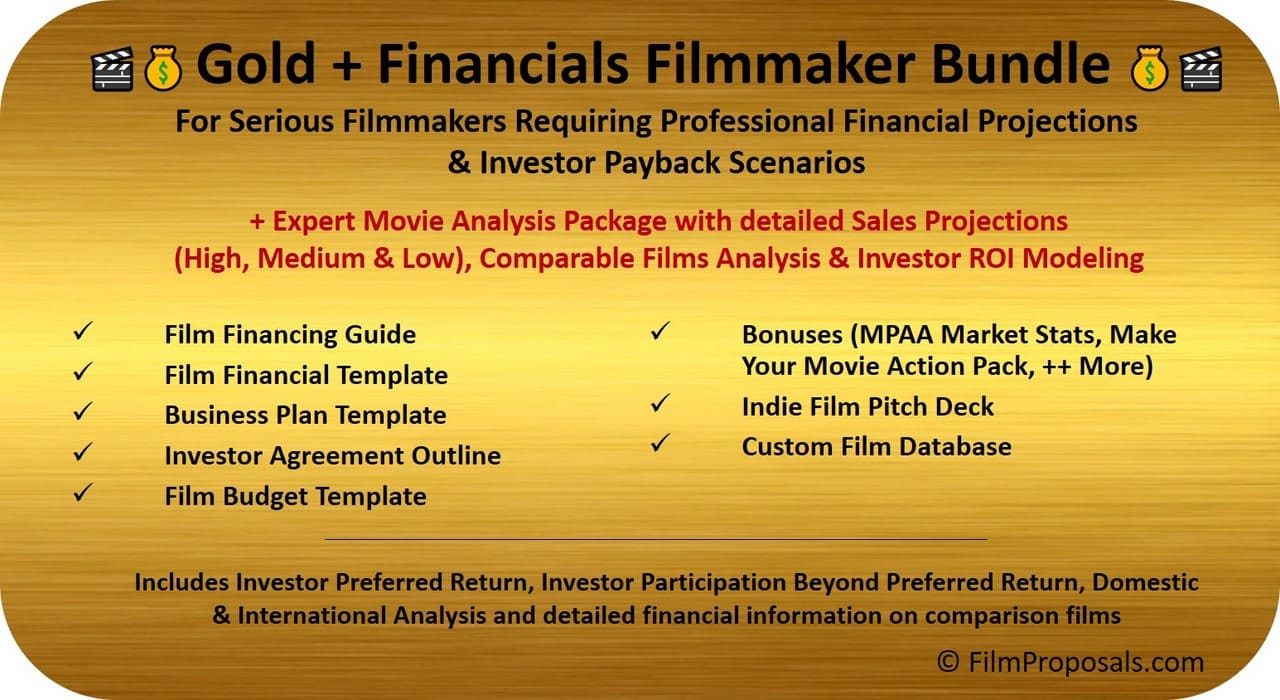 Full Gold Toolkit
+ Professional Sales Projections & Investor ROI
Regular Price $802, Save $203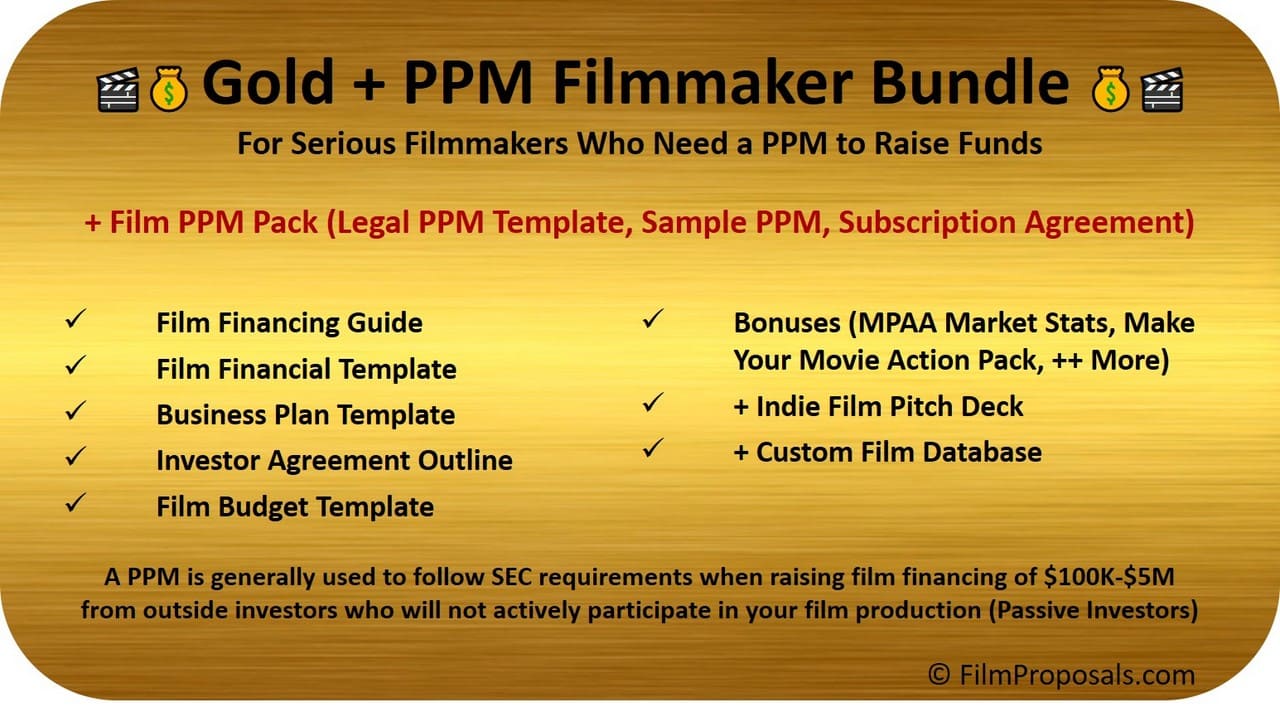 Full Gold Toolkit
+ PPM (Private Placement Memorandum)
Regular Price $802, Save $203
Film Financing Toolkits - Templates & Tools for the DIY Filmmaker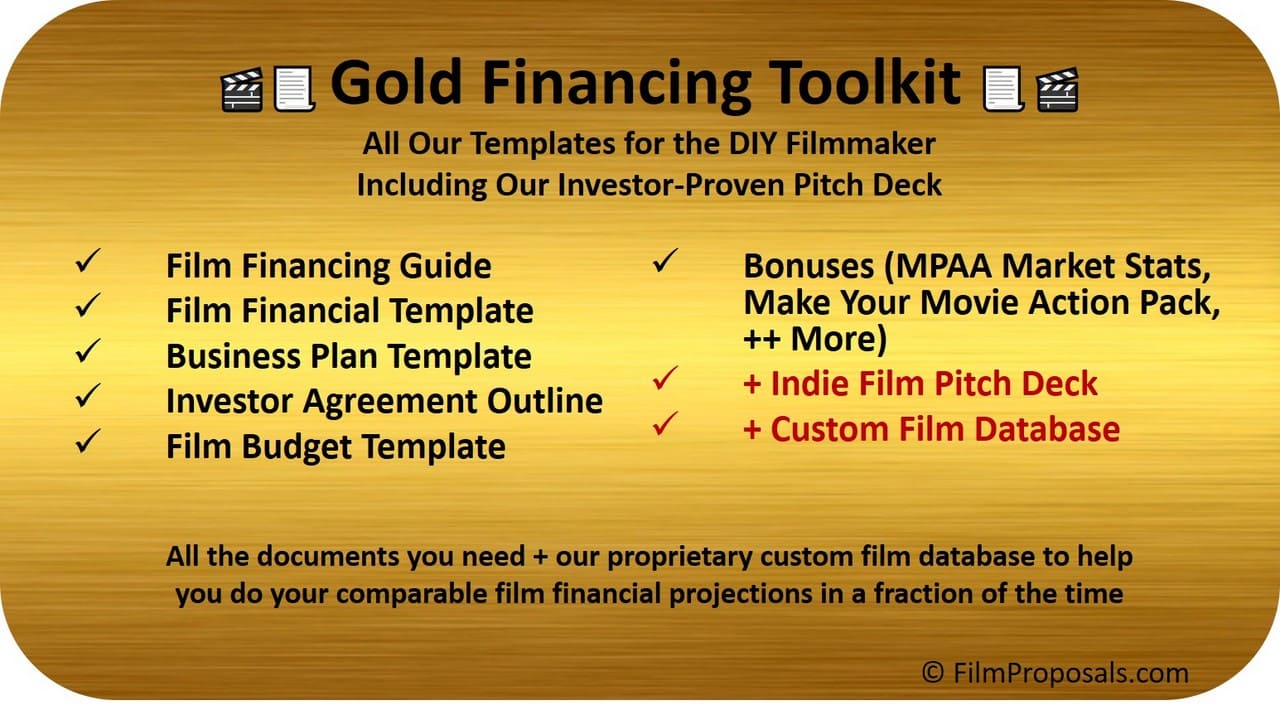 Full Silver Toolkit
+ Indie Film Pitch Deck Template
+ Custom Indie Film Database
Regular Price $303, Save $124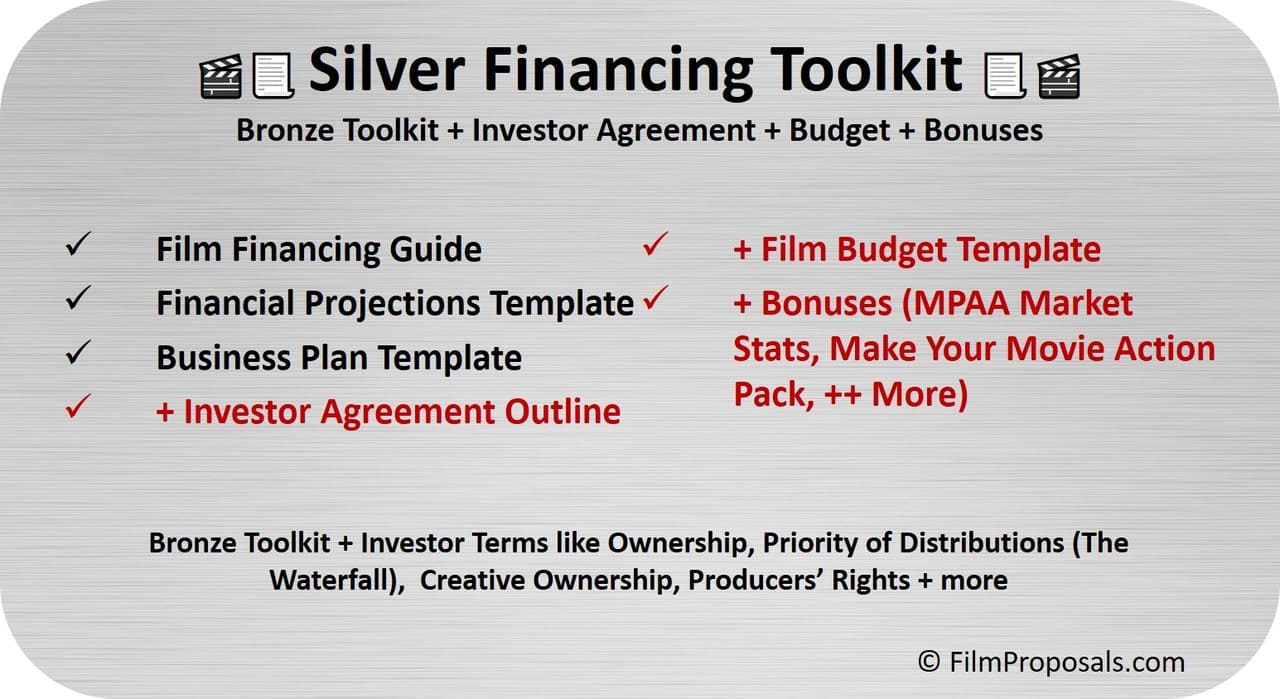 Full Bronze Toolkit
+ Investor Agreement Outline
+ Film Budget Template
+ Bonuses (MPAA Market Stats, Make Your Movie Action Pack, ++ More)
Regular Price $205, Save $76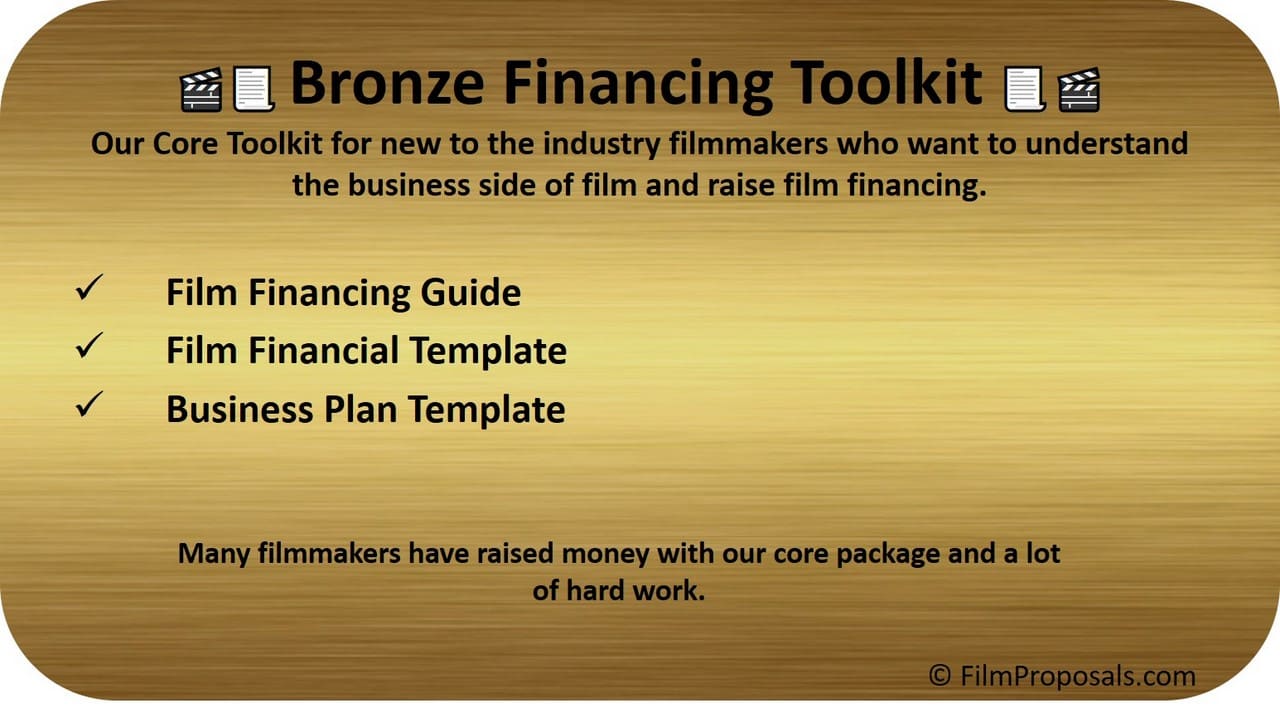 Film Financing Guide
Film Financial Projections Template
Business Plan Template
Regular Price $137, Save $38
Testimonials
Check out some of our Filmmaker Reviews
Just want to thank you for your materials and help over the past year. I could not have raised the $1.5 million or made this film without the materials you provided -- and for $99? The bargain of my career!

This is perfect! I have potential investors but I had no idea how to prepare a professional investment package to present to them. (I'm an artiste', not a business person. :) ) The information is clear and easy to understand, and Melissa is very prompt in answering emails.

Hi Melissa! I purchased Package #3 a couple of days ago, and I feel like I'm taking a crash course in film financing. So far, what I've read and learned has been invaluable. Thank you!
FilmProposals Tools and Templates