When you set out to make a low budget movie, one of the things you want to accomplish is to find free actors for independent film. There are a ton of things to get organized on a film, such as an idea, script, camera, crew, locations, actors and more. If you are smart, you can get most of the above for cheap, and if you are really smart, you can get it for free.
Things that sound inexpensive or may not even come to mind can actually add up the most, such as food for the cast and crew or props, so saving money anywhere possible is key. In this article, I'm going to focus on how to spend ZERO dollars on filming locations and on actors.
Find Free Actors for Independent Film
So you have a script about which you are passionate and an entire army of dedicated friends ready to help you make a great film, at no cost to you, right? Probably not. While a lot of low budget productions do rely on friends, you want to make the best movie possible, and that may involve bringing in some outside talent. Using friends as actors works out sometimes, but if you want to get a solid cast that will help tell your story, there are certainly avenues of doing so that will not cost you a dime.
Use Cazt
If you happen to live in Los Angeles, there are several casting businesses that let you host in-person auditions at no charge to you. If nothing else, this will really make you feel like you are part of a real production, which of course you are! One of those places is www.cazt.com. A deep pool of aspiring talent will show up looking for material for their reel, and are happy to act in low budget projects for the exposure, their own promotional materials, and a deferred payment. Of course there should be free lunch, as you should always feed your cast and crew!
Funny side note: I was holding auditions at CAZT in Hollywood for a web series I was producing, and a guy that looked familiar came in to do a read. After a few minutes, we realized we went to high school in New Jersey together, and neither of us knew the other had moved to LA. He obviously got the part, and we have since collaborated on several projects. The moral of the story is you never know who is might show up for your audition!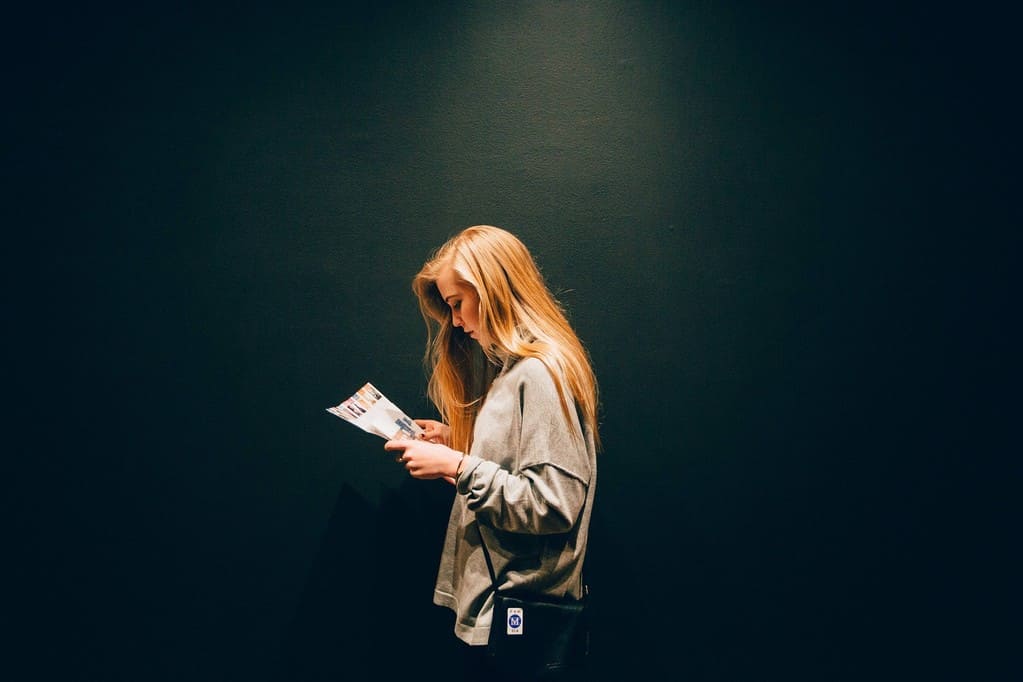 Online Auditions
If you do not happen to live in Los Angeles, fear not! The internet is your best friend. There are infinite websites where casting directors can submit a project, and actors in the area can upload a video audition. If you like what you see, then you can meet up for a formal audition in person. You can even use Craigslist to search for talent, but like anything else with Craigslist, beware of fraudsters.
Here are a few good websites to check out for online casting:
actorsaccess.com
castingfrontier.com
castingnetworks.com
backstage.com
Remember, any online interaction comes with a degree of uncertainty, so always do some research before going to any in-person meetings, and trust your gut.
SAG-AFTRA
First and foremost, SAG-AFTRA is a union for actors (Screen Actors Guild - American Federation of Television and Radio Artists) that represents over 160,000 camera-friendly people around the globe.
If you really want to go all out and get SAG-AFTRA actors, you can look into becoming a SAG-AFTRA signatory project, which will enable you to use Union actors in your film. If it is a short film that will be online and falls under the SAG New Media umbrella, there's a chance you can also entice non-union actors by offering them "Taft-Hartley" waivers. These waivers grant the actors entry into SAG-AFTRA. The process to get involved with SAG-AFTRA can be a bit lengthy and comes with a lot of stipulation, so visit their website to see if your project may be eligible: https://www.sagindie.org/signatory/ and https://www.sagaftra.org/new-media-taft-hartley-information.
Whether you cast your friends, a first time actor or score an experienced talent, actors are out there who will absolutely star in your film at no cost to you. Of course, their time, effort, and ability deserves monetary compensation if you have it, but if your budget is slim, this is certainly an area in which you can keep costs down. If you are not able to pay actors up front, it is highly recommended that you offer deferred payment in the event your project does make a profit. Going along with that, make sure to include them in the credits, give them a copy of the film for their reel, and last but not least, feed anyone and everyone who has taken time to be on your set on any given day!
Back to Top of Find Free Actors for Independent Film
About the Author
Sam Klein is a writer, producer, and director based in Los Angeles, CA. He is a member of the Producers Guild of America, has written and directed shorts that have been in festivals around the country, wrote the 'Hipsters" series for Youtube star Anna Akana, directed internationally distributed commercials for Dunlop, and is a staff producer for Tennis Channel's original content department.
Filmmaker Resources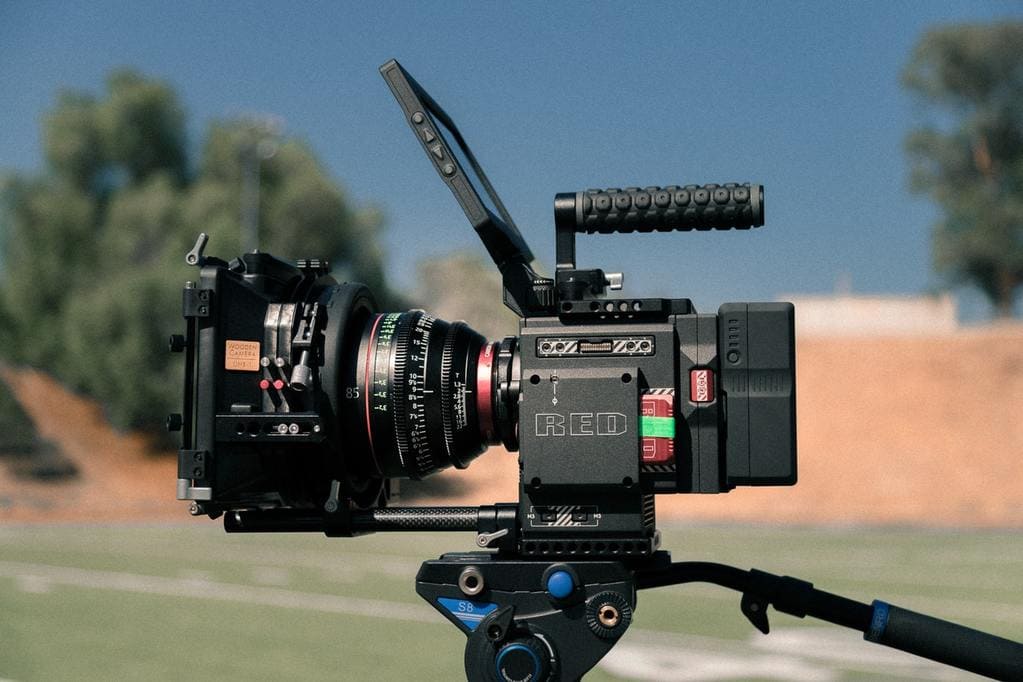 Back to Top of Find Free Actors for Independent Film
All New 2021 Financing Packages (Bundles & Toolkits)
Film Financing Bundles - All the Templates + Professional Services & Legal Options for the Serious Filmmaker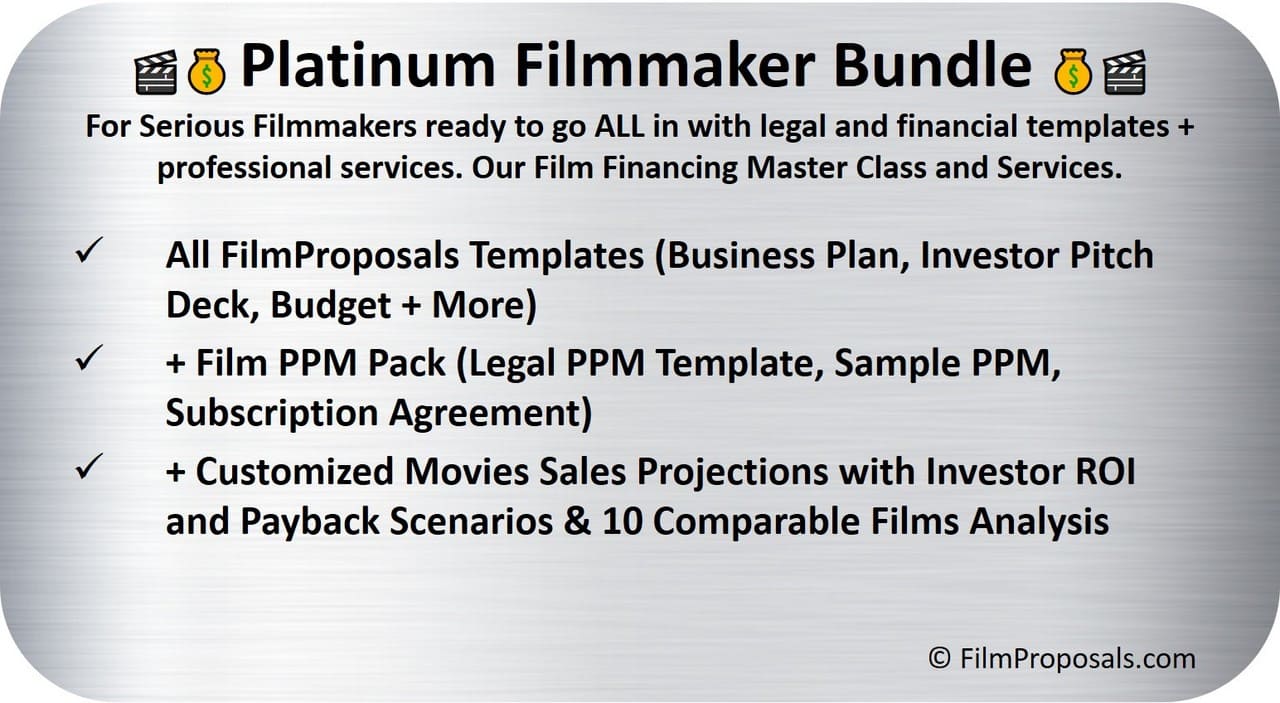 Full Gold Toolkit
+ Professional Sales Projections & Investor ROI
+ PPM (Private Placement Memorandum)
Regular Price $1301, Save $302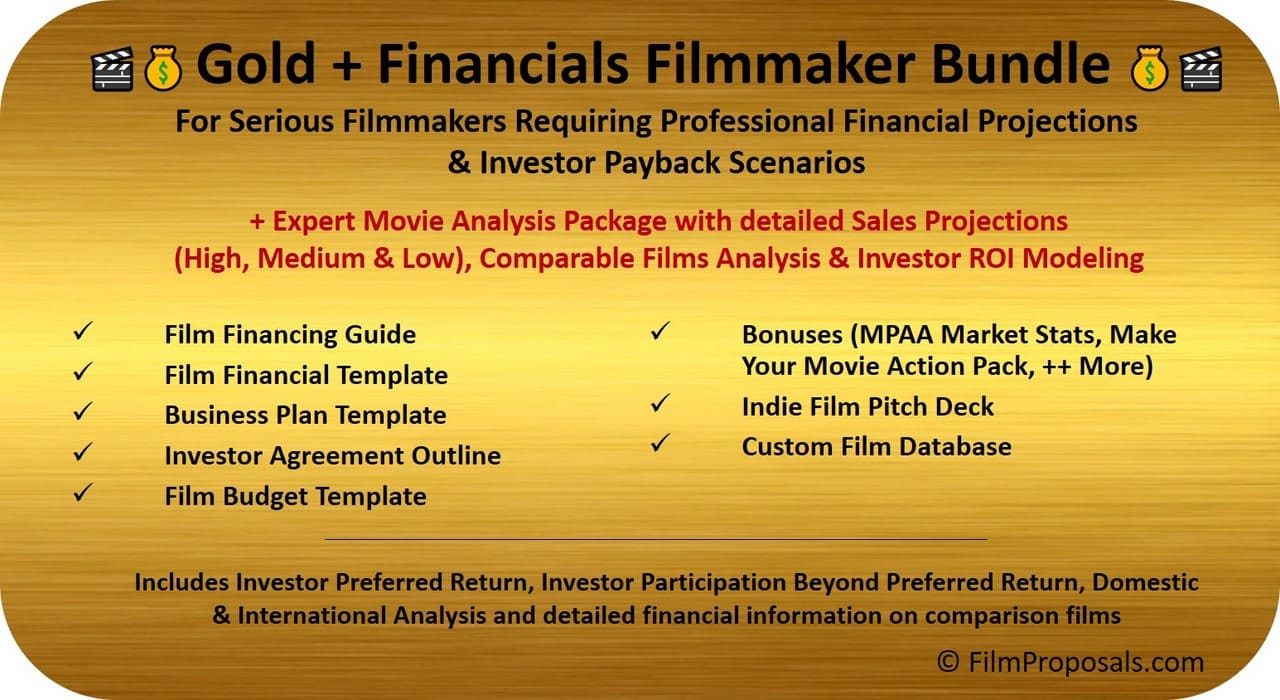 Full Gold Toolkit
+ Professional Sales Projections & Investor ROI
Regular Price $802, Save $203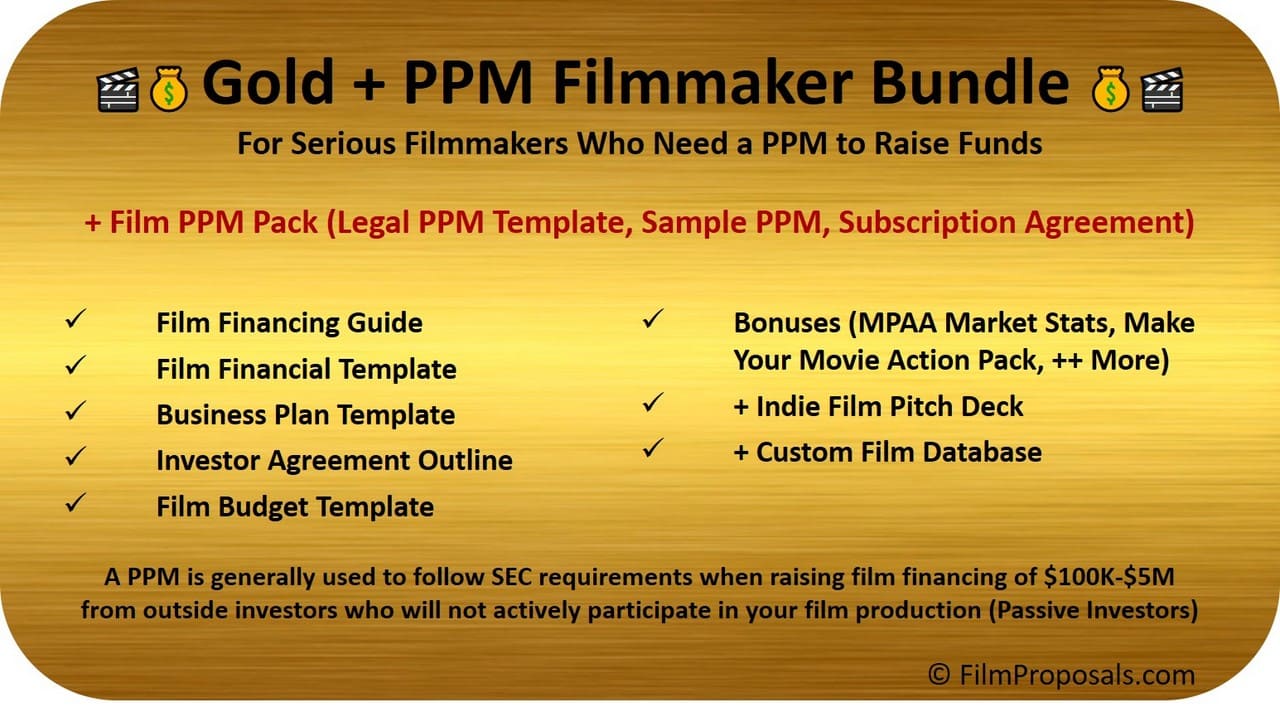 Full Gold Toolkit
+ PPM (Private Placement Memorandum)
Regular Price $802, Save $203
Film Financing Toolkits - Templates & Tools for the DIY Filmmaker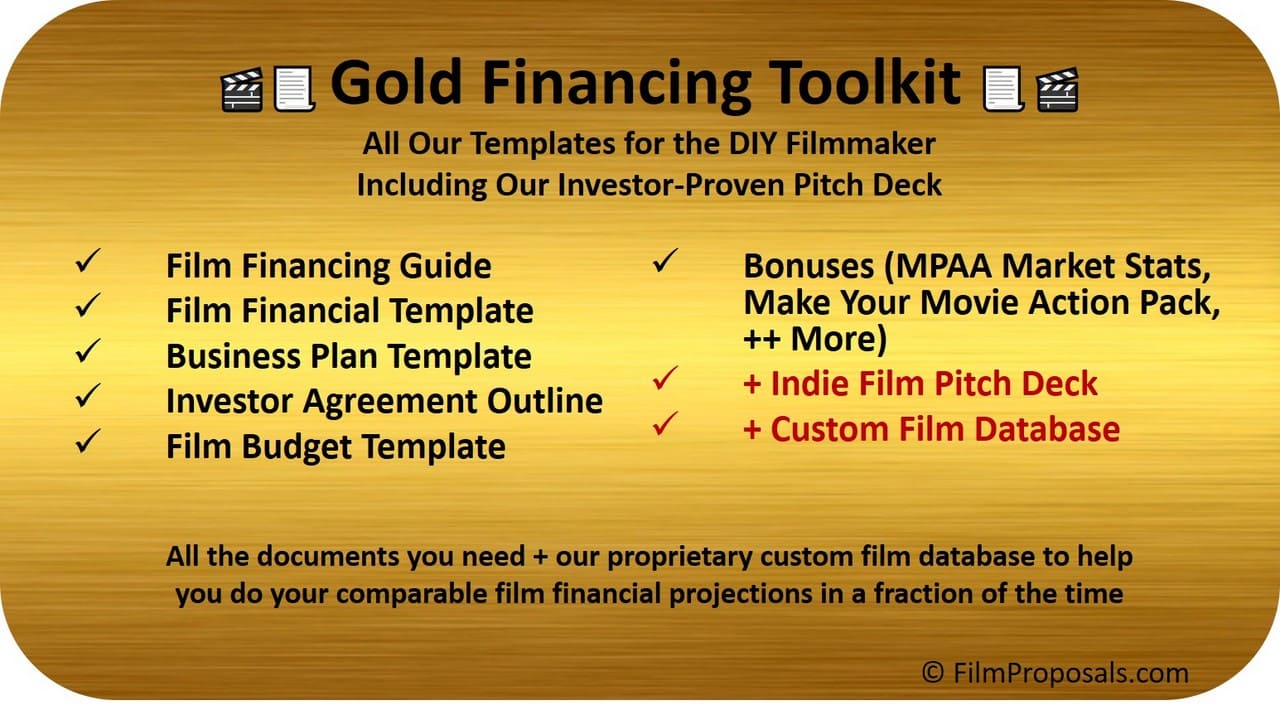 Full Silver Toolkit
+ Indie Film Pitch Deck Template
+ Custom Indie Film Database
Regular Price $303, Save $124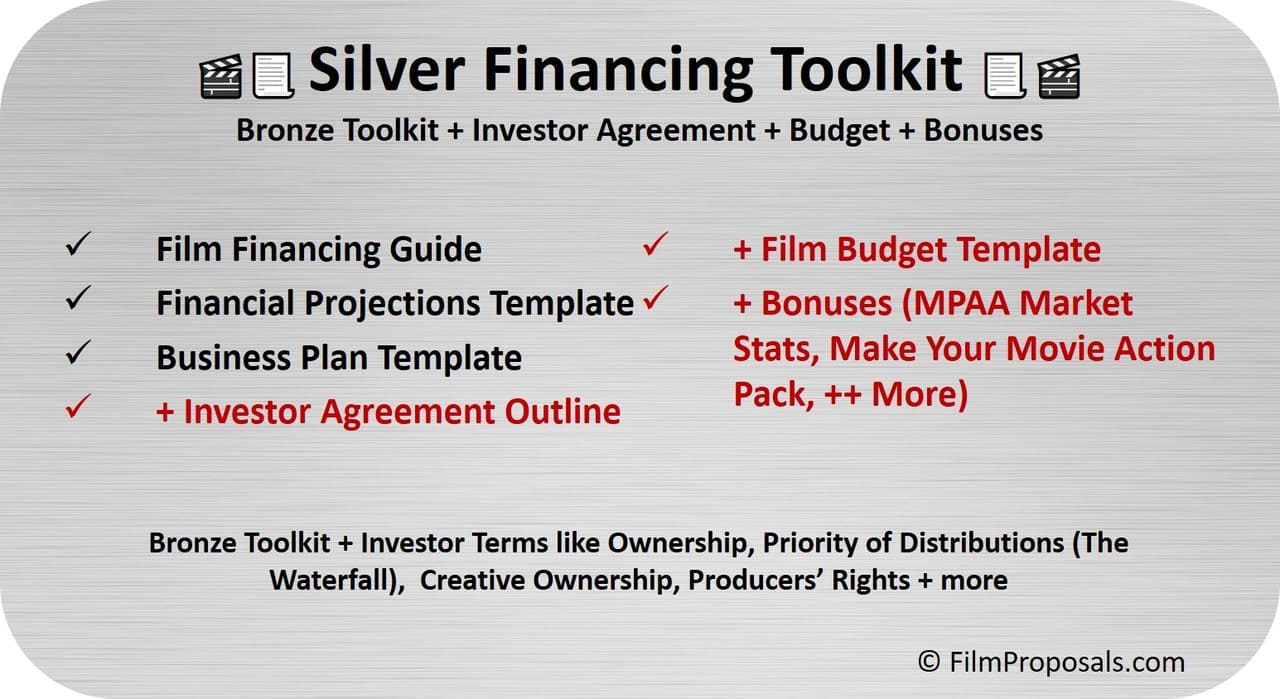 Full Bronze Toolkit
+ Investor Agreement Outline
+ Film Budget Template
+ Bonuses (MPAA Market Stats, Make Your Movie Action Pack, ++ More)
Regular Price $205, Save $76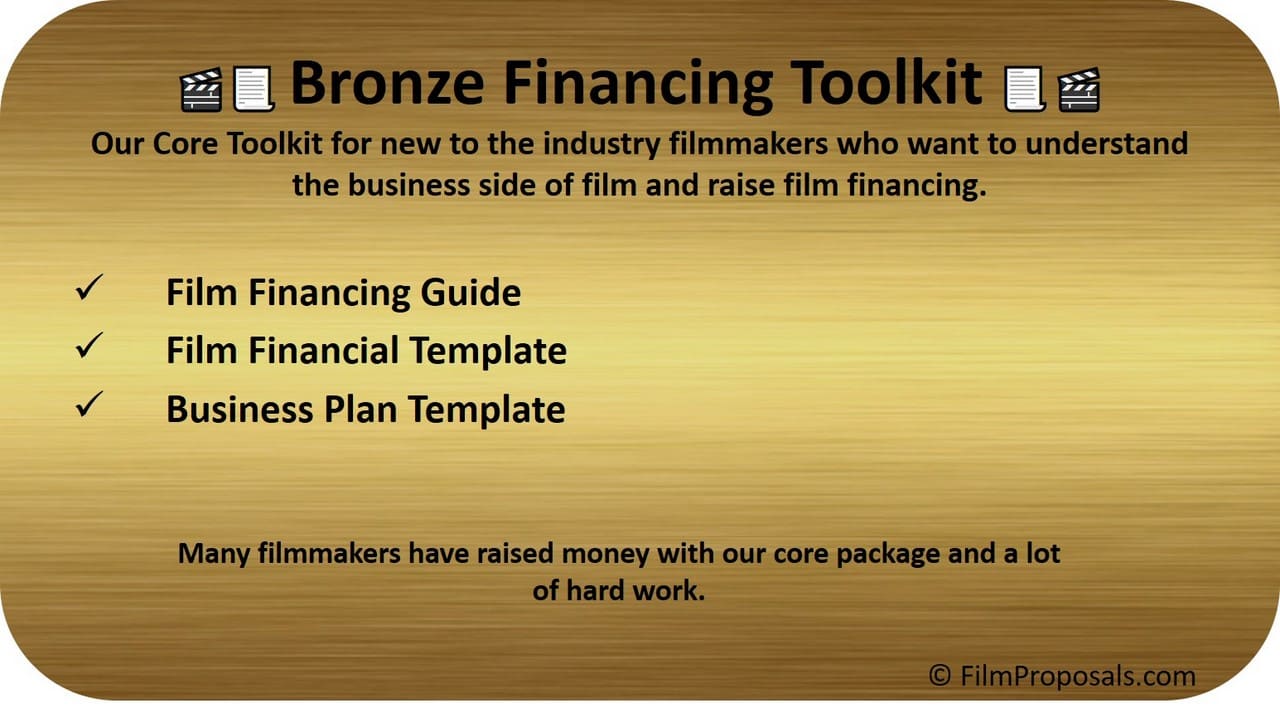 Film Financing Guide
Film Financial Projections Template
Business Plan Template
Regular Price $137, Save $38
Testimonials
Check out some of our Filmmaker Reviews
Just want to thank you for your materials and help over the past year. I could not have raised the $1.5 million or made this film without the materials you provided -- and for $99? The bargain of my career!

This is perfect! I have potential investors but I had no idea how to prepare a professional investment package to present to them. (I'm an artiste', not a business person. :) ) The information is clear and easy to understand, and Melissa is very prompt in answering emails.

Hi Melissa! I purchased Package #3 a couple of days ago, and I feel like I'm taking a crash course in film financing. So far, what I've read and learned has been invaluable. Thank you!
FilmProposals Tools and Templates