The Chicago Digital Media Production Fund is a grant designed to support digital media artists whose works encourages social change. Independent digital media and film makers based in Chicago and the surrounding suburbs are invited to apply for the Chicago Digital Media Production Fund. Innovative media projects intended for online distribution by established, emerging, and young artists may qualify for cash grants of up to $20,000 toward the project's production and completion.
All genres will be accepted, but content must be aimed at advancing progressive social change and should be appropriate for youth, though not necessarily intended specifically for youth. An important stipulation of the grant is that all funded projects must be made available for free online by the completion deadline, which is usually April.
Short productions, interactive apps, and games are preferred, but features and other media will also be considered. Individual applicants must reside in Cook County and production and/or post-production must take place in Chicago. Individuals are also eligible to apply in partnership with a non-profit organization, as long as the organization is based in Cook County.
Since 2012, Chicago Filmmakers has (through the support of Voqal) awarded a total of $750,000 to 75 Chicago-area artists through the CDMPF. The only program of its kind in the area, the CDMPF provides critical funding, up to $20,000, for the production or completion of projects intended for online exhibition and distribution. Productions funded by CDMPF include award-winning web series, groundbreaking short documentaries, interactive media projects, and more.
Open to Youth!
Don't forget that there is no minimum age requirement for applying. We are hoping to get some more great proposals from individual youth applicants and youth organizations.
Help Us Spread the Word!
Although the Production Fund is now in its eighth year of funding, we still need your help getting the word out to as many people as possible. YOU can help by sharing information on the Fund with film and other digital media makers you know via Facebook, Twitter, word-of-mouth, e-mail, newsletters, websites, etc. This is particularly helpful if you are a group or organization.
More Info: https://chicagofilmmakers.org
Back to Top of Chicago Digital Media Production Fund
Documentary Funding Tips
Desktop Documentaries offers the Documentary Fundraising Toolkit, which includes a 190-page full-color documentary fundraising guide, a 25-page documentary proposal template with instructions, two budget templates with budgeting guide, list of the top 100 documentary film grants, e-book with 25 specific fundraising ideas to start raising your first $10,000 and a fundraising check-list. All the best fundraising tools, templates and resources, including 20+ years of experience, combined into one comprehensive packet.
List of Film Grants
Do you have a Film Grant to share with our readers? Please post your Film Grant here.
Documentary Film Grants
Short Film Grants
Women in Film Grants
Feature Film Grants
Emerging Filmmaker Grants
Screenwriting Film Grants
Television Grants
Canada Film Grants
More Film Grants
See All: Full List of Film Grants
Film Grant Deadlines Rolling/Various Application Deadlines
Film Grant Deadlines Spring
Film Grant Deadlines Summer
Film Grant Deadlines Fall
Film Grant Deadlines Winter
All New 2021 Financing Packages (Bundles & Toolkits)
Film Financing Bundles - All the Templates + Professional Services & Legal Options for the Serious Filmmaker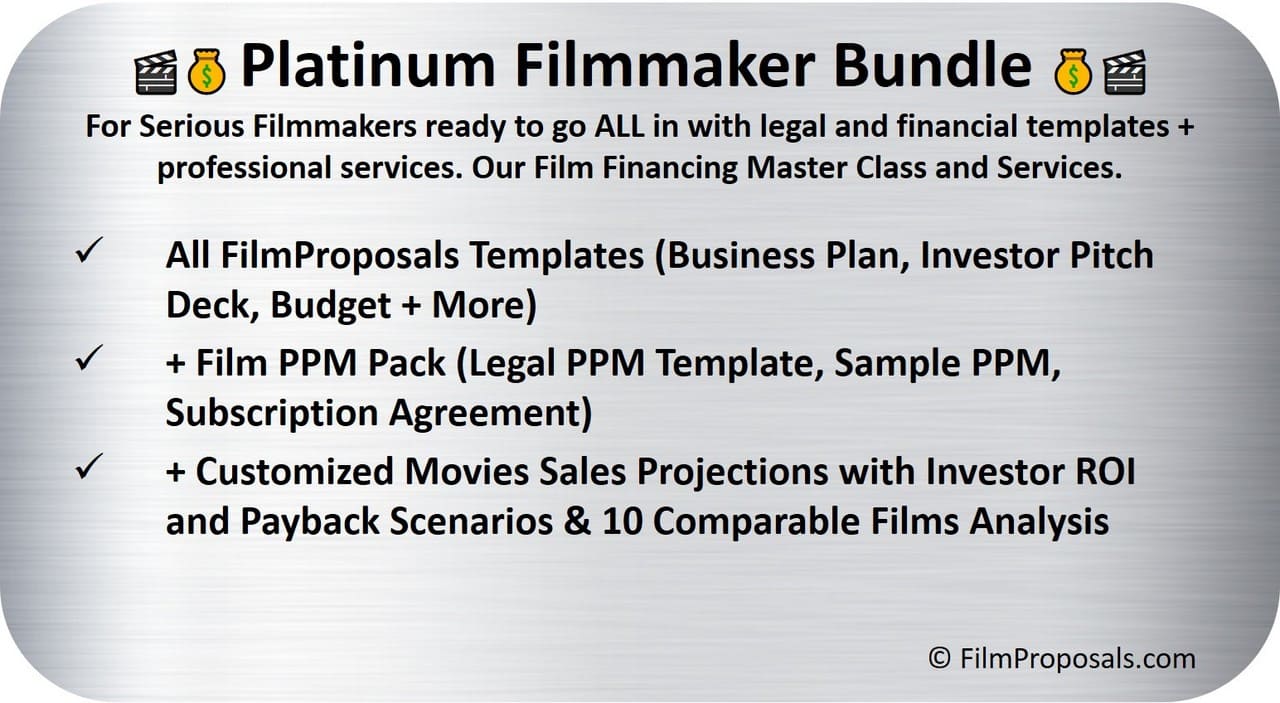 Full Gold Toolkit
+ Professional Sales Projections & Investor ROI
+ PPM (Private Placement Memorandum)
Regular Price $1301, Save $302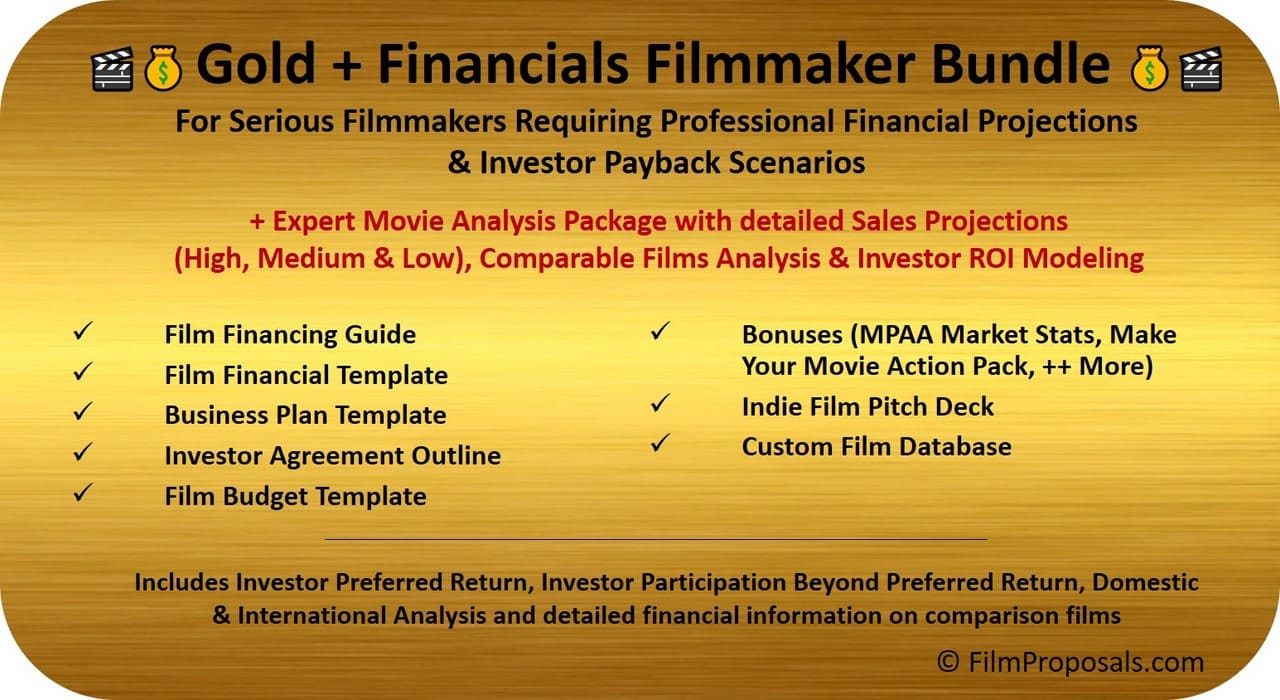 Full Gold Toolkit
+ Professional Sales Projections & Investor ROI
Regular Price $802, Save $203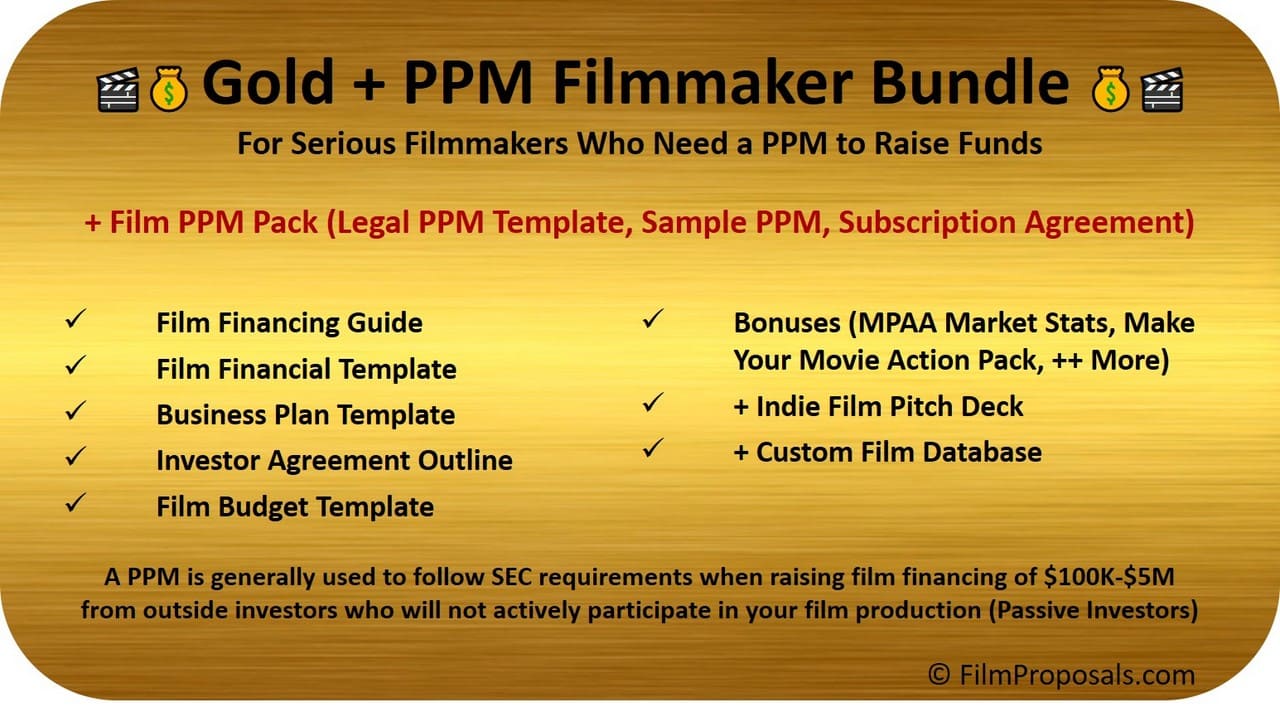 Full Gold Toolkit
+ PPM (Private Placement Memorandum)
Regular Price $802, Save $203
Film Financing Toolkits - Templates & Tools for the DIY Filmmaker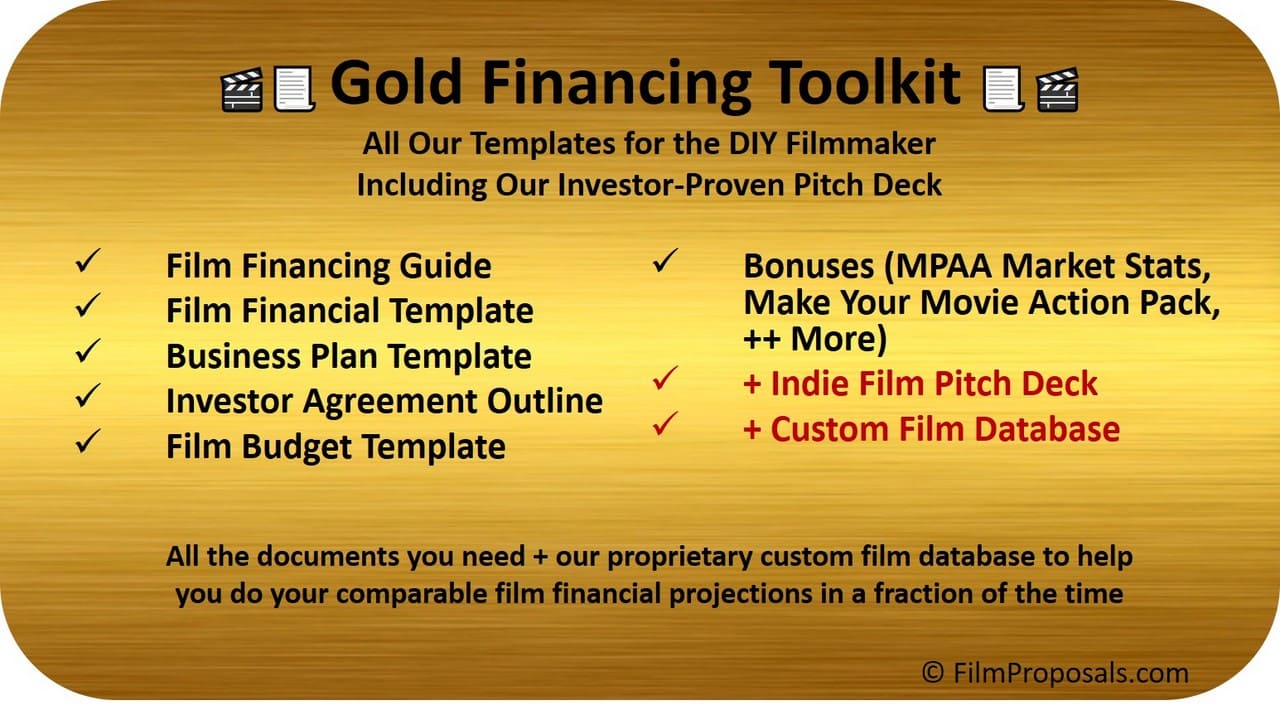 Full Silver Toolkit
+ Indie Film Pitch Deck Template
+ Custom Indie Film Database
Regular Price $303, Save $124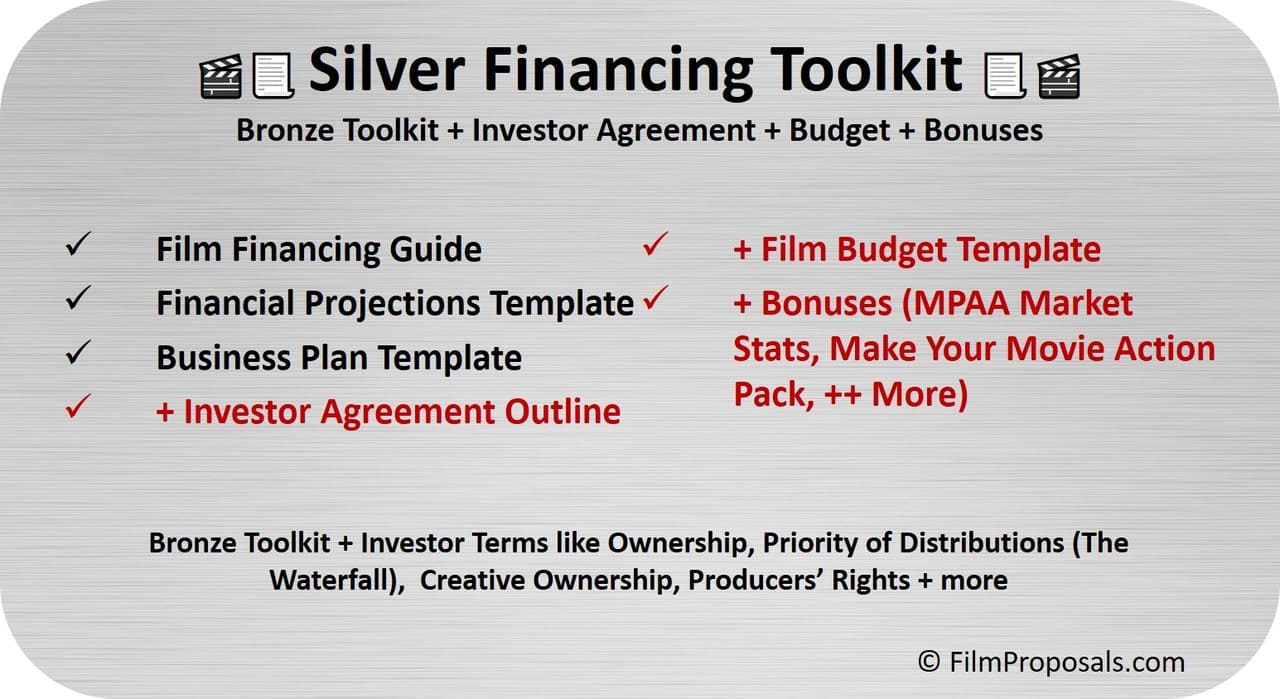 Full Bronze Toolkit
+ Investor Agreement Outline
+ Film Budget Template
+ Bonuses (MPAA Market Stats, Make Your Movie Action Pack, ++ More)
Regular Price $205, Save $76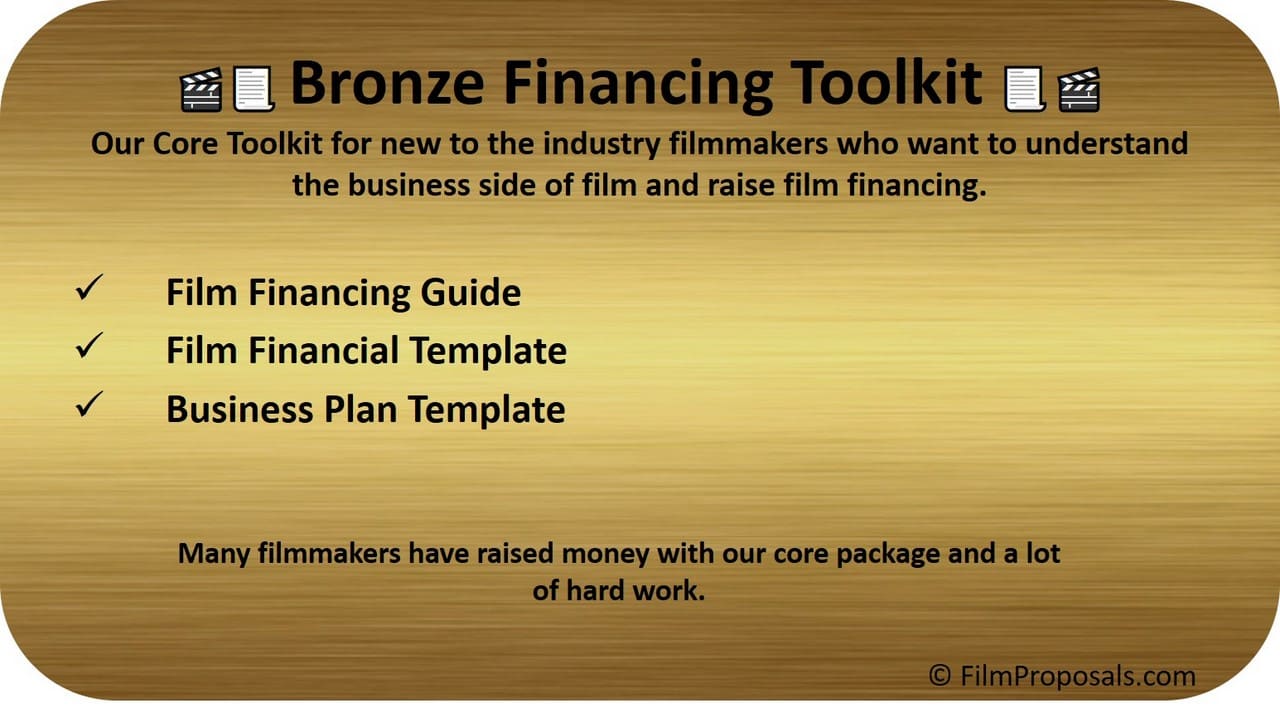 Film Financing Guide
Film Financial Projections Template
Business Plan Template
Regular Price $137, Save $38
Testimonials
Check out some of our Filmmaker Reviews
Just want to thank you for your materials and help over the past year. I could not have raised the $1.5 million or made this film without the materials you provided -- and for $99? The bargain of my career!

This is perfect! I have potential investors but I had no idea how to prepare a professional investment package to present to them. (I'm an artiste', not a business person. :) ) The information is clear and easy to understand, and Melissa is very prompt in answering emails.

Hi Melissa! I purchased Package #3 a couple of days ago, and I feel like I'm taking a crash course in film financing. So far, what I've read and learned has been invaluable. Thank you!
FilmProposals Tools and Templates