Sundance Film Grants have a rolling open call. Submissions are accepted year-round, and they indicate three deadlines per year that correspond to the grant cycles.
The Sundance Documentary Film Program supports non-fiction filmmakers worldwide in the production of cinematic documentaries on contemporary themes. Established in 2002 with founding support from Open Society Foundations, the Program is a vibrant global resource for independent non-fiction storytelling.
The Sundance Documentary Fund supports independent nonfiction films that display artful film language, effective storytelling, originality and feasibility, contemporary cultural relevance, and potential to reach and connect with its intended audience.
While the Sundance Film Grant cycle is year-round, decisions typically take 3-6 months. Film submissions require you have written or visual material that demonstrates your creative and storytelling intent. You may submit at any production phase from development through post-production. You do not need any prior funding or a fiscal sponsor in order to apply.
Sundance Film Grants Application Requirements
Written Proposal
Proposal Checklist
Line Item Budget (Sample Budget: PDF / Excel)
Visual Samples
Completed Previous Directing Sample (any length or genre) -- optional
Current Sample/Rough Cut (Required for Production/Post Production)
More Info: Sundance Film Grants
Back to Top of Sundance Film Grants
Documentary Funding Tips
Desktop Documentaries offers the Documentary Fundraising Toolkit, which includes a 190-page full-color documentary fundraising guide, a 25-page documentary proposal template with instructions, two budget templates with budgeting guide, list of the top 100 documentary film grants, e-book with 25 specific fundraising ideas to start raising your first $10,000 and a fundraising check-list. All the best fundraising tools, templates and resources, including 20+ years of experience, combined into one comprehensive packet.
List of Film Grants
Do you have a Film Grant to share with our readers? Please post your Film Grant here.
Documentary Film Grants
Short Film Grants
Women in Film Grants
Feature Film Grants
Emerging Filmmaker Grants
Screenwriting Film Grants
Television Grants
Canada Film Grants
More Film Grants
See All: Full List of Film Grants
Film Grant Deadlines Rolling/Various Application Deadlines
Film Grant Deadlines Spring
Film Grant Deadlines Summer
Film Grant Deadlines Fall
Film Grant Deadlines Winter
All New 2021 Financing Packages (Bundles & Toolkits)
Film Financing Bundles - All the Templates + Professional Services & Legal Options for the Serious Filmmaker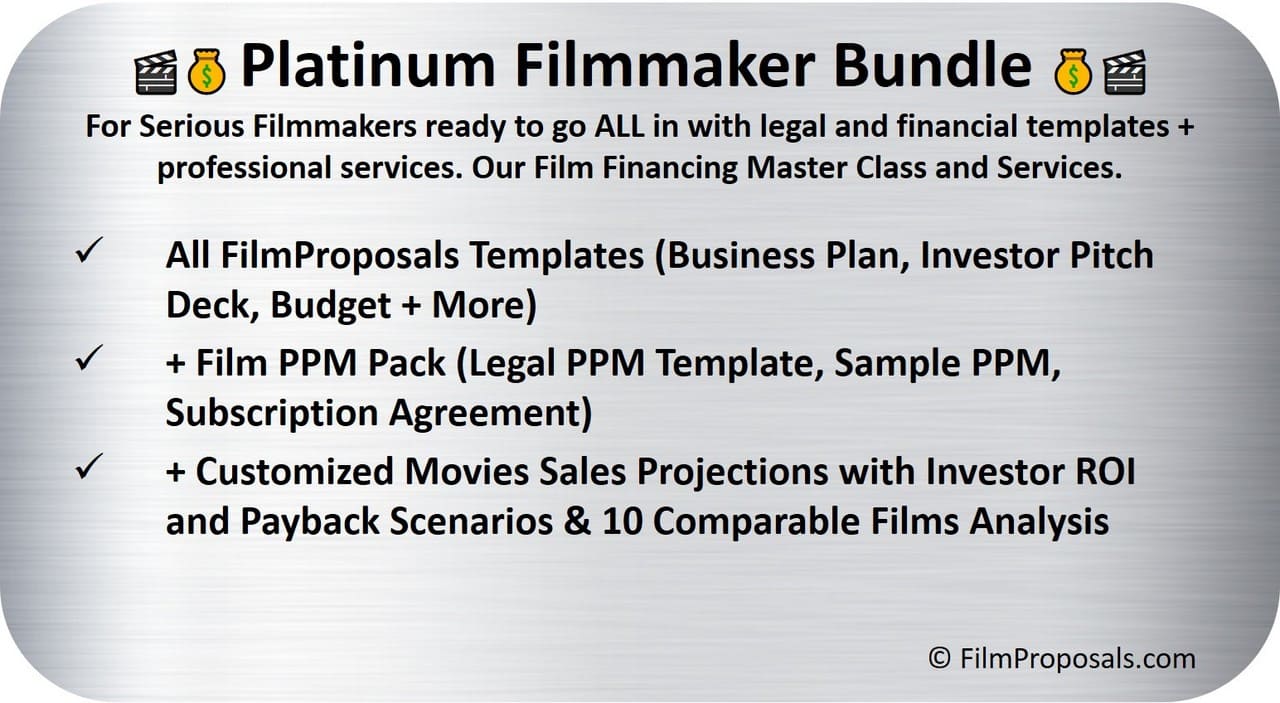 Full Gold Toolkit
+ Professional Sales Projections & Investor ROI
+ PPM (Private Placement Memorandum)
Regular Price $1301, Save $302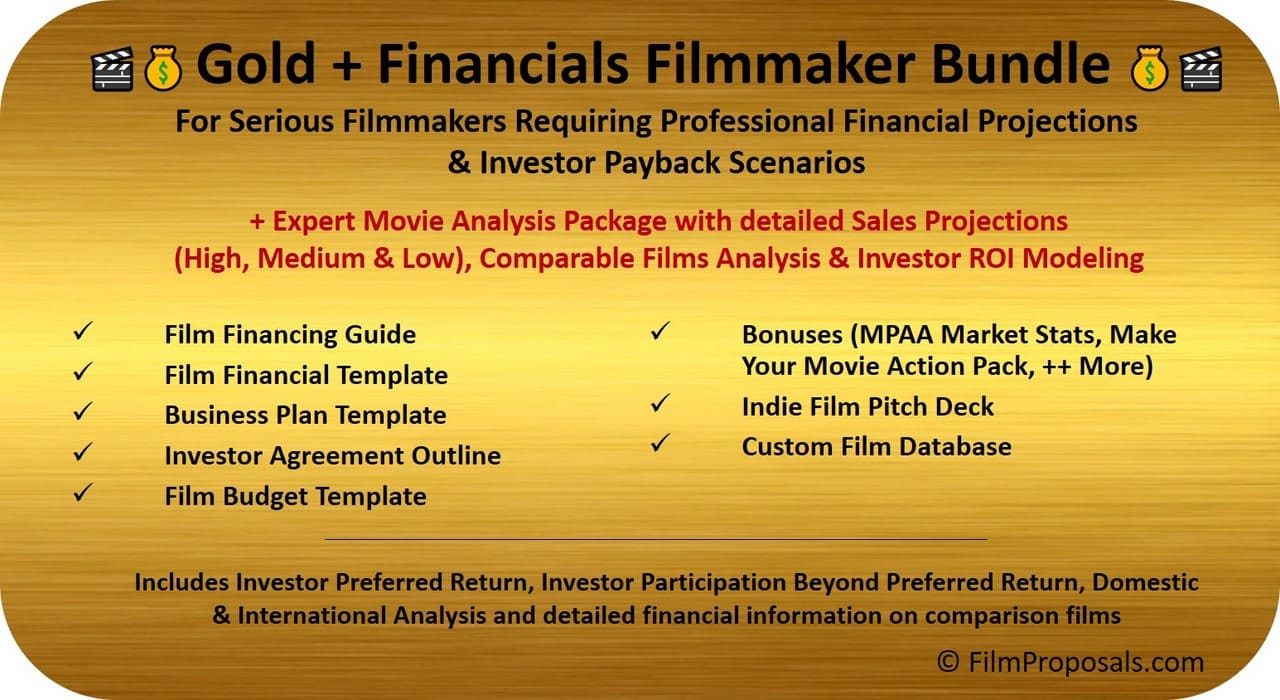 Full Gold Toolkit
+ Professional Sales Projections & Investor ROI
Regular Price $802, Save $203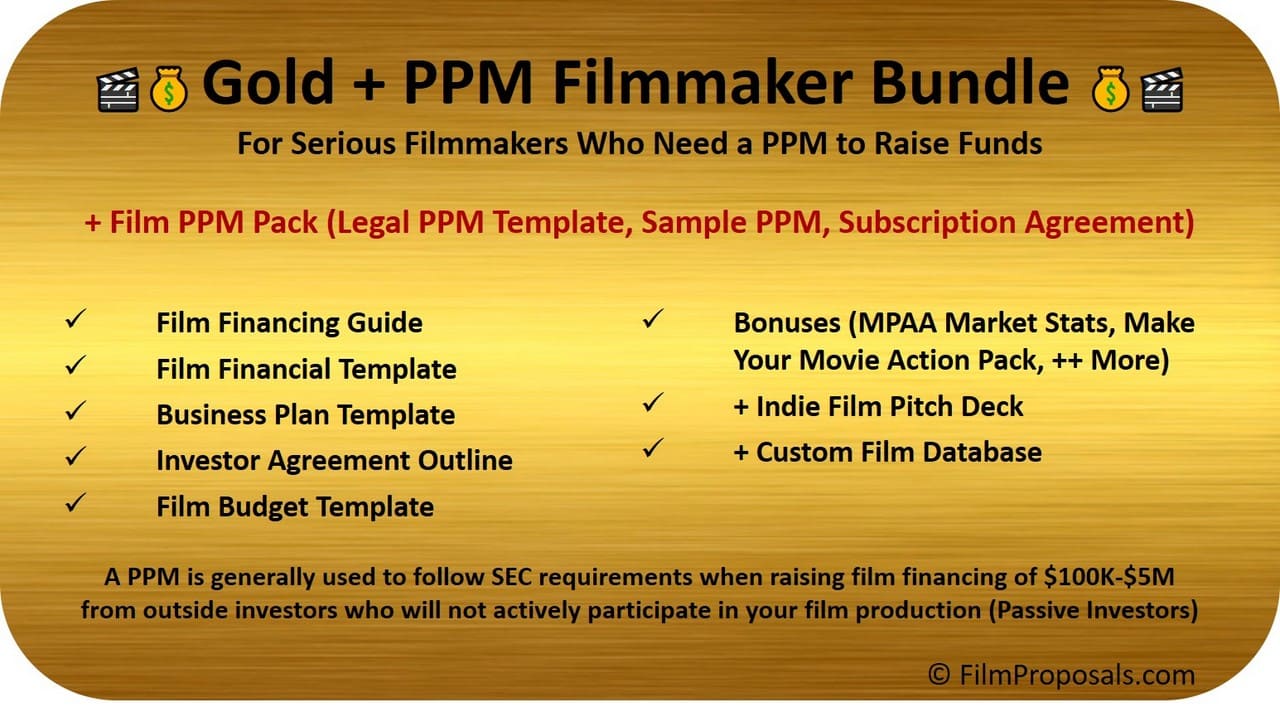 Full Gold Toolkit
+ PPM (Private Placement Memorandum)
Regular Price $802, Save $203
Film Financing Toolkits - Templates & Tools for the DIY Filmmaker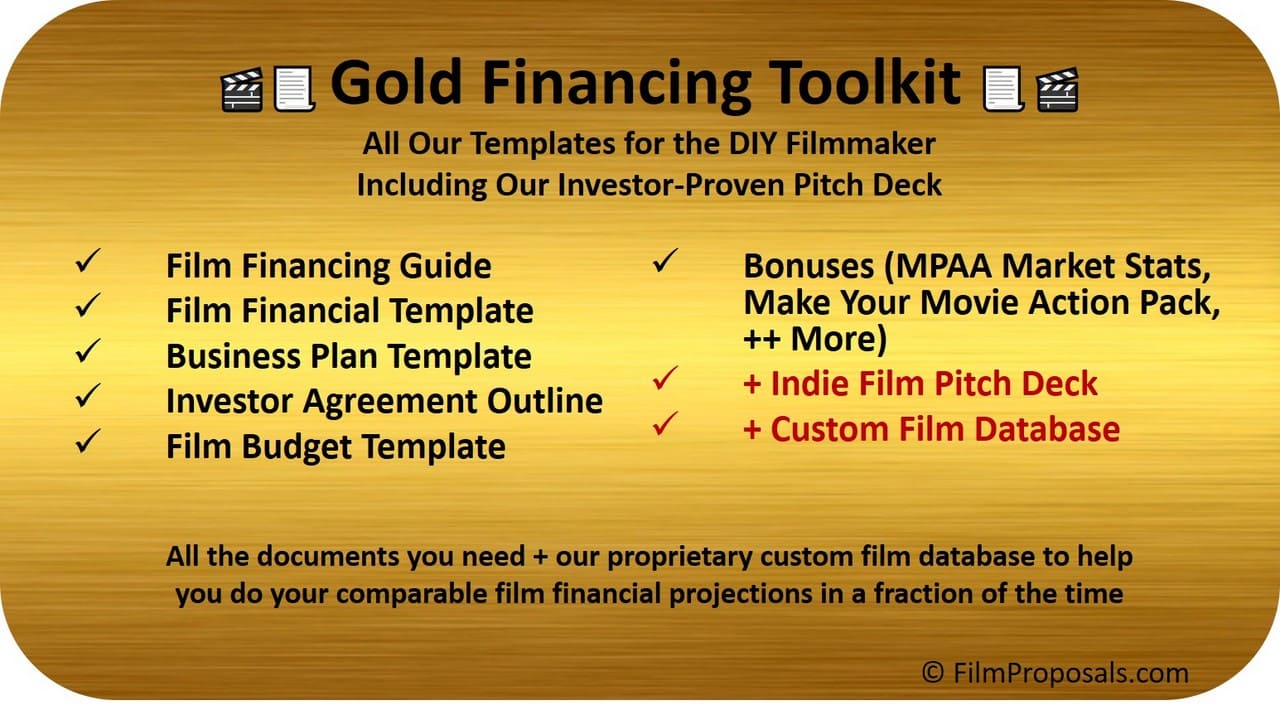 Full Silver Toolkit
+ Indie Film Pitch Deck Template
+ Custom Indie Film Database
Regular Price $303, Save $124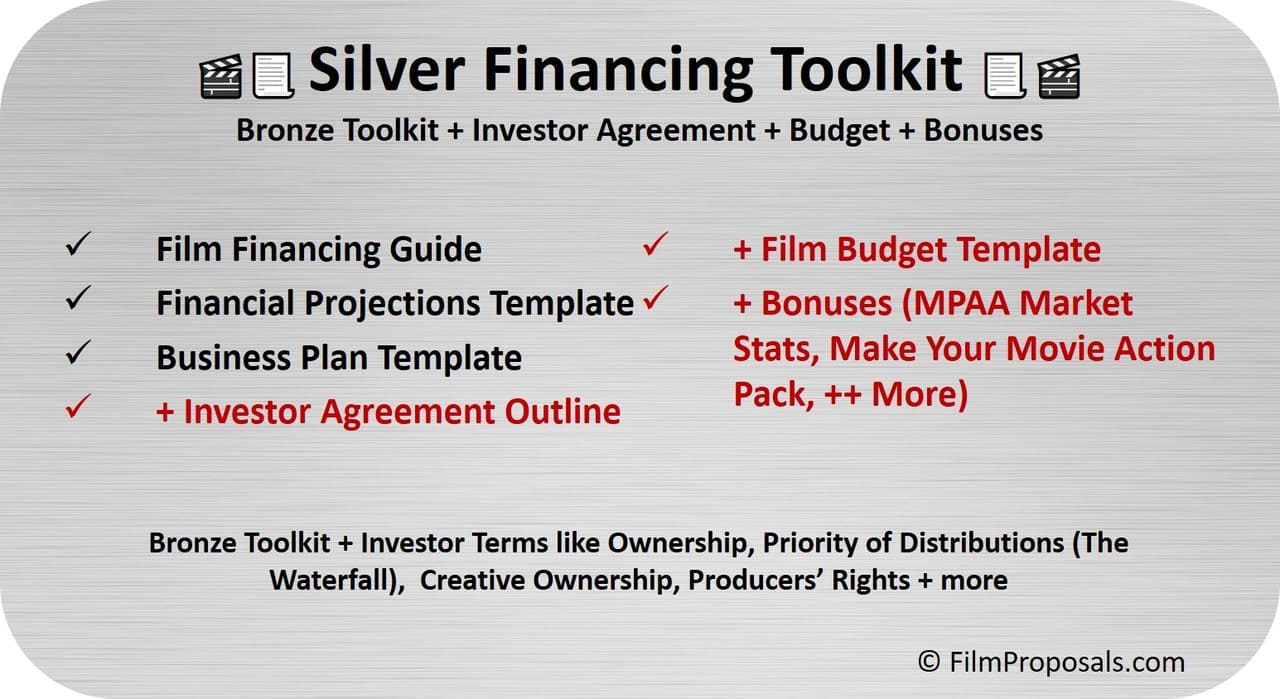 Full Bronze Toolkit
+ Investor Agreement Outline
+ Film Budget Template
+ Bonuses (MPAA Market Stats, Make Your Movie Action Pack, ++ More)
Regular Price $205, Save $76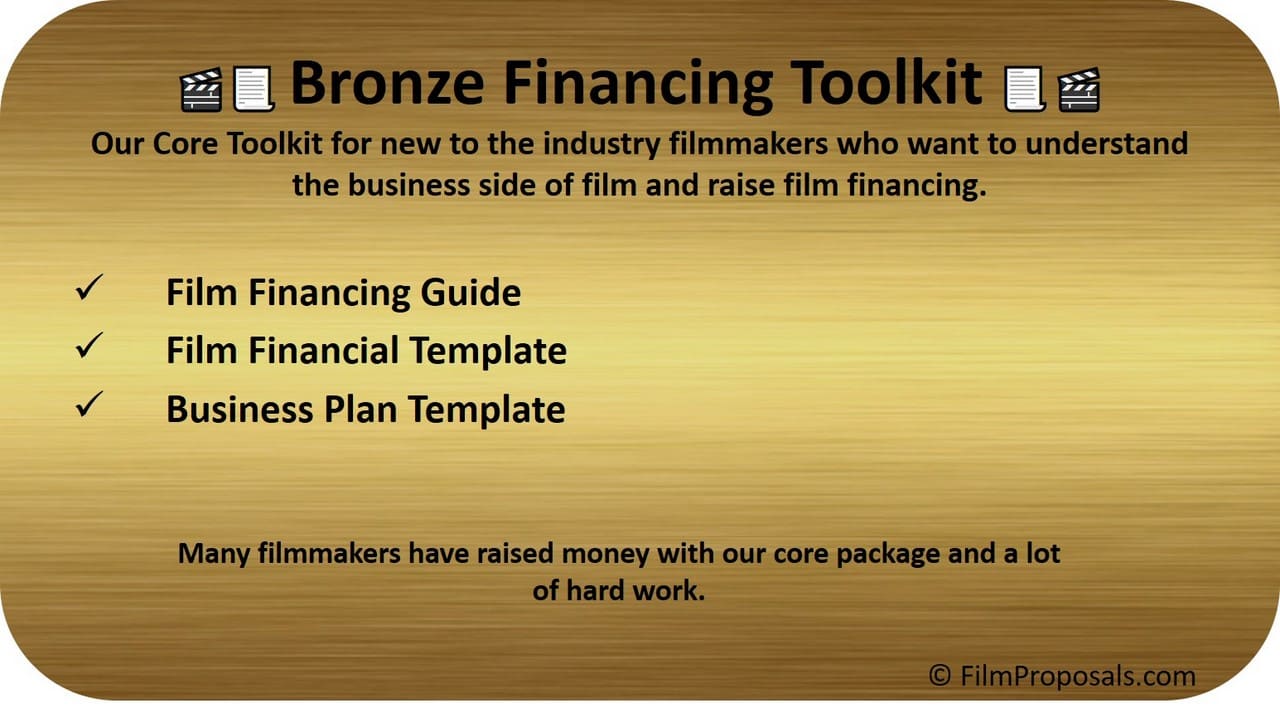 Film Financing Guide
Film Financial Projections Template
Business Plan Template
Regular Price $137, Save $38
Testimonials
Check out some of our Filmmaker Reviews
Just want to thank you for your materials and help over the past year. I could not have raised the $1.5 million or made this film without the materials you provided -- and for $99? The bargain of my career!

This is perfect! I have potential investors but I had no idea how to prepare a professional investment package to present to them. (I'm an artiste', not a business person. :) ) The information is clear and easy to understand, and Melissa is very prompt in answering emails.

Hi Melissa! I purchased Package #3 a couple of days ago, and I feel like I'm taking a crash course in film financing. So far, what I've read and learned has been invaluable. Thank you!
FilmProposals Tools and Templates